Traffic stop turns into drug bust
by
VICTOR CORRAL MARTINEZ
Staff Writer
|
June 7, 2021 3:37 PM
BONNERS FERRY — What began as a reported reckless driving call quickly turned into a drug bust that included fentanyl pills and methamphetamines.
According to court records, on June 1, at 9:15 p.m., Bonners Ferry police officer Branden Johnson responded to dispatch reports of a suspicious light-colored vehicle with extensive damage to the rear end near Highway 95 and Fry Street.
Johnson quickly located and followed the vehicle, which began to drive erratically and swerving within the lanes, at one point crossing the center divider for about 100 feet.
Johnson pulled over the vehicle for failure to maintain the lane and spoke with the driver, Keith Shottanana, 35, and passenger Justine Ayon, 27.
In court documents, Johnson said Ayon was not wearing a seat belt, prompting him to ask for her identification. After running the driver's license, Johnson said he was advised neither occupant had a valid driver's license.
Additionally, Johnson said dispatchers advised that the vehicle registration was expired, something Shottanana admitted to when questioned.
According to Johnson, United States Border Patrol agent Granger, who arrived on scene to provide backup deployed the K-9 partner, who alerted them of potential drugs in the vehicle.
"There was tinfoil in plain view on the center console containing a brown residue," Johnson said in the affidavit
Johnson found what appeared to be a "tooter" used to ingest drugs in the glove compartment. A black backpack was also discovered with seven "tooters," a baggie with five pills, which Johnson detailed as "Mexi-Pills" that contain the drug, fentanyl.
Johnson said a search of the vehicle also found a meth pipe in the center console with drug residue and small gram bags with crystal methamphetamine — but as well as about 5.4 pounds of liquid methamphetamine.
"Ayon asked for this jug multiple times while I searched the vehicle," Johnson said "She said it was her water jug."
After Johnson read Ayon her Miranda rights, she stated she used drugs a few months ago, but the "tooter" didn't belong to her.
When Ayon was booked, additional pills and paraphernalia were located and confiscated.
She later confessed that the drugs were obtained in Spokane and paid $200 for the pills. In addition, she admitted to smoking methamphetamine before going to work at Boulder Creek Academy.
"She said if she doesn't smoke before work, she will get sick," Johnson said.
Ayon was charged with possession of a controlled substance, possession of substances in a correctional facility and possession of drug paraphernalia. Shottanana was charged with possession of a controlled substance and drug paraphernalia.
BFPD Assistant Chief Marty Ryan praised Johnson's work in getting drugs out of the community. However, he noted the uptick in overdoses caused by fentanyl.
Idaho State Police earlier in May released a news release that details a public warning about a sharp increase in fatal overdoses connected to the highly potent and often deadly opioid drug fentanyl.
"Nearly 90,000 people died as a result of drug overdose in the United States from November 1, 2019, through October 31, 2020, the largest number of drug-related deaths recorded within a single year, and more than 74 percent of those deaths involved an opioid."
Fentanyl is 50 to 100 times more potent than morphine and up to 50 times more potent than heroin. As little as two milligrams, the size of two grains of salt, is a fatal dose for most people.
Drug cartels are manufacturing mass quantities of fentanyl and counterfeit prescription pills containing fentanyl for distribution throughout North America.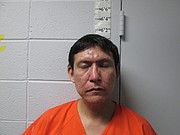 ---