Valdie Virginia Burkholder, 95
Valdie Virginia Burkholder, 95, passed away at her home on Thursday, May 20, 2021, in Bonners Ferry, Idaho. Tentatively, joint memorial services (with her son, Rockey) will be held on Saturday, Sept. 18, at the Becker Auditorium in Bonners Ferry, Idaho.
Valdie was born on Aug. 23, 1925, in Purcell, Mo., to Blaine and Josie White. She grew up and attended schools in Wardner, Idaho, before moving to Bonners Ferry at age 11.
She married Jim Burkholder on Oct. 6, 1943, in Bonners Ferry. She worked as a clerk at Lindsay Helmer's Hardware Store in downtown Bonners Ferry while Jim was away serving as a medic in World War II, and for decades was a cook and server at the Northside School, which was just across the street from the home they lived in for 66 years.
Valdie was a member of the Bonners Ferry United Methodist Church, American Legion Auxiliary, Daughters of the American Revolution and the Hospital Auxiliary, just to name a few. Early in married life after World War II ended, Valdie and her husband, Jim, enjoyed Friday and Saturday nights out on the town, camping and fishing. Fiercely patriotic, Vadlie was involved in and loved all the activities wrapped around the American Legion, serving in offices locally and at the state level (President of Idaho American Legion Auxillary).
Valdie enjoyed visiting with friends and family, church activities along with reading, gardening and travel. Later in life, Valdie enjoyed going to community lunches at the Methodist church and playing cards and eating lunch at the Senior Center; all in tandem with Rockey of course.
She is survived by her son Jim (Ruth) Burkholder II, of Bremerton, Wash.; daughter Teresa (Marty) Becker of Bonners Ferry; five grandchildren: Jim III, Bridgette, Brittany, Mikkel and Lexington; and great-granddaughter, Reagan, who she adored and lavished attention on.
She was preceded in death by her parents, husbands Jim Burkholder and Dow Dean, son Rockey, and siblings Ethyl Fruck, George, Blaine, and Dewey White.
Memorials should be sent to the Bonners Ferry Senior Hospitality Center, P.O. Box 1639, Bonners Ferry, ID, 83805. Phone (208) 267-5553.
Lakeview Funeral Home in Sandpoint is handling the arrangements. Please visit Valdie's online memorial at www.lakeviewfuneral.com and sign her guest book.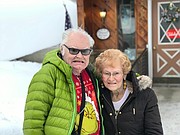 ---