Local vaccine clinics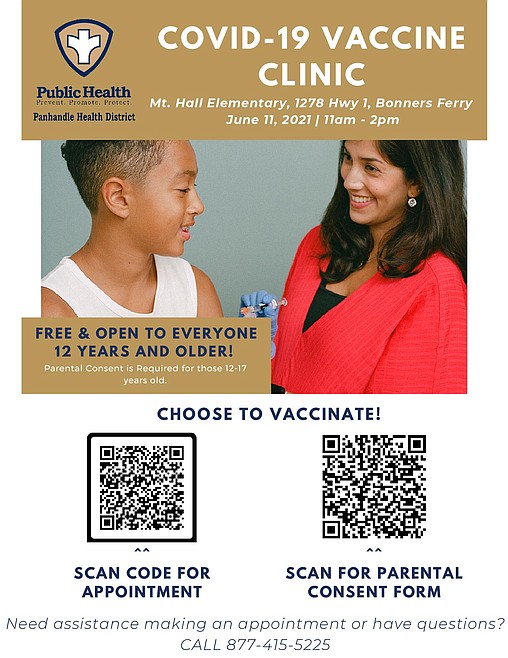 Flyer courtesy of Panhandle Health District
by
ROSE SHABABY
Staff Writer
|
June 10, 2021 1:00 AM
Panhandle Health District has cancelled two vaccination clinics originally planned for Friday, June 11, at Mount Hall Elementary and Bonners Ferry High School, due to the low number of appointments being made.
The clinic at the high school has been cancelled indefinitely and the Mount Hall clinic has been rescheduled for June 21.
Any parents/guardians interested in having their child(ren) vaccinated will need to complete a permission slip and ensure your child(ren) arrive at the location you selected. Permission slips will be provided onsite.
Boundary County School District Superintendent Jan Bayer stressed that "the school district is opening their facilities to allow Panhandle Health District to hold mobile vaccination clinics," and that "Panhandle Health is intentionally using our facilities on days when students are not present to prevent the perception that we are endorsing vaccinations."
Bayer added that "we are sharing the information but are not requiring anyone to be vaccinated."
Mount Hall Elementary mobile vaccination clinic will be between 11 a.m. to 2 p.m. You can register at https://www.idahoprepmod.com//appointment/en/reg/7962158840 or by using the QPR codes on the attached flyer.
These two mobile vaccination clinics are open to any community member 12 years of age or older. Parent/guardian permission is required for any minor child.
---