Fulcher speaks at Lincoln Day Dinner
by
VICTOR CORRAL MARTINEZ
Staff Writer
|
June 10, 2021 1:00 AM
NAPLES — The Boundary County Republican Central Committee held their Lincoln Day Dinner on Saturday, May 22, at The Great Northwestern Territory Event Center in Naples to fundraise for the committee's projects.
The Lincoln Day Dinner usually occurs earlier in the year but was pushed back due to COVID-19 disruptions to the end of May for 2021.
The dinner featured Sen. Jim Woodward, R-Sagle, Rep. Sage Dixon, R-Ponderay, and Rep. Heather Scott, R-Blanchard, updating attendees of their work in the recent legislative session.
Woodward stated that his work reflected the need to grow transportation infrastructure to accommodate the rapid growth of Idaho.
Woodward also spoke about not voting to override Gov. Brad Little's veto of Senate Bill 1136.
Additionally, Sen. Mary Souza, R- Coeur d'Alene, spoke about her concerns over election integrity and strengthening the election process.
Souza presented her case of why she is running for Secretary of State of Idaho, who, earlier in December 2020, sponsored an amicus brief to support Texas' attempt to call for integrity concerns in the presidential election in Georgia, Michigan, Pennsylvania and Wisconsin.
Former senator Branden Durst explained his recent departure from the Democratic Party and his reasons for running for Idaho's superintendent on a conservative platform.
"I use to be a Democrat," Durst said, "I was the eighth most conservative state senator in my last term."
Durst touched on critical race theory and the need to share values with a superintendent who can have a say in the educational process.
Art Macomber presented his qualifications for the attorney general position and his work defending constitutional rights, even placing copies of the Idaho state constitution on every table for dinner.
Scott handed out brochures titled "101 Things You Can Do," which details ways to preserve individual rights and freedoms.
Some of the listed activities include attending a town hall meeting, reading your state constitution, writing a letter to the editor about a concerning issue, registering to vote, helping register a new voter, living within your means or running for elected office.
Boundary County community stakeholders were also in attendance, such as city attorney Andrakay Pluid, sheriff Dave Kramer, county clerk Glenda Poston, chairman and vice-chair of the BCRCC, Caleb Davis, and Dave Wenk, who helped organize the event.
The keynote speaker was U.S. Rep. Russ Fulcher, who asked everyone to look outside at the sun shining down at the grassy fields and said, "now tell me there's no God."
Fulcher, a Republican whose district includes North Idaho, stated how he has built relationships with people and how it helps him stay motivated; he also reflected on Idaho being one of the fastest-growing states and how he welcomes the newcomers but advises them to remember why they came to Idaho from their former state.
The dinner featured a delicious prime rib dinner with many side options that included corn bread, salad and many desserts. In addition, Jim Woodward's mother, Gini Woodward, sold delectable cupcakes to help raise money for the committee.
According to Wenk, the proceeds go to help fund general election candidates and pay for costs to represent Boundary for Republican Party events.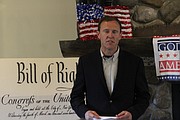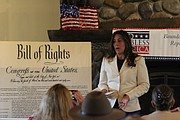 ---