Mavis Arline (Tofte) Allenberg Baker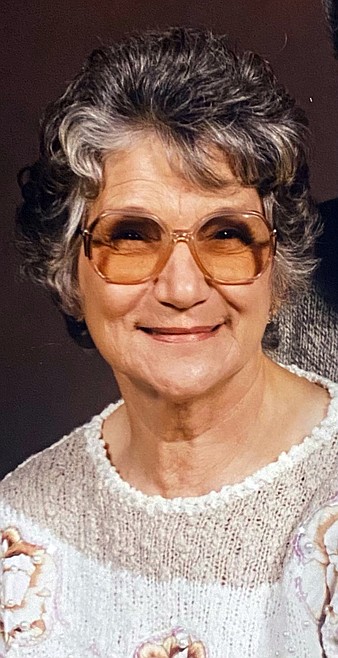 Mavis Arline (Tofte) Allenberg Baker passed away on June 8, 2021, in Bonners Ferry, Idaho. Services will be held at 11 a.m. Saturday, June 19, 2021 at the Bonners Ferry Funeral Home in Bonners Ferry, Idaho.
Mavis was born on Sept. 10, 1926, in West Hope, N.D., to Hilman Alfred Tofte of Whitehall, Wis., and Sarah Esther Jenkins of Leeds, N.D. She was lovingly welcomed by her parents as the oldest of 10 children, a fact she was always very proud of. Her siblings were Darline Ardelle, Marion Gladys, Lola Celia, Otis Allen, Francis Gloria, Hilman Alfred Jr, Ellen Kay (who was taken by the Lord as a baby), Judith Gay and Dan Ray.
Mavis loved children and caring for them from her earliest days. Her mom, Esther would always tell her to "come get your baby" as soon as another sibling was born. She was a nurturer from day one and always found joy in helping to care for her nine siblings. She lived in West Hope for a time and eventually moved further west with her family, settling in the mountains of Bonners Ferry. She always had a tear in her eye as she spoke often and endearingly of her Mama and Daddy.
She met and married her first love, Harold Oscar Allenberg of Millerstown, Pa. They married on Oct. 30, 1943, in Libby, Mont. They were married for 32 years and had five children, Helen Marie, Harold Oscar, Kenneth Ray, Steven Wayne (Zetta) and Donald Lee (Sharon). She relished being a homemaker, wife and mother to her five fun-loving and rambunctious children. Family was life to her! Much to her chagrin, she was still learning of her children's antics many years later around the dinner table, which was the heart of her home.
Family and good food went hand in hand with Mavis. Rarely was there a visit without a wonderful home-cooked meal offered, no matter what time you chose to visit! There was no such thing as calling ahead with Mavis; a visit was always welcomed no matter when or for how long. Mavis spent 21 years working as a rural mail carrier all while raising her family and maintaining the home. Mavis was no stranger to hard work and she had many stories of her time running the mail route.
Mavis and Harold divorced in 1975, ending their love story.
Mavis met Donald Charles Baker in 1976 through the post office, where they worked together in Bonners Ferry, and soon their love story began. They married Dec. 10, 1977, and, while they did not have any children together, their marriage brought together and blended two families, increasing it by three beautiful daughters: Jackie (Jeff), Lonna (Steve) and Tara, bringing the grand total to eight children.
She and Don loved music and dancing, gardening, tending her flower gardens, canning, fishing, berry picking, boating and spending time outdoors with their extended families.
Mavis was drawn for a moose permit in the fall of 1990 and much to her joy and excitement she harvested a nice bull moose for her sons and a good family friend to pack out.
Mavis and Don loved to host the holidays and any family gathering at their Blume Hill (Happy Valley) home. Family gatherings were always full of good food and fellowship. No one ever left her home hungry! Mavis enjoyed many beautiful friendships over the years, as she "never knew a stranger."  
Mavis and Don remained devoted to one another and stayed by each other's side through thick and thin, sickness and health until her last day on this earth, June 8, 2021. That day they enjoyed a morning of sunshine, and an afternoon lunch followed by a beautiful drive around scenic Bonners Ferry. When the Lord saw how tired she was and in need of rest, knowing that she had lived a long, fruitful life and was well-loved by so many; He reached down and brought her home.
It was her son and daughter-in-law's great joy and privilege to witness Mavis's baptism and acceptance of the Lord as her Savior, thus assuring her eternal resting place in Heaven.
Mavis left us an incredible legacy and is survived by eight children (four spouses) 21 grandchildren (11 spouses), 24 great-grandchildren (three spouses) and three great-great-grandchildren.
Rest in peace our beloved, mother, wife, sister, daughter, aunt (Mamie), cousin, grandmother, great grandmother, great great grandmother and friend. Until we see you again, we will hold you and your memory in our hearts.
---