Parks and Rec offers soccer and tennis programs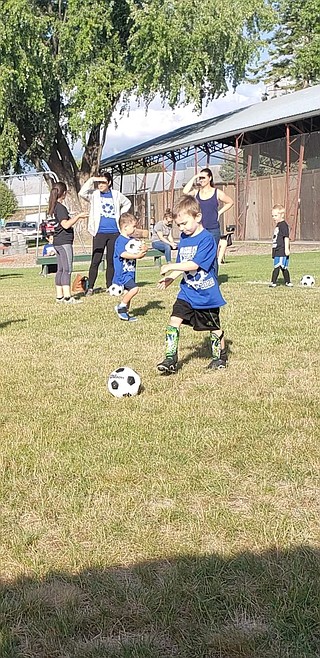 Dante Spencer pictured from 2019 season (Photo by Billie Jo Spencer)
by
ROSE SHABABY
Staff Writer
|
June 17, 2021 1:00 AM
Summer is here, which means Boundary County Parks and Rec has two more sports programs for area kids to participate in.
Soccer will run from late July to early September while tennis camp takes place mid-July for about 10 days.
The soccer program is for boys and girls, ages 4-13. The registration deadline is July 10 and costs $25, which includes a game shirt. Practice is on Tuesdays and Thursdays beginning at 5:30 p.m. The season runs from July 27 to Sept. 9. Participants between the ages of 4 and 5 will have a shorter season, ending Aug. 26. No games or practices will be scheduled during the week of the Boundary County Fair, Aug. 11 to 14.
The Boundary County Tennis Association is hosting multiple tennis camps. The youth camps will run from July 12-22 and are broken up into age groups: 5-7 year olds meet from 8 a.m. to 8:45 a.m., 8-10 year olds from 9 a.m. to 10 a.m. and 11-18 year olds from 10 a.m. to 11:30 a.m. Adult camp will be held July 12, 14, 19 and 21, 6 p.m. to 7:15 p.m. The registration deadline for both is June 19. Cost for tennis camp is also $25, which includes a shirt and use of a racket.
Practices for soccer are held on Tuesdays and Thursdays at Memorial Field , 7171 Fifth St., across from the tennis courts and next to the skate park. Tennis camp will be held at the courts. There is also a dropbox for registrations at this location.

Both activities were halted in 2020 due to the pandemic but there were plenty of kids involved in 2019. The tennis program had 45 participants and soccer had 220. Boundary County Parks and Rec youth sports director Sarah Skinner said she is expecting an even higher turnout, noting how vital the summer programs are to area children.
Skinner said they are looking for volunteer coaches and referees.
"The Boundary County Parks and Recreation Youth Sports Program would not be possible without volunteers and sponsors," she said. "We would like to thank all of our past and present sponsors and volunteers and encourage people in our community to become involved in our program.
"The goal of our program is to provide safe, fun and positive activities that add value to young minds."
Those interested can register for sports, sign up to be a sponsor or volunteer at www.boundarycountyparksandrec.org.
For more information or to register, call Sara Skinner at 208-304-3603.
---