Signs of the times
by
DENISE THOMPSON and TIMOTHY BRAATZ Contributing Writers
|
March 4, 2021 1:00 AM
Maybe you have seen some unusual signs in the windows and yards of Boundary County residents and wondered what they mean.
The "Love Lives Here" sign originated in Whitefish, Montana. In 2010, a group of white supremacists started showing films that denied the Holocaust ever occurred—a way of saying that Jewish lives don't matter. After local residents organized peaceful activities in opposition to Holocaust denial, the film screenings ended. This prompted an ongoing commitment to equality and diversity in Whitefish, including the "Love Lives Here" theme.
In 2016-17, anti-Jewish threats of violence to individuals occurred in Whitefish. Neighbors and friends again united against hate and discrimination—and drew international recognition for their efforts. "Love Lives Here" has since spread to communities throughout the United States.
In Boundary County, the "Love Lives Here" sign includes a heart and the state of Idaho. Those who display the sign are signifying their belief that love is greater than hate and their desire to promote positive community relationships.
The "We Are Everywhere" sign comes from the Wassmuth Center for Human Rights in Boise, which provides educational resources, hosts workshops, and welcomes visitors.
Founded in 1996, the center is named for Father Bill Wassmuth, the Catholic priest who organized loving resistance to Aryan Nations bigotry and violence in Coeur d'Alene in the 1980s. Undeterred by the bombing of his home, Wassmuth led the Kootenai County Task Force on Human Relations.
The Wassmuth Center maintains the Anne Frank Human Rights Memorial, which includes the entire text of the Universal Declaration of Human Rights. In May 2017, the memorial was defaced with racist and anti-Jewish graffiti over four consecutive nights. More recently, on the night of December 7-8, 2020, stickers bearing a Nazi swastika and the words "we are everywhere" were placed on the Anne Frank statue and throughout the park. Once again, the Wassmuth Center received community support to repair the vandalized memorial.
With corporate and municipal partners, the Center has now reprinted the words "We Are Everywhere" on signs and banners to subvert the original message of the early December vandalism.
"People of good will, people of compassion, people who are considerate of their neighbors, are everywhere," said Dan Prinzing, Wassmuth Center Executive Director. "We are going to own that narrative, that love and compassion are louder than the voices of division and hate. We can each stand up against injustice in our homes, our neighborhoods, places of worship, where we work, our schools. It starts there." When we display the signs, he added, "Let's proclaim it, and let's live it. It's not just a tagline. It's a call to action."
You will see more of these signs throughout Boundary County and Idaho as the effort to combat racism and hate continues to expand. In the words of Father Wassmuth, "Saying 'Yes' to human rights is the best way to say 'no' to prejudice."

For more information on the Love Lives Here campaign, please visit https://loveliveshereflathead.org
For more information on the Wassmuth Center, please visit https://wassmuthcenter.org .
For information on the availability of signs and the Boundary County Human Rights Task Force, please visit http://www.boundaryhumanrights.org/. We can also be reached on Facebook and at boundaryhumanrights@gmail.com .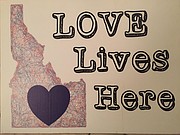 ---