Badger baseball on 3 game winning streak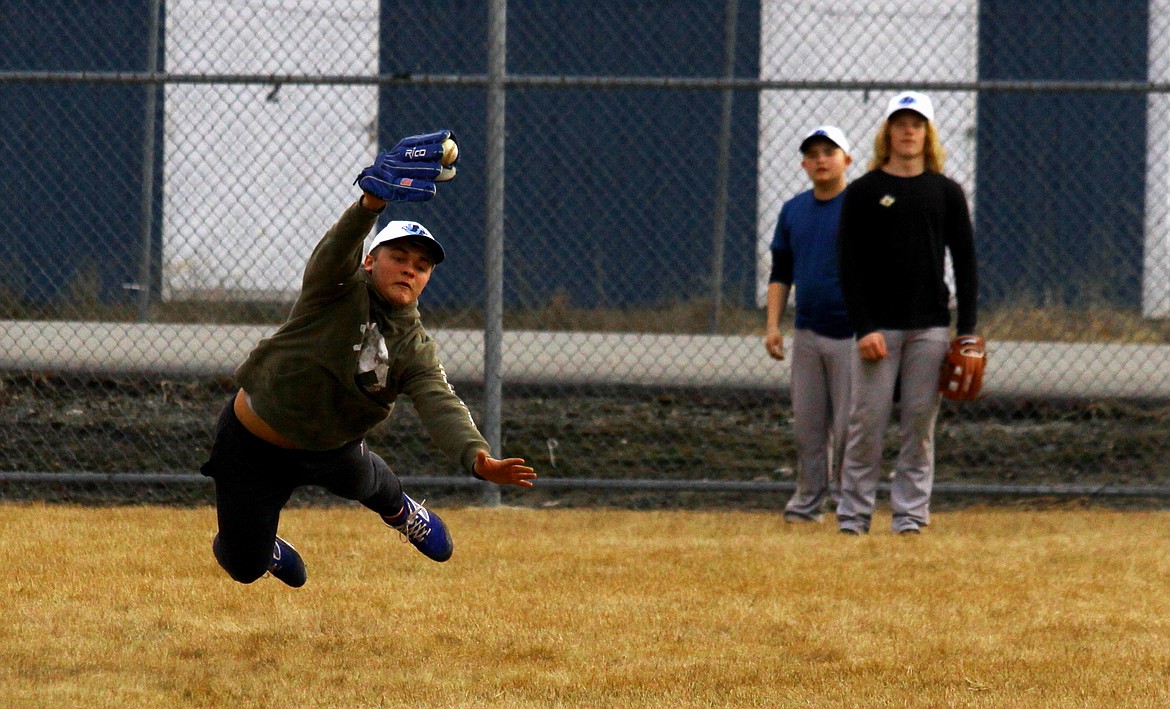 (Photo by Victor Corral Martinez) Badgers baseball practicing
by
VICTOR CORRAL MARTINEZ
Staff Writer
|
March 18, 2021 1:00 AM
LEWISTON — Badger baseball started the spring season strong with three wins and one loss in two nonconference doubleheaders.
The Bonners Ferry varsity baseball team lost its opening game against Grangeville 20-2 on Thursday, March 11, but bounced back to defeat the Bulldogs 15-14 in game 2.
The Badgers kept their hot bats going at St. Maries on Saturday, March 13, sweeping the host Lumberjacks 18-13 and 13-9.
According to head coach Tom Turpin, 3-1 on the season is a good start, but there is a lot of work to do in every facet of the Badgers' game.
"We're really hitting the ball hard, which I think is really promising for us," Turpin said. "We need to work on pitching; we gave up a lot of walks."
Turpin stated that Bo Bateman on Saturday batted .500 and went 5-for-10 with a double, triple, six RBIs and five runs scored.
According to Turpin, Tegan Banning pitched well during the first game and made good contact with the ball at the plate.
In the second game, Porter Schulte was 3 for 3 with three RBIs and two runs for the Badgers, and Blake Rice was 2 for 3 with two RBI and two runs.
The goal is to prepare for Intermountain League matches by throwing more strikes and improving all around, especially since many of the athletes haven't played in two years due to the COVID pandemic canceling the 2020 baseball season.
"We're just trying to fundamentally get prepared for league," Turpin said. "We're not looking to win at all cost, we're just trying to figure out what we need to work on and go from there."
Badger baseball hits the road again this weekend with a three-game series at Orofino starting on Friday at 2 p.m.
Bonners Ferry 18-13, St. Maries 13-9
FIRST GAME
Bonners Ferry 145 120 5 — 18 12 0
St. Maries 020 403 4 — 13 10 5
Teigan Banning, Elyah Dahl (4) and Bo Bateman; Wyatt Holmes, Gabe Thomas (3), Gavin Wemhoff (5), Ricky Nelson (5), Brock Anderson (7) and Kade Crawford.
HITS: BF — B. Bateman 3, T. Bateman 2, Banning 3, Hammons, Dahl, Schulte, Madden. SM — Crawford, Larson, Wicks 2, Thomas 2, McMaster 2, Wemhoff, Milikin. 2B — T. Bateman, Schulte, Thomas, Wemhoff. 3B — B. Bateman.
SECOND GAME
Bonners Ferry 901 201 — 13 9 3
St. Maries 310 104 — 9 10 3
Blake Rice, Trey Bateman (1), Porter Schulte (6) and Bo Bateman; Tanner McMaster, Shaun Hunter (1), Brock Anderson (1), Dylan Larson (4) and Dillon Holder.
HITS: BF — B. Bateman 2, T. Bateman, Rice 2, Schulte 3, Eby. SM — Wicks, Wemhoff, Larson, Crawford 2, Abel, Thomas, Marsh, Milikin, Nantell. 2B — B. Bateman, Rice, Milikin.
---