March Madness takes over BCMS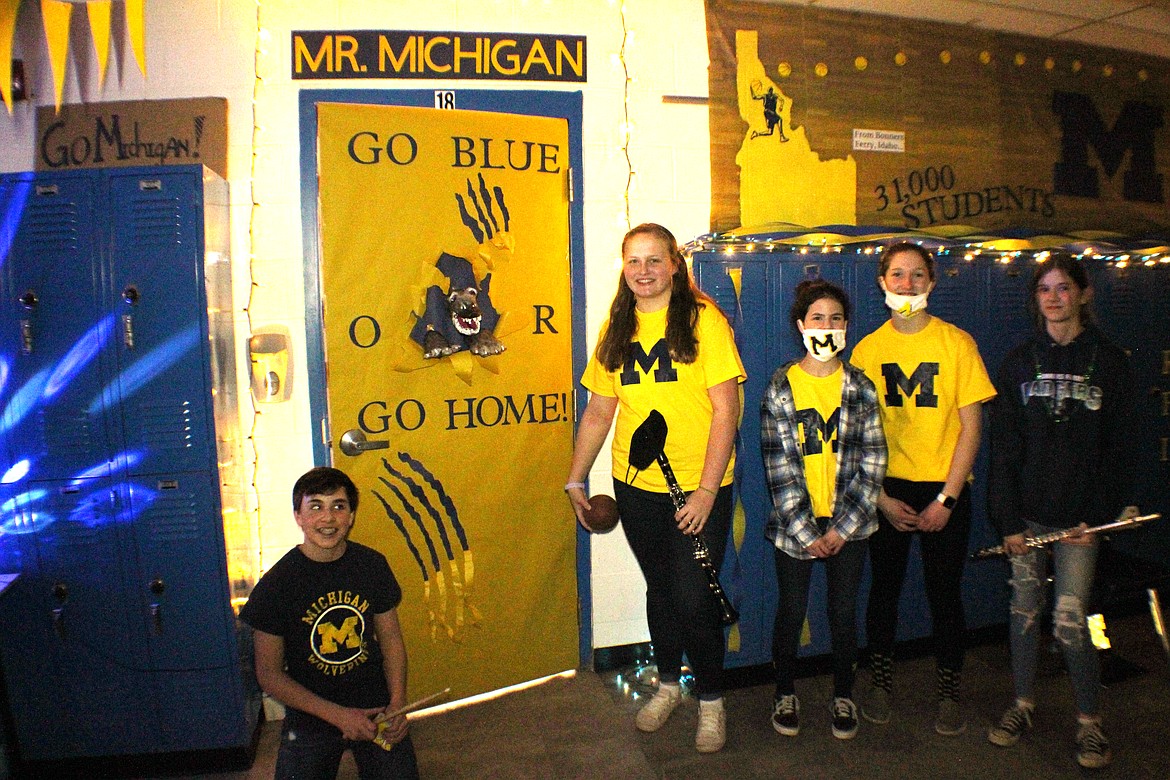 1st Place overall — University of Michigan (Mr. Arthur)
by
VICTOR CORRAL MARTINEZ
Staff Writer
|
March 22, 2021 2:31 PM
Bonners Ferry — Boundary County Middle School, kicked off their annual March Madness door and hall decorating contest that took place Wednesday, March 17.
16 classrooms participated in the challenge; each class was assigned a college and will decorate the door and hall area according to a specific rubric.
The rubric outlined live tours, showcasing fun facts, basic information, performance elements, technology use and overall impression of the project.
According to organizers, the event focuses on preparing students for college and life after high school.
The middle school started the March Madness door hall competition 15 years ago to help bring the college atmosphere into the school.
BCMS eighth grade teacher Kelly Hinthorn stated that the idea came from a love of basketball, lack of a college at the time and many people in the region excited for Gonzaga University's continual march madness appearances.
"In addition, we were both big basketball fans and thought this would be the perfect time when its march madness," Hinthorn said about starting a college basketball door contest.
The idea of the march madness event is to give students exposure to see the many positive aspects of pursuing a trade school or a traditional university. The hope is that students start thinking of their future.
"Sometimes students hear that nobody in my family has gone to college, it's so expensive, and while it is, there are ways to plan and make it happen; if you want certain jobs, you need to go to college," Hinthorn said, "at the same time we talk about trade school options, apprenticeship options and military options."
Students and staff are excited because the previous year saw an entire school shut down after the COVID-19 disruptions.
"I'm very proud of them; it is stressful; the eighth graders especially were really excited because last year their doors were done, we were ready to present, and this was basically the week we were shut down, and they didn't get to present," Hinthorn said.
Eighth-grade world history teacher Clint Arthur really liked students' creativity and is excited every year to see new creative ideas that students almost entirely set up with little adult help.
"Most of it was all student-driven," Arthur said. "So once they knew who they were doing, they started doing their own research."
Arthur stated that the most work he has done is to handle the sharp scissors to cut the intricate pieces, but he enjoys the variety of skills shown and being able to work together made Arthur proud as a teacher.
According to Arthur, the march madness event gives students a better college aspect beyond just sports because they have to look up tuition, college programs and distance from Bonners Ferry.
Jaak Sanders, an eighth-grade science teacher, is excited every year march madness occurs and has seen the humble beginnings of the event to the extent that it is now.
"I've seen it grow from a very modest beginning to a kind of craziness but a very positive craziness," Sanders said, "It gives the kids a chance to learn and express themselves and from its humble beginnings to now, it's gone through a lot of changes, its fantastic."
Sanders stated that the work the middle school is doing to get students thinking of college has helped lay down the groundwork for their academic success.
"I've been here long enough to see a lot of graduating classes come through Bonners ferry high school, and the efforts that get laid down in sixth, seventh and eighth grade are paying off because we have a lot of my former students continuing their education.
Sanders also stated that a college education can help with social mobility, especially in a low-income area such as Boundary county, where making more than minimum wage almost always requires some form of postsecondary education.
"To earn a living, you almost have to have a degree otherwise, you're at minimum wage," Sanders said.
Kelsey Rice, sixth grade language arts teacher, stated that the work done in the middle school is absolutely helpful in having students think of college long term.
"It's a great experience, it's a little overwhelming, but the kids are having so much fun." Rice said, "I'm so proud of them, and they all have put in a lot of hard work and dedication."
The whole month of March, the middle school also gives out college prizes, trivia competition, college shirt day and drawings.
Hinthorn stated that she wants students to know there is much more than Boundary county, and like herself, she chose to go out there, explore, get a degree, and come back home to teach and make a positive impact.
"Anything we can do just to get them to think the world is much bigger than Boundary county, and if you want to come back, that's great, but go explore and do something else first," Hinthorn said.
Final Scores:
Overall —
1st Place — University of Michigan (Mr. Arthur)
2nd Place — University of Illinois (Mrs. Hinthorn)
3rd Place — Oklahoma State University (Mrs. Kerttu)
8th Grade —
1st Place — University of Michigan (Mr. Arthur)
2nd Place — University of Illinois (Mrs. Hinthorn)
3rd Place — Villanova (Mrs. Johnson)
7th Grade —
1st Place — Oklahoma State University (Mrs. Kerttu)
2nd Place — University of Texas (Mrs. Schulte)
3rd Place — Baylor University (Mrs. Roemer)
6th Grade —
1st Place — University of Houston (Mrs. Rice)
2nd Place — University of Arkansas (Mrs. Stolley)
3rd Place — University of Kansas (Mrs. Warren)
Best Use of Technology — Mrs. Hinthorn
Best SWAG — Tie ... Mrs. Johnson and Mrs. Hinthorn
Best Song — Mr. Arthur
---