Barajas commits to Ellsworth, thanks family, friends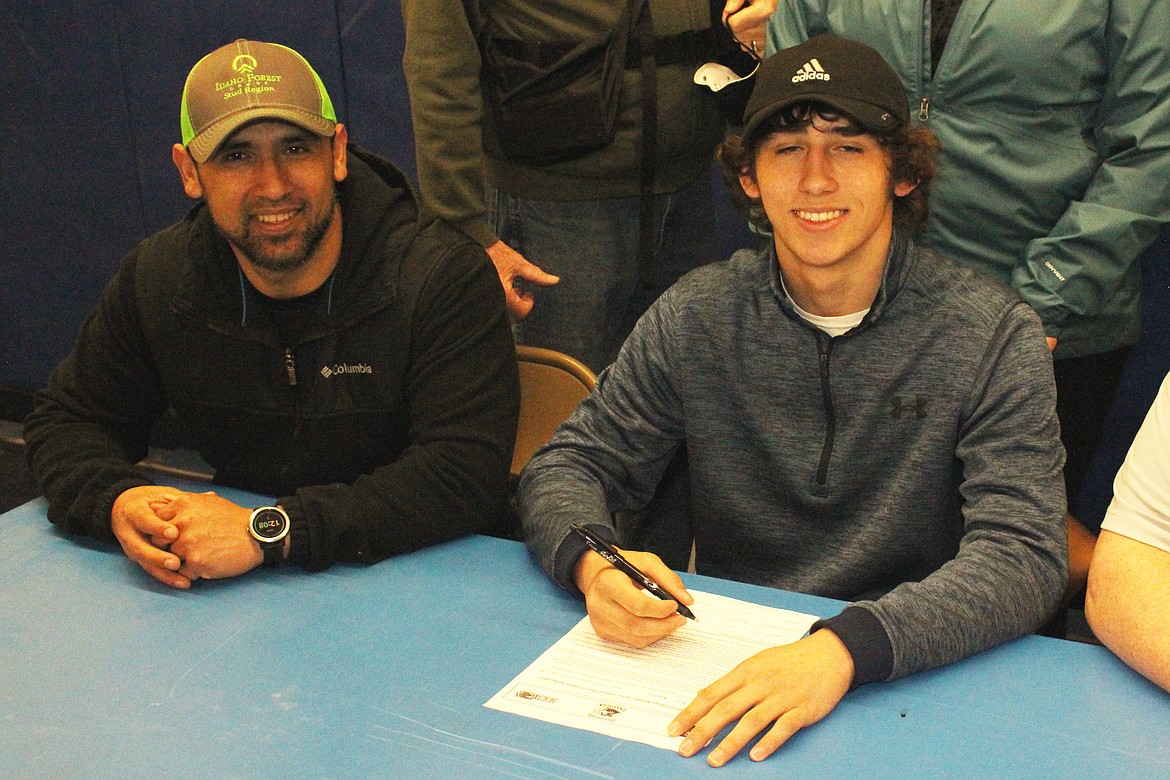 (Photo by Victor Corral Martinez) Pictured: Ezequiel and Evan Barajas
by
VICTOR CORRAL MARTINEZ
Staff Writer
|
March 25, 2021 1:00 AM
BONNERS FERRY — Evan Barajas has committed to Ellsworth Community College and accepted a scholarship to continue competing in wrestling, now on a collegiate level.
On Tuesday, March 24, Barajas signed his agreement with Ellsworth College, reaffirming years of hard work on and off the mats.
Evan Barajas played wide receiver on the football team and was honored with Emma Pinkerton for the 2019-20 Tim Mercer and Gladys Richardson awards for outstanding male and female underclass student-athlete at Bonners Ferry High School.
Barajas stated that he was excited about the opportunity to keep working hard in wrestling and will try to win every match he wrestles. He loves the sport, and it makes him excited that his friends are proud of him.
"There's no way I could be here without my parents, coaches, friends and it took everyone around me to get where I am." Evan Barajas said.
The support system around Evan Barajas is robust, and they are incredibly proud of his hard work and dedication to get to where he is now. His father, Ezequiel Barajas, was proud of Evan because he will be the first on both sides of his family to compete in collegiate sports.
"As parents, we are beyond proud of Evan committing to Ellsworth College," Ezequiel Barajas said, "He will be the first out of both sides of our families to compete in a college sport."
Like all parents, Ezequiel Barajas is also struggling with letting his son go off to college, and while many will stay within Idaho, Evan will be competing in Iowa.
"It will be pretty hard to have him all the way in Iowa; it's a long way from home." Ezequiel Barajas said.
According to Ezequiel Barajas, Evan has put in a lot of work into wrestling since the age of 6, and aside from the medals, trophies, and a state title Ezequiel is most proud of the lessons Evan learned in wrestling.
"Evan's developed into a strong young man, he's got gratitude, he's built some good camaraderie and friendships." Ezequiel Barajas said, "In wins or losses, he's learned to be humble and hold his head up high; it's taught him discipline and good work ethic.
"I think one of the greatest benefits from wrestling for Evan has been learning to face challenges and to demand the most from himself."
Evan Barajas is still not done with his high school wrestling journey, and he will be competing in nationals in Cedar Falls, Iowa, the first weekend of April.
"We're excited to watch him continue maturing; as his wrestling comes to an end in Bonners Ferry, we would like to thank the following in no particular order that has helped him so much throughout his journey:
The Barajas family has much to be thankful for, but the support system in place that helped Evan Barajas mature and develop as a man was one aspect they are grateful for in regards to Evan Barajas's success.
According to Ezequiel Barajas, Conrad Garner, Kevin Campbell, Kyle Watts, Corey Richards, Rex Koehler, Justin Pluid and Linda Hall all contributed to Evan's wrestling career.
"Without their help, he would not be the wrestler he is, Evan will be receiving a wrestling scholarship to Ellsworth, and I'm excited that he can use his talent to help offset the cost of his tuition, our hopes for him now that is moving onto the next chapter in life is that he applies himself academically and in wrestling to get a degree in the field he wants to pursue in life." Ezequiel Barajas said.
According to Ezequiel Barajas, Evan is pondering a few different majors to pursue.
Head coach of wrestling at Ellsworth College, Tyson Springer, is very excited to have Evan Barajas become a Panther and compete at Ellsworth College.
"Were very excited to get a kid like Barajas out here next year, Evan has had an outstanding high school career, and I can't wait to see what he does now at the college level," Springer said.
According to Springer, he started to recruit Evan after talking with some of his former teammates from North Idaho College.
"Coach Watts and Justin Pluid both had nothing but awesome things to say about Evan's work ethic on and off the mat and told me he is a kid we can't miss out on."
Evan Barajas will be in good hands with Springer, who is no rookie to the junior college circuit. Springer was a North Idaho Junior College graduate, Springer helped the team win a national title in 2003. After attending Dickinson State University in North Dakota, where he was a two-time National finalist and won the NAIA National Championship at 165 pounds.
According to a news release from Ellsworth College, Tyson has helped coach 8 All-Americans, 1 NJCAA National Champion, and lead a recruiting class the finished 6th in the NAIA in 2015 while at Doane University.
Evan Barajas stated that many colleges and universities reached out with some small talk and potential opportunities. Still, when Ellsworth offered the scholarship and committed to him, he committed right back to Ellsworth College.
Head wrestling coach Kevin Campbell knew that Evan Barajas was such a hard worker and would further his wrestling career.
"There's no doubt in my mind that he was college level; he would go somewhere if he wanted to," Campbell said, "I call it the Evan lottery because whoever signs him they're getting a phenomenal kid."
According to Campbell, the high school showcases a list of students who have gone off to compete in college. The school will now be adding Evan Barajas to that list; the list highlights students and encourages other students that it's possible to achieve success.
"The kids that are here now see that, and it gives them that hope and hunger that they could do it too," Campbell said.
Campbell is excited for Evan Barajas because he will have great coaching, great sparring partners and pursuing an academic along with a collegiate career that will help him go to the next level in life.
"I completely expect to see him in the all-American stand someday."
---