Bonners Ferry student becomes RC champion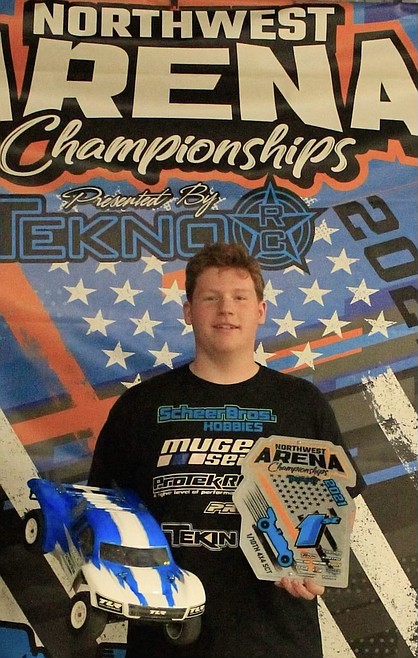 (Gage Tweedie after the championship race)
by
VICTOR CORRAL MARTINEZ
Staff Writer
|
May 6, 2021 5:27 PM
SPOKANE — Gage Tweedie of Bonners Ferry took top honors at the Spokane fairground after competing in the northwest remote control arena championship.
Tweedie not only took top honors but beat all 38 competitors in the short course truck race — including last year's champion. The event was conducted over three days, with competitors performing in multiple races daily.
The event features categories for rookies, sportsmen, professional racers and an open class 4x4 category. On the first day of racing, Tweedie placed second overall remaining just behind the defending champion.
After placing in the top for multiple races on day two, Tweedie remained second overall. On the last day, only the top 14 of 38 competitors could compete in the final three rounds of racing.
Tweedie stayed at second place behind the defending champion. The course has all kinds of obstacles that include bumps, humps, downgrades, inclines, jumpoff ramps, and it adds much more complexity to the races.
According to Gage Tweedie's father, Rob Tweedie, the obstacles make it very hard to perfect while pushing remote control cars past 45 mph. If your vehicle flips or goes off track, a race Marshall must help get the car back on track.
In the final race, all trucks take off, and Gage Tweedie remains in the second spot close to the defending champion. Still, the defending champion experiences a split second of trouble, allowing Gage Tweedie to close in and take the top place.
"Gage takes the first place spot and nails it, never giving up the first place," Rob Tweedie said.
The closest competitor in time to Gage Tweedie was 6.5 seconds behind, which was a significant gap that cemented his overall first place win.
Gage Tweedie also has the record in the Columbia Falls track for the fastest time recorded for a short course truck.
According to Gage Tweedie, his father got him into remote control racing from childhood and recently dived back into the sport.
Over 400 entrees at the pacific northwest tournament would give any person on the podium exposure and recognition for the hard work.
Gage Tweedie prepped for this race; knowing he was going against world-ranked racers, he looked at the track and planned it out, so he could focus solely on the race as it happened.
"I just block everything out and focus on what I'm doing," Gage Tweedie said.
Tweedie currently attends Bonners Ferry high school, has a part-time job and a 4.0 GPA. With all his work, Gage Tweedie thanked his sponsor, Scheer Bros. Hobbies and his parents for helping to fund and make these achievements possible.
According to Gage Tweedie, the accomplishments and winning are nice, but he appreciates how close it has brought him to his father, where they can share memories and bond over a mutual hobby.
---