Badger baseball wins districts, looks to state
by
VICTOR CORRAL MARTINEZ
Staff Writer
|
May 12, 2021 4:45 PM
BONNERS FERRY — Badger baseball dominated against Priest River in Monday's playoff opener, and continued that success to beat Timberlake 12-10 for the district championship on Tuesday, May 11.
The Badgers were able to knock out Priest River and had no remorse; from Banning and all the relief pitchers, they could move quickly against the Spartans.
Eventually, with stealing bases and clever play-calling, the Badgers created much separation that led to a 12-1 win over Priest River.
On Tuesday, Bonners Ferry hosted Timberlake in a hard-fought match that saw the Badgers emerge victorious.
At the beginning of the game, Porter Schulte was able to get on first and stole two bases, setting a rhythm for the whole game.
Banning opened up the game as the primary pitcher but began to come alive in the third inning; there were moments that Timberlake could get bases loaded and apply the pressure to the Badgers defense.
Elijah Dahl could catch deep hits and close the inning, but it was not enough to prevent Timberlake from getting some players home.
According to coach Tom Turpin, it was a tough seven innings and mentioned the team did manage to let Timberlake have a chance to close the gap but stated this is how the young team learns to grow as a team.
The pitcher for Timberlake was fast, solid but messed up and clipped Bo Bateman, allowing him to go on base. Banning followed with a resounding hit that allowed Bo Bateman to run home.
Timberlake pitching hit Spencer Eby with a hardball hit to the body that allowed him to jump on base. Later in the innings, Bo Bateman was able to hit a deep ball, with the outfielder losing sight and unable to make the catch.
At the beginning of the 7th inning, Badgers enjoyed a strong lead and rotated pitchers to close out the game 12-10.
Turpin stated that Banning was close to his pitch count, and he was able to begin figuring out a rotation of pitchers to close the game with a Badger win.
According to the athletic director, Nathan Williams "The boys held their composure and the first inning had some nerves showing but they came out to play, We've been hitting the ball great all year."
Williams stated that the baseball team is comprised of a bunch of winners with a young winning team and is excited to see where they go in the state.
A modest Banning was excited about his team's win and wanted it known his team was a critical factor in his successful pitch-off with Timberlake.
"I pitched pretty decent and my defense just backed me up the whole game so I really didn't have to do much," Banning said, "Thanks for the defense."
According to Turpin, getting back to work and working on strikes, more assertive, on the bat, and working to go into state strong and prepared.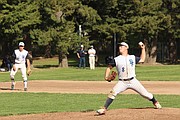 ---