Lady Badgers going to state golf competition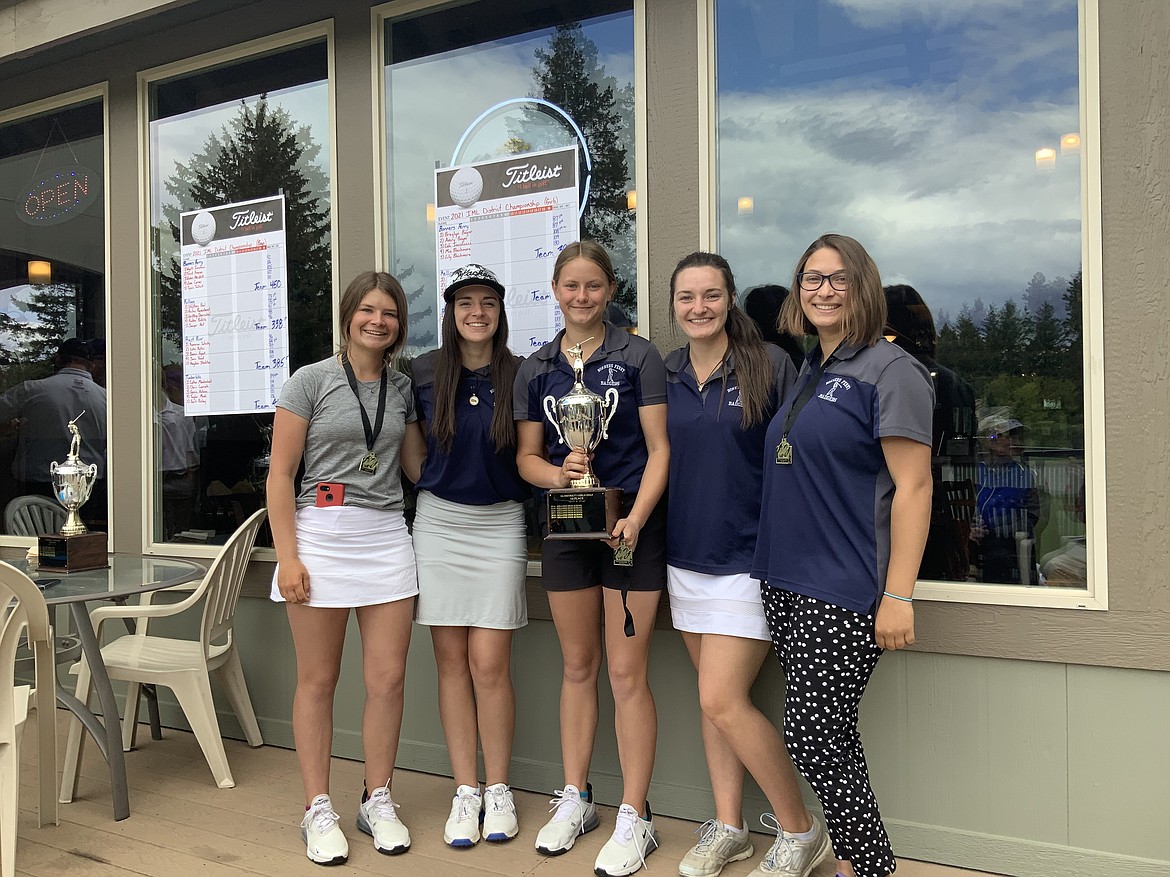 (Photo courtesy of BFHS Golf) Pictured Avery, Mia, Braylyn, Lily and Cali
by
VICTOR CORRAL MARTINEZ
Staff Writer
|
May 12, 2021 8:39 AM
RATHDRUM — Lady Badgers took top honors at the IML district golf tournament held at Twin Lakes Village golf course on Monday, May 10, with Bonners Ferry scoring 395 and beating second-place Kellogg by 44 strokes.
The Badgers were led by Avery and Braylyn Bayer, who tied for low medalist honors after 18 holes. Braylyn Bayer edged out Avery Bayer in a two-hole playoff to finish overall low individually.
Cali Iacolucci joined Avery and Braylyn Bayer in the all-district girls team as she tied for fifth place in the field. Although Mia Blackmore did not make the team but missed out by one shot, she also shot her personal best of the season and tied for sixth place.

The Lady Badgers will compete at the state tournament on Monday and Tuesday at the Twin Lakes Village golf course.

According to coach Ralph Lotspeich, this is the first time the team has won districts, and he looks forward to seeing how next week unfolds.
"These young ladies have come a long way and have worked hard on their games," Lotspeich said, "Golf takes a lot of time and family support for players to develop, and these are special families who started their kids in golf at a young age."
Kellogg dominated the League finishing 47 strokes ahead of Priest River, with Bonners Ferry coming in third with Timberlake rounding out the field. Wyatt Iacolucci led the Badgers by shooting 92 and narrowly missing his second trip to state by three strokes.
The second-lowest finisher on the team was Evan Nesbitt, who shot his personal best round of the year with a 105. Representing the badgers were Trent Freeze, Zane Carver, and Tyson Tadlock.

"While the guys aren't traveling to State, I appreciate Wyatt's and Zane's persistence and consistency and wish them well as they move beyond high school this year," Lotspeich said, "I hope the younger players will continue to work on their golf games through the summer."

---