Girls golf makes history, becomes state champions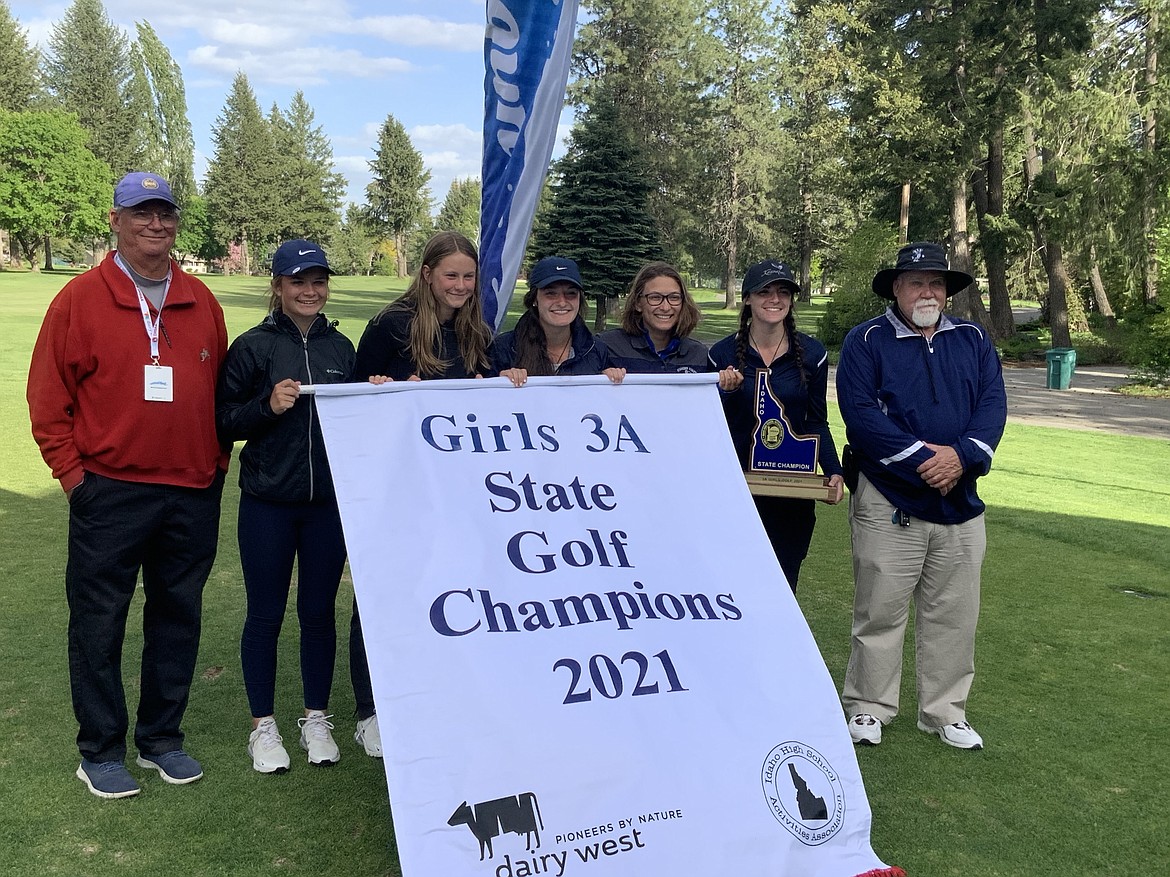 (Photo Courtesy of BFHS Golf) Pictured: Ralph Lotspeich, Braylyn Bayer, Avery Bayer, Cali Iacolucci, Mia Blackmore, Lily Blackmore and David Koons.
by
VICTOR CORRAL MARTINEZ
Staff Writer
|
May 19, 2021 12:59 PM
RATHDRUM — The Bonners Ferry girls golf team earned some historic hardware with two strong days at the 3A state championship on Monday and Tuesday, May 17 and 18, at Twin Lakes Village golf course near Rathdrum.
Braylyn Bayer, Avery Bayer, Cali Iacolucci, Mia Blackmore and Lily Blackmore helped the Badgers shoot a two-day team score of 756, which was 37 strokes ahead of second-place Kimberly.
Braylyn Bayer and Avery Bayer stood in third and fourth place, respectively, among individual golfers after the first day of competition.
Despite cooler temperatures and strong winds, Braylyn Bayer shot the best score of the day on Tuesday, an 81, which pulled her into second place overall, behind Reece Garey of Kimberley.
Avery Bayer and Cali Iacolucci also placed in the Top 10 to earn state medalist honors.
In fact, head coach Ralph Lotspeich noted that Iacolucci and the Blackmore sisters all improved their scores on day two, helping the Badgers pull away from Kimberly. The first-ever district title, won the previous week, will now be joined by a state championship trophy.
According to Lotspeich, the girls team was "on point the whole season," and won every IML match.
The team was focused on its goal all season, he said, but it wasn't hard for the team to make strides and improve their previous scores and peak at the right time during state competition.
"They were fantastic to work with," Lotspeich said, "I also appreciated the parental support [for the team]."
Lotspeich noted that all five players on the team are driven individuals involved in everything from the Distinguished Young Women program to playing multiple sports.
"I don't know how they do it all," Lotspeich said.
Three of the girls are freshmen, and one of them is a junior, with Lily Blackmore being the lone senior, providing much hope for Lotspeich that the Badgers' success will continue for the next few years. He just hopes that the athletes maintain their training.
"I hope they play well in the summer camps," Lotspeich said.
Lotspeich believes a significant role in winning the state title was the team's ability to do what's asked and having that personal desire to do well, not to mention the help of David Koon and the parents who actively helped the team.
3A GIRLS
TEAM SCORES — 1, Bonners Ferry 390-366—756. 2, Kimberly 402-391—793. 3, Buhl 424-419—843. 4, Kellogg 486-456—942. 5, Weiser 482-490—972. 6, Marsh Valley 490-495—985. 7, Sugar-Salem 549-581—1,130.
STATE MEDALISTS (Top 10) — 1, Reece Garey, Kimberly, 76-84—160. 2, Braylyn Bayer, Bonners Ferry, 85-81—166. 3, Tea Uranga, Homedale, 84-83—167. 4, Reina Elkin, Buhl, 90-85—175. 5, Avery Bayer, Bonners Ferry, 88-91—179. 6, Tenlee Scott, Buhl, 95-95—190. 7, Cali Iacolucci, Bonners Ferry, 101-92—193. 8, Ellie Stastny, Kimberly, 103-96—199. 9 (tie), Izzy Hillard, Timberlake, 95-105—200, Mallory Davids, Marsh Valley, 100-100—200.
BONNERS FERRY — Braylyn Bayer 85-81—166, Avery Bayer 88-91—179, Cali Iacolucci 101-91—192, Mia Blackmore 116-103—219, Lily Blackmore 138-122—260.
KIMBERLY — Reece Garey 76-84—160, Alli Stastny 107-99—206, Whitney Ward 116-117—233, Ellie Stastny 103-96—199, Madison Smith 116-112—228.
BUHL — Reina Elkin 90-85—175, Tenlee Scott 95-95—190, Macy Pearson 149-INJ—INC, Aspen Eckert 114-116—230, Annie Tverdy 125-123—248.
KELLOGG — Alyssa Milliron 111-107—218, Gracie Miller 121-110—231, Elliott Hei 131-117—248, Jezzy Hall 123-122—245.
WEISER — Gabi Palmer 121-120—241, Jasi Yraguen 125-129—254, Elle Svedin 115-125—240, Paige Johnson 121-116—237, Rachele Storey 147-141—288.
MARSH VALLEY — Mallory Davids 100-100—200, Sarah Sutton 136-125—261, Avery Neeser 124-136—260, Morgann Brown 142-134—276, Eva Sutton 130-136—266.
SUGAR-SALEM — Saige Anderson 149-145—294, Kate Gardner 146-135—281, Saryn Flora 122-147—269, Lydia Harman 132-154—286.
OTHER INDIVIDUALS — Izzy Hillard, Timberlake, 95-105—200; Hannah Johnson, Payette, 107-125—232; Tea Uranga, Homedale, 84-83—167; Saddie Bruderer, Snake River, 120-108—228; Abbie Tibbitts, Teton, 136-130—266.
---