Bonners Ferry gun club news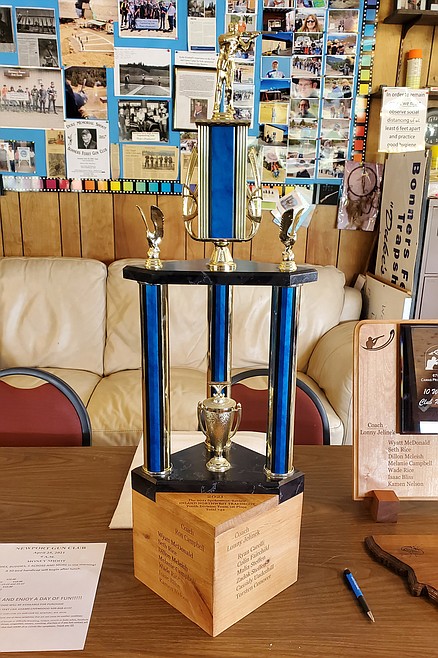 Duke's Claybusters 1st place trophy (Photo by Ron Campbell)
by
Lonny Jelinek
|
May 20, 2021 1:00 AM
Hello Fellow Trap Shooters!
The trap club is now open to all trap shooters at 10 a.m. on Wednesdays. New, experienced, youth and the "over-the-hill gang" all are welcome and coaching is available.
Our targets are White Flyer fully orange clays, and the houses are set to Amateur Trap Association standards. We currently offer both singles and doubles shooting.
Regular shooting days are Saturday and Sunday at 10 a.m., open to all shooters but our high school team has practice and coaching on Saturday. Sundays are the best day to shoot with the "over-the-hill gang" because we have two trap houses so wait time is not usually an issue.
The two greatest accomplishments of the 2020-2021 shooting year for our club were the successful league shoots by our high school trap team and our ATA certification allowing us to hold registered ATA shoots. We are currently working to schedule shoots so as to not interfere with other nearby clubs.
The Duke's Claybusters (our high school trap team) really came through this year in both league and individual accomplishments with their two 1st place and one 2nd place positions.
The Big Sky I-Net shoot presented a great plaque engraved to the top junior team and runner up team. They also gave a belt buckle to the top junior shooter and the top sub-junior shooter.
The Camas Prairie league also gave a great plaque, engraved to the first place and runner up teams in their winter league competition, and individual awards such as new junior shooter high score. There are 24 clubs in the Camas Prairie league.
The Spokesman-Review Telephonic shoot had more than 26 clubs entered but there were no trophies or awards.
"I remember my first trophy," reminisced Coach Lonny Jelinek. "I took 1st place at Naples Elementary School. Even back then we had to have good grades or we could not participate on the track team. The goal was to make the team as well as individual. I remember shooting ground squirrels out of the cow pasture to keep the cattle from breaking their legs. I guess you would call this bounty hunting as me and my brothers got $0.05 a tail but I guess the greatest trophy I won was my first deer and helping to feed the family."
What I'm trying to get across is that those trophies matter. Putting all the enthusiasm and learning into our youth, good grades, integrity, and marksmanship matters.
The Bonners Ferry Gun Club, the Lance Schoeman Family "Trophy" (Heron, MT), Bill Nelson Family and Jamie Fulton of Wildwood Leatherworks made a trophy to honor the "Duke's Claybusters" Bonners Ferry High School Trapshooting team for the Spokesman-Review 2021 top score junior trap team, which included all the team members names. It will be displayed at our local high school after it finishes its term on display at Pace-Kirby downtown.
I appeal to all the Spokesman-Review winter league clubs to consider donating an old trophy or a small donation to our youth trapshooting fund. Let's show some appreciation for our youth clubs in all sports.
Congratulations to Tom Daniels and crew in the rifle division for setting two national records in two years, as well as to the young ladies rifle shooters.
Shoot safe and keep your powder dry.
Coach Lonny
---