Thomas (Tom) Rosser Peyton, 81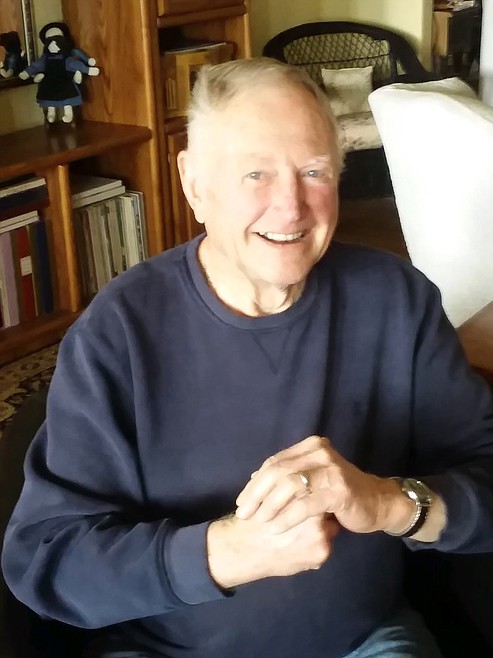 |
November 12, 2021 12:36 PM
Thomas (Tom) Rosser Peyton, 81, of Bonners Ferry, Idaho, went home to be with the Lord in the early hours of Oct. 14, 2021. He passed away peacefully at Sunset Home surrounded by his family.
Tom was born March 27, 1940, at the Presidio of San Francisco to Colonel Hamilton M. and Betsey Partello Peyton. Growing up in a military family, Tom lived in many places in the U.S. and around the world. He attended 17 different schools during his childhood and teen years. He was a natural athlete lettering in five different sports in high school.
After graduating from Highland Park High School in Highland Park, Ill., Tom entered the Citadel and after a year at the Citadel he enlisted in the Army. He enjoyed his time in the military and said they were some of the best days of his life. After his honorable discharge in 1963, Tom sold real estate in the Monterey, Calif., area, and then went to work in the computer field at IBM. In 1970 while taking night classes at the Monterey Peninsula College, he met an old friend from his junior high school days in Arlington, Va., Betsy Bryner. After a year-long courtship, they were married on Nov. 27 in Carmel, Calif.
In 1971, after discovering his niche through his love of meeting new people, playing and working in the great outdoors, Tom enrolled at California State University Fresno to study recreation management. After his graduation in 1973, he took a job with the Monterey Parks and Recreation Department, where his park ranger career took off at Veteran's Memorial Park, a new city park and campground where he was responsible for all aspects of park management, building trails and park signage (still in place today), maintenance of the facilities and vegetation, and visitor services.
In 1976, Tom accepted a job with the National Park Service in Washington, D.C., and moved his family to Virginia. He spent the rest of his career in Washington, D.C., serving as an interpretative park ranger at Theodore Roosevelt Island, Union Station Visitor Center, and Ford's Theater National Historical Site where he became the park's site manager overseeing park operations for more than 10 years. In 1990, he was offered the position of superintendent of The President's Park (White House) and the new White House Visitor's Center where he managed the sites until his retirement in 2000.
In the mid-1990s, Tom and Betsy took a trip to the Pacific Northwest to visit family, and they fell in love with North Idaho. On a later trip to Bonners Ferry to visit Tom's brother, they decided North Idaho would be their retirement destiny and in 2000 they moved from Woodbridge, Va., to Bonners Ferry.
Tom loved people and never met a stranger. He would strike up a conversation with every person he met leaving them with a good feeling about themselves and the world around them. A devoted husband, father, grandfather and brother, Tom enjoyed spending time with his family. He loved music, playing the guitar and singing. He was a wonderful storyteller and had a great sense of humor. His grandchildren loved listening to his many fictional stories that will surely be passed down to their children. He was also an avid reader and nap taker, telling his family he invented the art of napping.
Tom was also a lifelong dedicated Catholic. He was an active member of St. Ann's Catholic Church in Bonners Ferry where he served as a lector and as a member of the liturgy committee.
Tom was preceded in death by his wife, Betsy; his parents, Hamilton M. and Betsey Partello Peyton; and brothers-in-law Richard Brennan and Lee Bryner. He is survived by his children, Mollie (Bruce) Yeatts, and Beth (Travis) Walker, both of Bonners Ferry, and Chip (Kenyette) Mills of Gore, Va.; grandchildren Peyton Yeatts of Bainbridge Island, Wash., Sarah and Daniel Walker of Lynchburg, Va., and Noah Walker of Bonners Ferry; brother John (Luise) Peyton of Bonners Ferry, and his family; sister Jean Brennan of Salinas, Calif., and her family; nephew Kirk Bryner of Mineral, Va., and his family; dear loyal friends, Don and Mary Cay Dinning of Bonners Ferry, Terrie Fajardo, and Emogene Bevitt of Brookeville, Md.; and many wonderful neighbors.
A Mass of Christian Burial will be held at 10:30 a.m. Friday, Dec. 17, 2021, at St. Ann's Catholic Church in Bonners Ferry, preceded by the rosary at 10 a.m. Tom and his wife, Betsy, will be interned at CalVet Cemetery in Seaside, Calif., next summer.
Tom will be dearly missed by his family and all who knew him, but we rejoice that he is released from pain and at home with his Lord!
The family wishes to extend a special thank-you to the loving and caring staff at Sunset Home.
In lieu of flowers, donations may be made to Saint Ann's Catholic Church in Bonners Ferry, the American Parkinson Disease Foundation or to your favorite charity.
Family and friends are invited to sign Tom's guest book at www.bonnersferryfuneralhome.com. Arrangements are entrusted to the care of Bonners Ferry Funeral Home.
Recent Headlines
---