Junior rifle team places third nationally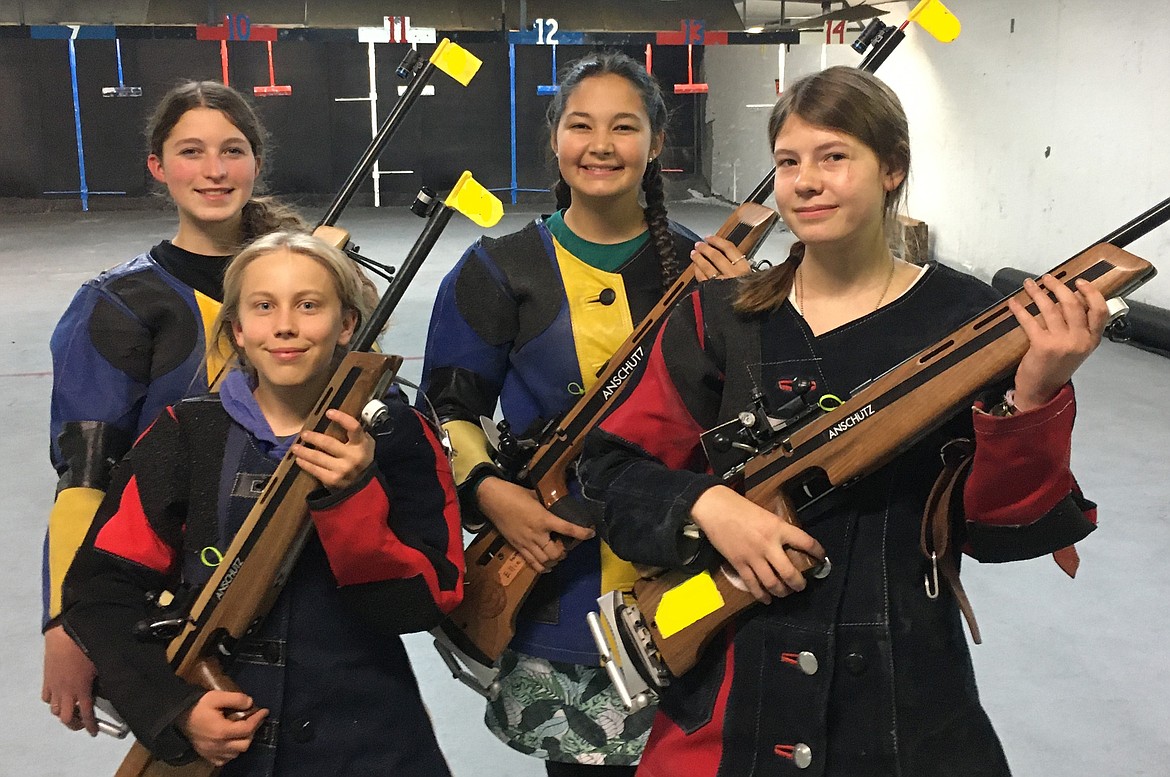 Pictured in the back row, from left, are Megg Kahanek and Ellie Rutherford. Pictured in the front row, from left, are Paige Sartell and Salix Harris.
(Courtesy photo)
|
November 18, 2021 1:00 AM
BONNERS FERRY — In March, the Kootenai Valley Junior Rifle Club competed against the Sandpoint team in a rifle match. The scores were then sent to the National Rifle Association in order to rank them nationally.
Shooters compete using a .22 caliber rifle, with iron sights, at a distance of 50 feet indoors. The metric course consists of 20 shots each in the three positions: prone, standing and kneeling. To score a 10, the shooter must take out a small dot, not much larger than the period at the end of this sentence.
The conventional course of fire is also in prone, standing and kneeling positions but with the addition of the sitting position. To score a 10 on these targets, they must hit a circle about the size of a pencil eraser.
The KV team of Ellie Rutherford, Megg Kahanek, Salix Harris and Paige Sartell competed in the intermediate junior metric class, which is 17 years and younger. They placed third in the nation. In the IJ conventional class, they would place fifth.
Individually in the IJ metric class, Rutherford placed 23rd and Kahanek 51st nationally. Shooting in the sub junior class, which is 14 years and younger. Harris placed 23rd, Sartell 27th and Sanborn was 32nd.
Individually in the IJ conventional class, Rutherford placed 24th, Megg 39th nationally. In the SJ class Harris placed 17th, Sartell 24th and Sanborn 39th.
Anyone interested in learning more about the sport of competitive small-bore shooting, please stop by the range on Thursday evenings at 6:30 p.m. Kootenai Valley Gun Range is located at 67175 U.S. 2, Bonners Ferry.
Recent Headlines
---