Badgers defeat Lumberjacks 58-23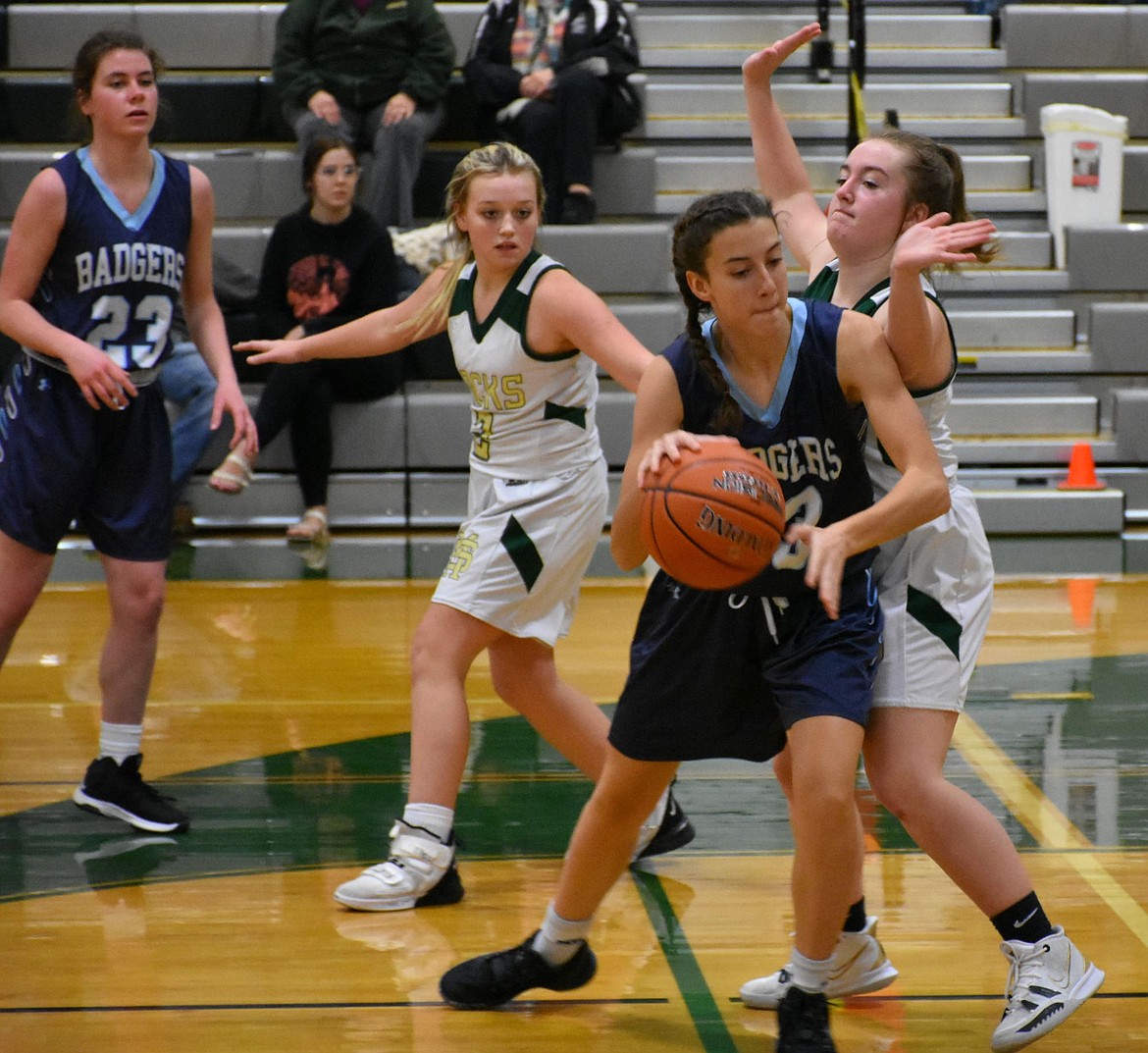 Brooke Petesch defending the ball before a drive.
(Photo by: Maureen Blackmore)
by
EMILY BONSANT
Hagadone News Network
|
November 24, 2021 1:00 AM
ST. MARIES — After a slow start, the Badgers girls basketball team settled down to defeat Lumberjacks, 58-23.
The score was still 0-0 with five minutes remaining in the first quarter but the Badgers warmed up to end the quarter with a 15-4 lead over the Lumberjacks.
"It took us a couple minutes to get going but after that we shot really well," said head coach Travis Hinthorn.
The Badgers made 19 of 49 shots for 39 percent, including 10 of 30 three-pointers and 10 of 14 for 71 percent from the free throw line.
Hinthorn said that St. Maries packed in a zone and outrebounded the Badgers. It was nice to hit some outside shots, he said.
Braylyn Bayer led the Badgers scoring 21 points, making seven three pointers. Avery Bayer added 12 points along with six assists and five steals. Asha Abubakari scored 11 points, making eight of eight free throw attempts and also grabbed seven rebounds.
The Badgers are 2-0 and were scheduled to play Sandpoint Tuesday. Due to early print, the game will be covered in another edition of the Bonners Ferry Herald.
The Badgers host the Moscow Bears Saturday with tip-off scheduled for 5:30 p.m.
Bonners Ferry: 15 12 22 9 58
St. Maries: 4 8 10 1 23
Bonners Ferry: Petersen 0, Tompkins 0, Pluid 2, Blackmore 6, Abubakari 11, Shottanana-Ponce 0, B. Bayer 21, Falck 0, Sumpter 6, A. Bayer 12.
St. Maries: Sexton 1, Spray 0, McGreal 3, Janssen 6, Rimel 2, Watkins 2, Mitchell 2, Stindt 4, Linnemeyer 3.
---