Joyce Arlene Peterson, 92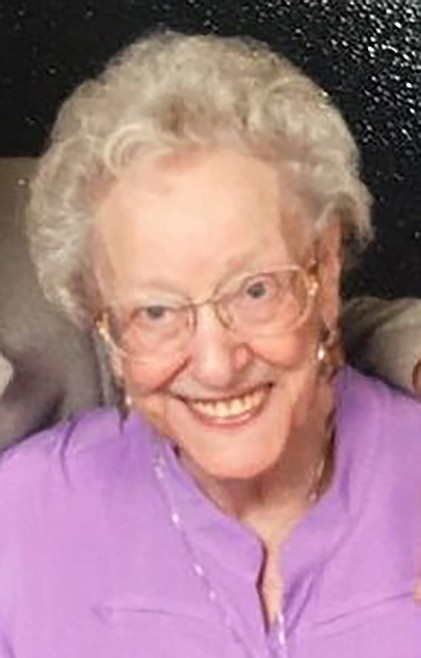 |
November 25, 2021 1:00 AM
Joyce Arlene Peterson passed peacefully Nov. 4, 2021, surrounded by love, music and memories.
Joyce was born at home in Bonners Ferry, Idaho, on June 2, 1929, to Cyrille and Harold McNally. The McNally family moved to the south side where she and her older brother Harold grew up and went to school. Her Dad would take the family on Sunday outings that included fishing, swimming, huckleberry picking and hiking. Many photos show countless family gatherings and events, filled with relatives and friends.
From the age of 13, Joyce held many summer jobs including picking in the fields, life guard at the city pool and waitressing at the Panhandle Café. She was proud to have helped serve the 500 soldiers who came to Bonners during high water in 1947 to build the dyke that runs along the Kootenai River.
After graduating from BFHS in 1947, Joyce attended the University of Idaho and was active with her sorority group, Beta Sigma Phi. While there she met Warren Truesdell and they married on Sept. 1, 1948. Warren continued college while Joyce worked. She quit work to become a homemaker and mother.
Joyce and Warren had three children, Eric, Lynn and Mark. They moved into a house on the South Hill and Joyce continued to live there for 65 years building memories and watching her family grow. During those years, Joyce remained very active in the community and spent much of her time volunteering and enjoying her passions while also helping run the family business, Truesdell Insurance. She loved to bowl, golf, play bridge and Yahtzee with friends. She often hosted holidays, birthdays and costume parties, she loved sing-alongs and also spending time at the casino.
After her divorce from Warren, Joyce reconnected with an old classmate and friend, Leroy "Pete" Peterson and they fell quickly in love. Pete and Joyce married and were the perfect match. They spent most of their time traveling. Of all the places they went, Hawaii, Europe, etc., she spoke most fondly of an across country road trip. She loved spending that time with Pete, driving backroads, listening to music and just enjoying life.
Joyce was a forced to be reckoned with and any who knew her knew that. She loved fiercely and was quick to help if needed. She will be deeply missed by those who loved and knew her.
Services will be held at 11 a.m. Saturday, Dec. 4, 2021, at the United Methodist Church, reception following. Please join us as we remember and celebrate the wonderful women she was.
To leave a message or memory for the family, please go to www.bonnersferryfuneralhome.com. Bonners Ferry Funeral Home is caring for the family.
Recent Headlines
---