Rhoda Marie Hill Wilson, 96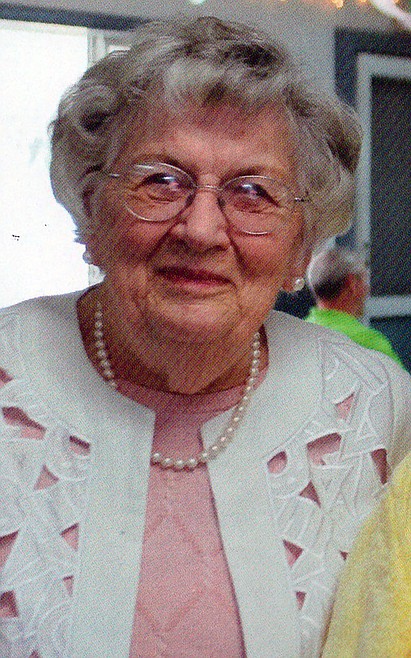 |
November 25, 2021 1:00 AM
Rhoda Marie Hill Wilson, 96, of Bonners Ferry, Idaho, died peacefully at Sunset Home on Oct. 22, 2021.
The first of four children, Rhoda was born to Clifford and Cleo Hill on May 4, 1925, in Naples, Idaho. She grew up alongside her siblings Ruth, Merle and Karen.
After graduating from Bonners Ferry High in 1943, she worked as civilian support in telephone communications at Fairchild Air Force Base, Washington, in support of our country's war effort during World War II. Rhoda then attended the University of Idaho, where she was a member of Kappa Alpha Theta. She graduated in 1950 with a bachelor's degree in psychology and a minor in sociology.
The summer after her graduation, Rhoda married her childhood sweetheart, Peter B. Wilson, on Aug. 12, 1950, at St. Ann's Catholic Church in Bonners Ferry.
In 1952, they welcomed their first child, Duff, who was followed by his three brothers: Kip, Tim and Neal. Rhoda was a dedicated mother to her four rambunctious boys, and was blessed with numerous grandchildren and great-grandchildren.
Rhoda was a beloved matriarch and instilled her religious values as a devout Catholic to her family. She was a lifelong member of St. Ann's and spent time on the parish council. She was dedicated to the church as well as the community; she was a loyal member of the P.E.O. Sisterhood and Beta Sigma Phi. Rhoda also served on the library board until her 19th year and was politically active in the Republican Party.
Survivors include her sons, Tim Wilson of Bonners Ferry, and Neal Wilson of Kennewick, Wash.; sisters Ruth Hunt of Sandpoint, Idaho, and Karen Amidei of Bonners Ferry; and many adoring grandchildren and great-grandchildren.
Rhoda was laid to rest with her husband, Pete; and two sons, Duff and Kip; on Oct. 30, 2021, at Grandview Cemetery in Bonners Ferry.
For the kind and compassionate care provided, the family would like to extend a special thank you to the Sunset Home staff.
Memorials may be made to St. Ann's in Bonners Ferry and St. Jude Children's Hospital.
Recent Headlines
---