Selby Scott Sharp Sr., 99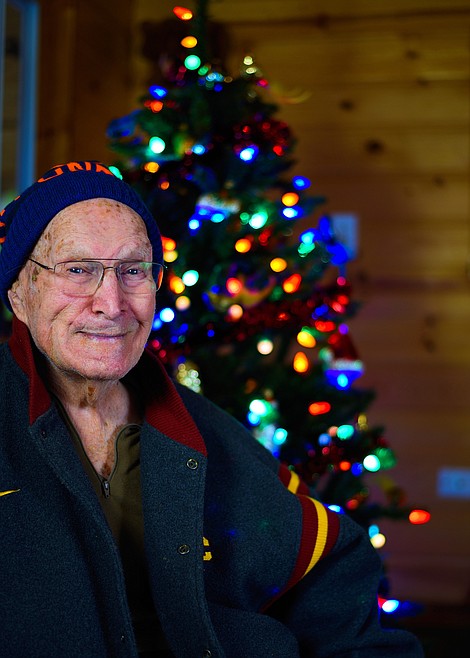 |
November 25, 2021 1:00 AM
Selby Scott Sharp Sr. passed away in Bonners Ferry, Idaho, on Nov. 7, 2021, only four months before his 100th birthday.
He leaves as his legacy: his son, Selby Scott Sharp Jr.; his daughter-in-law, Cheryl Sharp; his daughters, Linda Susanne Sharp and Stacy Sharp Brown; his son-in-law, Joseph Tad Brown; grandchildren Stephanie and husband Kristopher, Sandra and husband Erik, Sabrina and husband Thomas, Laura and partner Ryan, Sean and wife Brandy; great-grandchildren Mariah, Tyler, Justine, Reagan, Natalie, Aquilla and soon-to-be born Harmony. He was preceded in death by his wife of 49 years, Sarah Hays Sharp; two sons, John Charles Sharp and Stanley Ray Sharp.
Selby was born in Dawson, N.M., on March 3, 1922. He studied at USC, and UCLA, and was a Trojan through and through. He joined the U.S. Army and served in the Cactus Division, during World War II, finding himself at the Battle of the Bulge. He told his grandchildren stories of the liberation of Dachau concentration camp. He married Sarah and raised his family of five in California, where he could often be found tinkering on cars and starting various projects with his sons.
In 1958, he began his lifelong career as a science/math/chemistry/engineering professor at Riverside Community College. During his career, he presented the coveted annual faculty lecture, spent a year traveling the United States, connecting with universities to bridge the gap between transferring courses from two-year colleges to universities, and upon retirement, was awarded the title of professor emeritus for his contributions in the sciences.
Selby had so many interests that it would take a novel to list them all, but reading was his chief joy (especially westerns). He loved his family, and he loved bragging about his grandchildren and great-grandchildren. Each of them had close relationships with Selby. Forever the scientist, Selby loved signing his initials S4. Selby was over the moon when great-granddaughter Mariah came back with M2. He loved sharing his interests with his grandchildren and great-grandchildren, especially talking about the periodic table with Justine.
After retirement, Selby traveled the United States, making friends all over in an RV. He settled, eventually, in Bonners Ferry, where he built his own house from the ground up, mostly by himself. He loved the trees and the property in Idaho.
Though not family by blood, Selby embraced as his family: Laurel and Steve Murdie, Jeff Sater, who accompanied him on the amazing Honor Flight in 2014, Sheila Benson, from the Restorium, and John Sater and his friends from Sater's Auction.
Selby will be interned at the Riverside National Cemetery, where his son John is buried. The family is planning a celebration of life when all those grandchildren and great-grandchildren can attend.
To leave a message or memory for the family, please go to www.bonnersferryfunerahome.com. Bonners Ferry Funeral Home is caring for the family.
Recent Headlines
---