Volleyball team takes on Sandpoint
|
October 7, 2021 1:00 AM
After a loss to Sandpoint on Saturday, the Badgers got served another defeat — this one on Tuesday against Timberlake. Bonners Ferry
Timberlake senior Emma Patrick served the final five points of the match on senior night as the Tigers rallied past the visiting Badgers 25-22, 25-23, 26-24 in Intermountain League play.
Patrick finished with nine digs for Timberlake (7-6, 4-2 IML), which dropped a five-set match at league-leading Kellogg on Monday night. Senior Sami Wilfong had 23 assists and eight digs for the Tigers. Senior Jaycie Pratt had eight kills, eight digs and three aces, senior McKenna Kronenberg 10 digs, five kills and two blocks, senior Ashliana Thomas eight digs, two kills and two aces, and senior Emma Torr seven kills and two digs.
Bonners fell to 6-4, 2-3, and is in third in the IML, behind Timberlake.
•••
On Saturday, the Badgers played a tough game but ended up losing in four sets to the Sandpoint High School Bulldogs, 20-25, 25-18, 25-22, 25-16.
The victory ended a six-game losing streak for the Bulldogs.
In the opening set, the Badgers won six of the last seven points to take the victory. Then the Bulldogs came out in the second set with a little extra motivation, and it made all the difference.
Sandpoint grabbed its first lead in the second set at 15-14 with a kill from Vivian Platte and four points later Bonners Ferry called a timeout to regroup. However, the break didn't help as the Bulldogs kept rolling. Audrey Sheffler served an ace to give SHS its first set victory since Aug. 31.
Sandpoint had the momentum and they weren't going to let the Badgers slow them down. The two teams went back and forth in the third set, but the Bulldogs won the last three points to go up 2-1. Lauren Breuner finished off the set with a kill.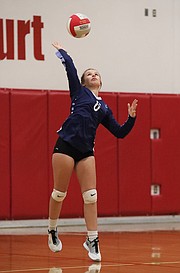 ---