'Swan Song' to premiere at Pearl on Oct. 29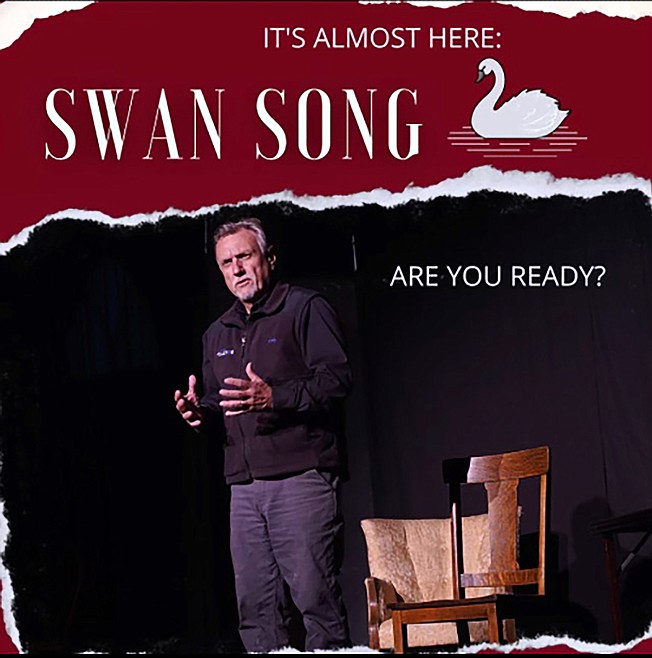 The Pearl Theater stage will come alive again with the premier performance on Oct. 29 of Bonners Ferry's playwright emeritus Paul Rawlings latest production, "Swan Song," a comedy/drama dealing with mortality, of finding peace in the face of adversity.
(Courtesy photo)
|
October 28, 2021 1:00 AM
The Pearl Theater stage will come alive again with the premier performance on Oct. 29 of Bonners Ferry's playwright emeritus Paul Rawlings latest production, "Swan Song," a comedy/drama dealing with mortality, of finding peace in the face of adversity.

The production brings 11 local actors to the stage, about half of whom are experienced and half making either their first appearance on stage, such as Cal Russell, owner of Boundary Tractor, or their first appearance in years, such as Steve Howlett, a member of the original community theater group in Bonners Ferry nearly four decades ago.

Others in the cast include Lynn Haworth, Colleen Mooney, iLona Rosengrant, Bob and Rona Hall, Matt Brown, in the community just six months and taking the stage for the first time since his senior play in high school 40 years ago, Alanna Dodd, Deanna Yeager, Barb Robertson and Paul's son, Chris Rawlings.
For the first time, Paul has a producer, his wife, Barb, and veteran Diana Tombleson returns as stage manager. Also working behind the scenes will be Alma Fischer on lights.
The play is a collection of monologues, scenes and vignettes both comedic and moving, heart wrenching and rib-tickling, and all interspersed with music to enhance the moment.

"We've been working hard on this for two months and I'm extremely pleased at how it's coming together, how the cast and crew have jelled, how it works," Paul said. "The audience will be on a roller coaster for sure!"
"Swan Song" will be staged at 7 p.m. Friday and Saturday, Oct. 29-30, with a matinee at 2 p.m. Sunday, all at the Pearl Theater, 7160 Ash St., Bonners Ferry. Doors and the Pearl Cafe open one hour earlier. Tickets are $12 advance online at brownpapertickets.com/event/5273898 or $15 at the door.
The Pearl Theater, a nonprofit 501(c)3 organization founded in 2012 with the goal of providing quality performing arts in an intimate historic downtown Bonners Ferry theater, 7160 Ash St., Bonners Ferry. To learn more, visit www.thepearltheater.org or call 208-610-2846.
Recent Headlines
---