Badger football blowout Grangeville at home opener
|
September 8, 2021 4:01 PM
BONNERS FERRY — Badgers deliver a spectacular performance in a shutout win 43-0 against Grangeville Bulldogs at the first home game of the season on Sept. 3.
Badgers took the field and worked hard leading up to the game with heavy cardio workouts, weightlifting routines and overall chemistry that became apparent with the dynamic win.
According to head coach Travis Hinthorn, many of the players are finally juniors and seniors but have played on the varsity team for many years and are better at controlling the game's pace.
Badgers stopped Grangeville on an early drive and then scored on a 5-play 55-yard drive on their first possession, including a 36-yard run by Cleo Henslee, who dived in from the 1-yard line; Skye Reinhardt made the extra point.
Grangeville would continue to experience a tough defense with Blake Rice leading in tackles. In addition, Dillon Mai, Bo Bateman and QuinnTucker blocked punts throughout the game.
There were some missed fouls that referees overlooked but wouldn't play a factor against a strong Badgers team.
Henslee wouldn't be the only weapon at the game; Wilson Newell would have the most prolific game of his career with 12 carries, 151 yards and three touchdowns.
"It was a fun game, one of the best games I've had," Newell said. "Super proud of my team for being there and blocking."
Newell would run untouched for 92-yards in a return that would see him creating distance from any defenders. Newell believes switching up his runs with Henslee helped to keep Grangeville confused.
Newell said he was happy with the corners helping him have a breakout game and blocking their guy and looks forward to working hard at practice and building that stamina to help him make those deep runs.
"Our running backs this year are doing a much better job at being patient and our blocking is better, with the game slowing down and players seeing the game better," Hinthorn said.
As the second-quarter clock was running out, a last-ditch effort by Reinhardt to kick a field goal for 42-yards was made, shocking many in the stands from a kick not usually seen in high school football.
At halftime, the Badgers were leading 23-0. Badgers started the second half with a 15-play, 62-yard touchdown drive.
Teigan Banning fumbled a quarterback sneak from 1-yard, but Newell picked it up for a touchdown, and Reinhardt made another extra-point kick, with the game at 30-0.
"The 42-yard field goal at the end of the half and the 15 play drive to start the second half really gave us some confidence and momentum," Hinthorn said.
Banning logged 10 completion and 107 yards, with 4-yards running. Daniel Zech would also score a last-play touchdown to end the game at 43-0.
"This was a great home opener," Hinthorn said. "Offensively we ran 29 times for 250 yards and 5 touchdowns."
Hinthorn said the linemen did a great job along with the tight ends, who all contributed heavily to the teams' success on both sides of the ball.
Hinthorn stated the excellent speed on defense, better wrapping up on solo hits, which all helped to shut down Grangeville's offense.
Badgers play their next game away against Libby on Sept. 10 and will study film and build on their success.
"Libby had a great group leave last year, they're a solid program, were just happy where were headed," Hinthorn said.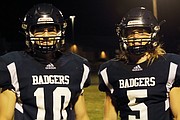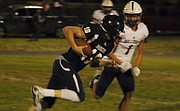 ---