Search & Rescue hosting fundraising golf tournament Sept. 11
by
VICTOR CORRAL MARTINEZ
Staff Writer
|
September 8, 2021 2:01 PM
BONNERS FERRY — The Boundary Search and Rescue Dive Team is hosting their golf tournament to benefit the organization's operational costs on Sept. 11 at the Mirror Lake Golf Course.
Currently, BSDRT has 33 team members and nine associate members. All members receive basic training and specialized instruction certified through Emergency Response International, the same curriculum that is taught in Bonner and Kootenai counties.
Tony Jeppesen, president of BSRDT, said that after member complete basic training, there are options for advanced training such as swift water rescue technician, public safety diver and ropes course training.
BSDRT team members are on call all the time, similar to the fire departments, but there is little to no compensation for these calls.
"SAR calls can get expensive quickly and the cost of an incident can range from a couple hundred dollars to tens of thousands depending on the resources needed and the duration of the incident," Jeppesen said.
The funds given to BSDRT are primarily through fundraising and donations, and the Boundary County Sheriff's Office contributes a small budget. BSDRT can't charge for their services since they are part of county services, according to Jeppesen.
BSDRT runs a nonprofit organization to raise funds for equipment and specialized training. Recently, Century 21 real estate donated $1,500 to BSRDT to acquire diving equipment such as buoyancy control devices, flippers, lights, underwater cameras, and hopes to raise funds for snowmobiles.
Jeppesen said the cost of specialized training is the most expensive element of operations.
"We can have the best heart and technology out there but without the people and proper training to use the gear we have, it's useless," Jeppesen said about the training costs.
Jeppesen detailed the cost of swift water rescue training, which the White Water Rescue Institute organizes from Alberton, Montana, costs $335 per student. In addition, the certifications must be renewed every two years.
There are many additional training costs, such as search and rescue management, which require travel expenses in addition to the $450 tuition price tag.
Even with the cost, BSDRT has 17 members certified with many of the specialized training.
The golf tournament, the first the group has organized, is set up to raise enough funds to purchase snowmobiles.
"If it goes well it certainly could turn into an annual event," Jeppesen said.
Jeppesen is always looking for motivated members and meets every second Thursday of the month at the BCSO waterways building located at 6821 Riverside St, with applications available online.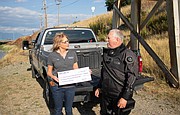 Recent Headlines
---