Trevor Pew comes home to take on challenge of Wells Fargo branch manager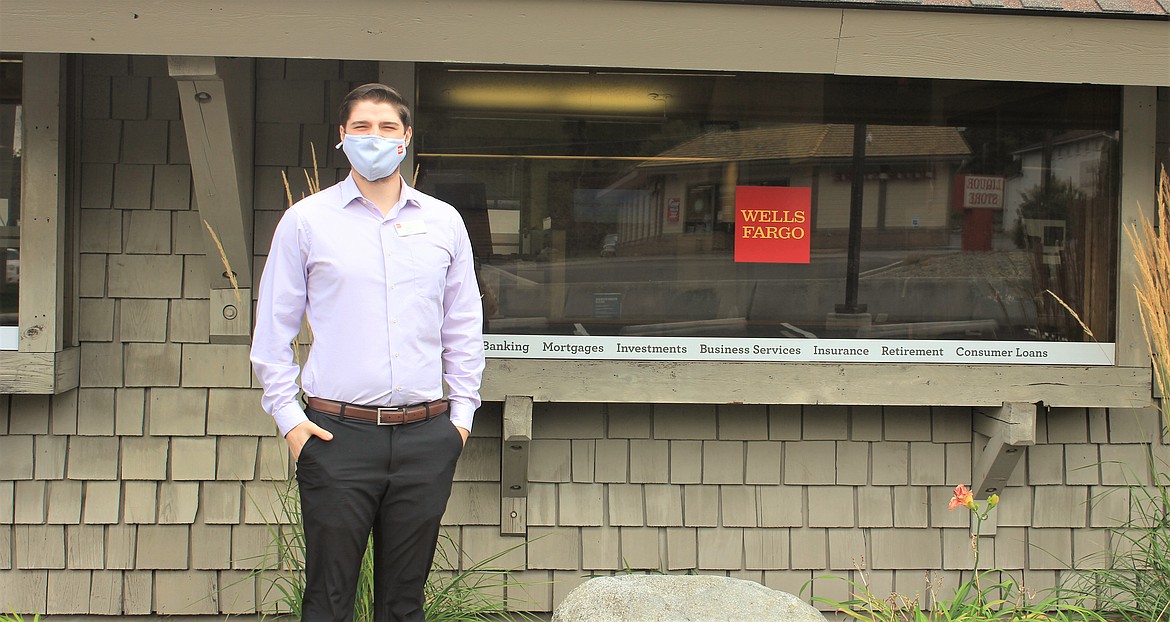 Trevor Pew (Photo by Rose Shababy)
by
ROSE SHABABY
Staff Writer
|
September 16, 2021 1:00 AM
Trevor Pew loves his hometown and wanted nothing more than to move back to Boundary County, so when he was offered the position of branch manager at the Bonners Ferry Wells Fargo, he knew his answer would be yes.
"I love the small town vibe, I love being very close to the mountains and my family is here," he said.
Pew moved to Bonners Ferry with his family when he was 9 years old. Homeschooled but an active soccer player, he joined the Bonners Ferry High School soccer team for all four years of his high school career and was team captain in his senior year, leading his team all the way to state.
From there, Pew received a soccer scholarship to Columbia Basin College in Pasco, Wash., where he studied computer science. During that time, he worked for Wells Fargo as a part-time teller. He enjoyed the work and the environment.
They're very "team-oriented," he said, noting that it was important to him to help his customers. "I could see I was making a difference for some people in their life."
He continued advancing at Wells Fargo, eventually becoming a lead teller.
All those experiences led to him securing the branch manager position, a bit of a coup for Pew who, at 24, is one of the youngest Wells Fargo branch managers the bank has ever had.
"I don't know if I'm the youngest ever, but yes, age has been a thing that's been asked about me a lot," he said, but "I know what I'm capable of and what I'm good at."
Pew believes that several attributes have led to his success.
"My work ethic," he cited first, adding that it was a trait instilled in him by his parents, noting that he's always "willing to work and help other people."
His customer service skills came next. "I find it really easy to talk to most of my customers," he said, adding that he always tries to go above and beyond.
He also loves a challenge. "I like getting out of my comfort zone. If I'm complacent [that means] I'm not doing as much as I should be doing."
Pew also acknowledged his time as captain of his soccer team, adding that it was mentioned when he was offered the position. "Being able to be a team captain […] really shows that you need to lead by example and do what your team is expecting you to do."
He knows he has his work cut out for him. "It's a lot to balance, […] definitely a lot of work but it's a challenge I'm up for," he said. "I'm overly grateful to have this opportunity. It feels really good."
Now that he's back in Bonners Ferry, he and his wife, his high school sweetheart, are looking to buy a house and start a family.
Pew looks forward to bringing his flavor of customer service to the Wells Fargo branch. I want to "help the community any way I can" and impart "a willingness to help every customer," in his team.
No matter what the future brings, he's here to stay. "I'm very happy to be here," he concluded.
Wells Fargo is located at 6764 Main St. and can be reached at 208-267-7515.
Recent Headlines
---