BFHS off to great start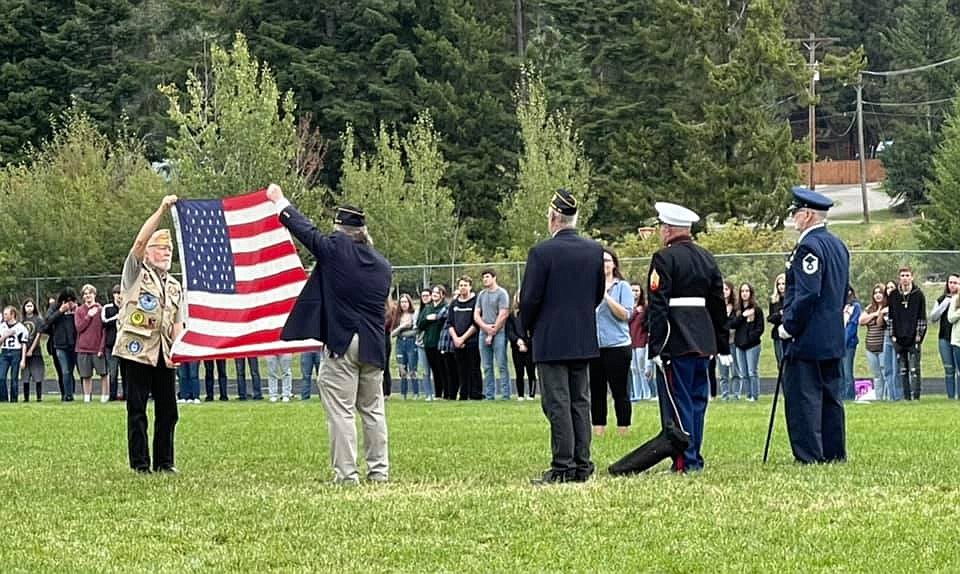 (Photo courtesy of BFHS) School assembly honoring those affected by 9/11
by
LISA IVERON/BFHS Principal
|
September 28, 2021 11:40 AM
The school year has been off to a tremendous start. The students and staff at Bonner Ferry High School are challenging at work attending school each day, studying, practicing, competing, traveling, and doing our best to keep COVID-19 at bay.
We have been fortunate to have a normal start to the school year. Our students and families have been great as we navigate through another COVID-19 year, and we are thankful to provide options for families. Fingers crossed, we will continue to stay healthy and stay in school! I truly appreciate everyone's support as we embark on this school year.
It is exciting to be back at BFHS. About a month ago, our staff spent a week together preparing for students to return. Even with new staff members, it was clear that everyone was refreshed and looking forward to a successful school year. Students are settling in and are working hard. At our beginning of the year assembly, I challenged students to show up every day, be involved, and be safe, civil and productive in all that they do. So far, they have stepped up to the challenge.
My proudest principal moment to date was the respect shown by our student body at our 9/11 assembly. Ms. Abby Panabaker's Leadership class invited local veterans to our school to teach the student body about the flag code. As a result, every BFHS student stood in a large circle on the football field and passed the flag. It was a very touching event as all 400 plus students and staff participated in the passing of the flag.
Our fall sports have been going well. Our cross country runners, volleyball teams, boys and girls soccer, cheerleaders, and football teams have competed at their absolute best. School spirit has been at an all-time high this year. Another big thank you to our Leadership class. These students have truly revitalized the school spirit at BFHS.
Homecoming week is coming up from Oct. 6-10. The week will kick off with hallway decorations, then three days at the fairgrounds building floats. We will deck out in pink and support our Lady Badgers in their Volley for a Cure game on Thursday, Oct. 7. On Friday, we will march downtown for our annual Homecoming parade and then return to the high school for a pre-game barbecue. The homecoming football game is Friday, Oct. 8, against the Kellogg Wildcats. The kick-off is at 7 p.m. We are hoping to bring back a few other fallen traditions too. Please consider this a personal invitation to come and support the Badgers.
As always, I thank you for your ongoing support of our school. I look forward to all that is ahead for Bonners Ferry High School and seeing Badger fans at our events. I would be remiss if I didn't mention the district needs substitute teachers. Please, if you can, sign up to sub.
---