DEQ recognizes Alta Forest Products as Pollution Prevention Champion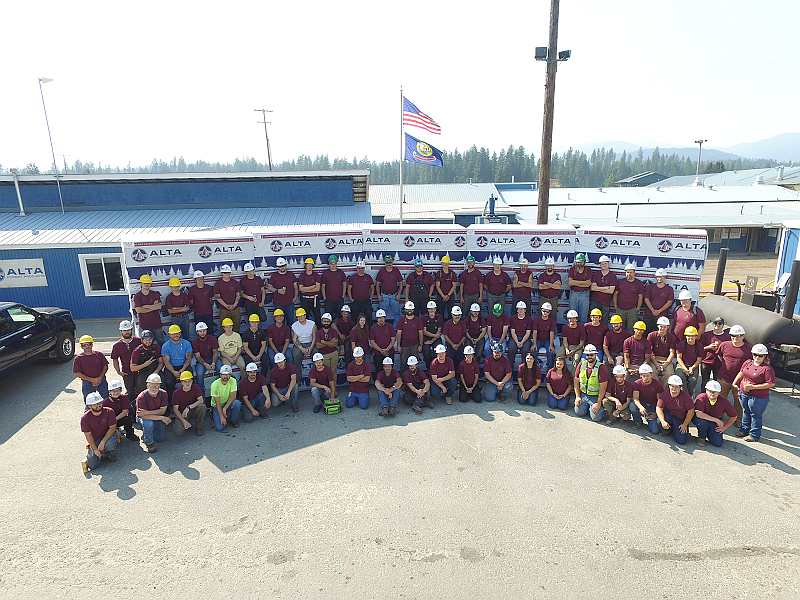 Courtesy photo Alta Forest Products Naples, Idaho employees.
|
September 29, 2021 10:29 AM
The Idaho Department of Environmental Quality is recognizing Alta Forest Products LLC and others as 2021 Pollution Prevention Champions for their efforts to reduce the generation of pollution in Idaho.
Each applicant demonstrated how they incorporated pollution prevention strategies into daily operations, including reducing water and energy consumption, decreasing the use of acids and chlorine disinfectants, and reusing materials and products.
The announcement comes during the celebration of Pollution Prevention Week in Idaho, as proclaimed by Governor Brad Little, and during the 30th anniversary of the passage of the Pollution Prevention Act in which Congress identified prevention as the preferred method for reducing waste and pollution.
For more information on how to incorporate pollution prevention in your business, visit http://www.deq.idaho.gov/pollution-prevention/.
Alta Forest Products is the world's largest producer of wooden fence boards. The company's Naples, Idaho facility has adopted many pollution prevention strategies, including a rigorous approach to reducing energy use, deploying a zero-waste policy that focuses on reducing wood waste and reusing wood waste products, retaining stormwater on-site to protect two local creeks and improving milling processes to minimize hazardous compounds generated during mill maintenance.
"Alta Forest Products shows how the timber industry in Idaho can lead the way in achieving sustainability and reducing waste, continuing a proud tradition in the wood products industry that is foundational to Idaho's economy and culture," said Ben Jarvis, DEQ's pollution prevention coordinator.
To learn more about Alta Forest Products, visit their website at https://www.altafp.com/.
Other companies recognized as 2021 Pollution Prevention Champions are J&M Sanitation, Republic Services, and Glanbia Foods.
Recent Headlines
---