Jeff Jones wins Sterling!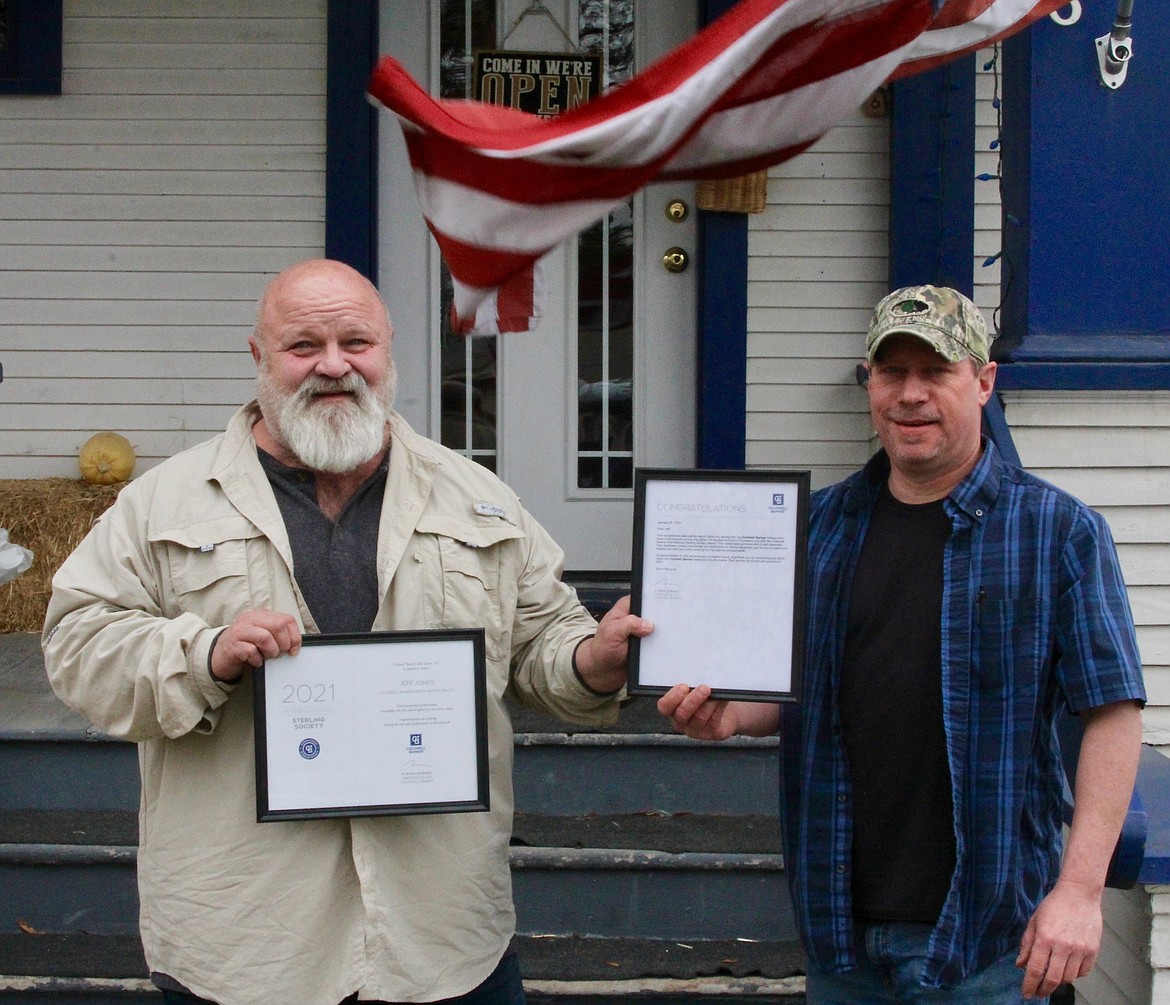 Jeff Jones, left, is presented the International Sterling Award by C.J. Tuma.
Photo by EMILY BONSANT
by
EMILY BONSANT
Hagadone News Network
|
April 21, 2022 1:00 AM
BONNERS FERRY — Jeff Jones, a Realtor at Coldwell Banker North Woods Realty, was happy to get his first year in real estate under his belt — he never expected to win an award.
Jones received the International Sterling Award from Coldwell Banker for performance in 2021 putting him in the top 15 percent of Coldwell Banker agents worldwide of dollar volume sold and units sold. That is out of about 96,000 agents worldwide, 3,100 offices internationally and in 40 countries.
The International Sterling Society award is presented to individual sales associates and representatives who produce a minimum of $125,000 in Closed Adjusted Gross Commission Income or 18 Total Units. Jones hit both of these marks.
When asked what he is doing right to have achieved this accomplishment, Rhonda Jones, his wife said "praying."
Jones said what has made working in real estate worthwhile is serving people. He attributed his success to teamwork amongst everyone at Coldwell Banker North Woods Realty.
"It is all because of the folks here […] working with the right people, teamwork, a great broker and brokerage," he said.
Jones said he had so much business his wife Rhonda came on board. His son Canaan followed suit and is part of the "Jones Team."
To be a good Realtor, one has to care for people more than themselves, he said. It has been a "blessing" to work with people to find their houses or sell them homes. Jones said some of his best friendships began as a client and Realtor relationship.
They have earned a great reputation in real estate business locally in the amount of time they have been in business here at the brokerage, C.J. Tuma, broker said.
---