BFHS seniors put a modern spin on traditional side tables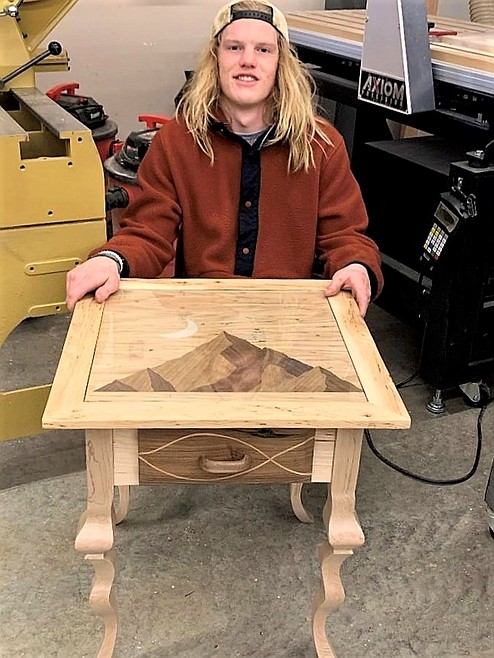 As part of his senior project, Wilson Newel completed intricate cabriole legs, bent lamination on his drawer front, and marquetry for his table top.
(Courtesy photo)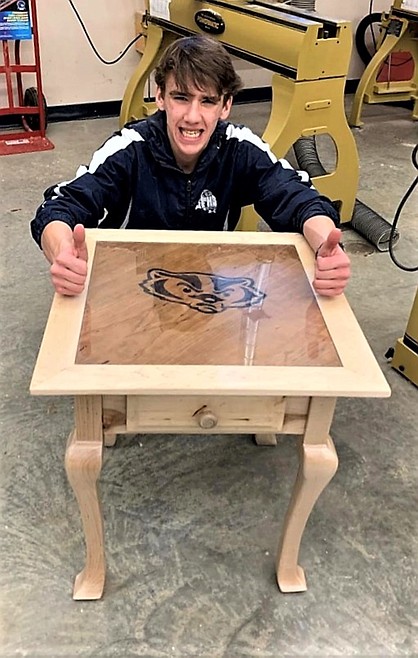 Connor Alexander, the spirited Badger that he is, inlaid a Badger head to reflect his school pride on the top of his table.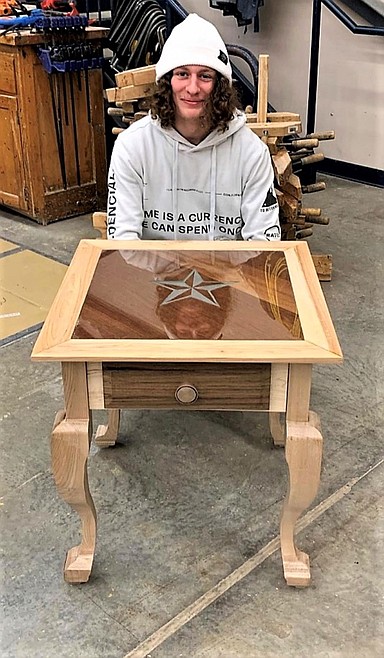 Kaden Brewer built bold legs and star glass etching to make his table stand out.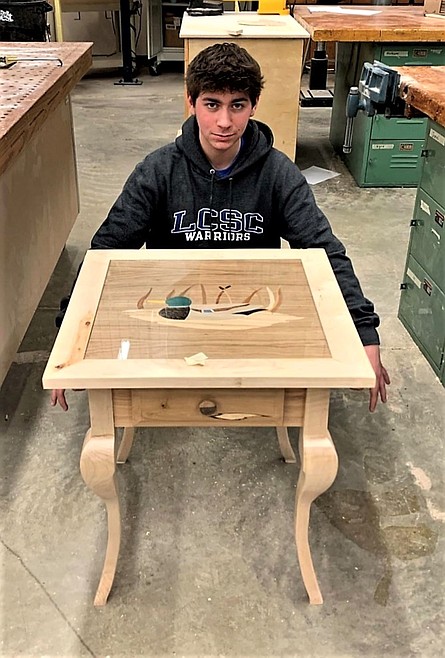 Ryan Carelli poses with his table, which features a variety of natural and dyed woods to create a marquetry duck design on the table top.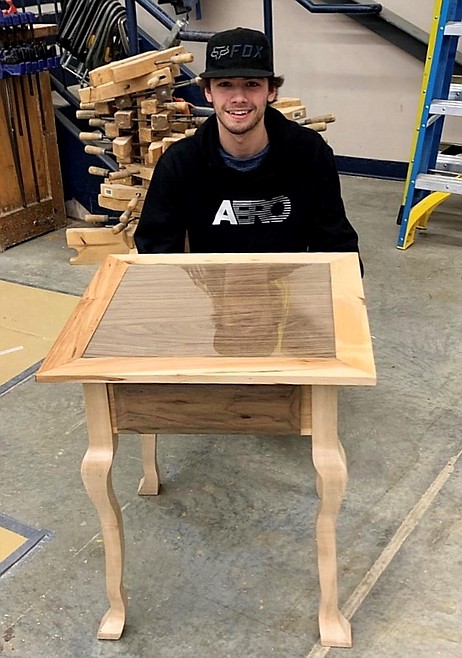 Brady Falck poses with the slim-legged table he created that also features a walnut veneered table top.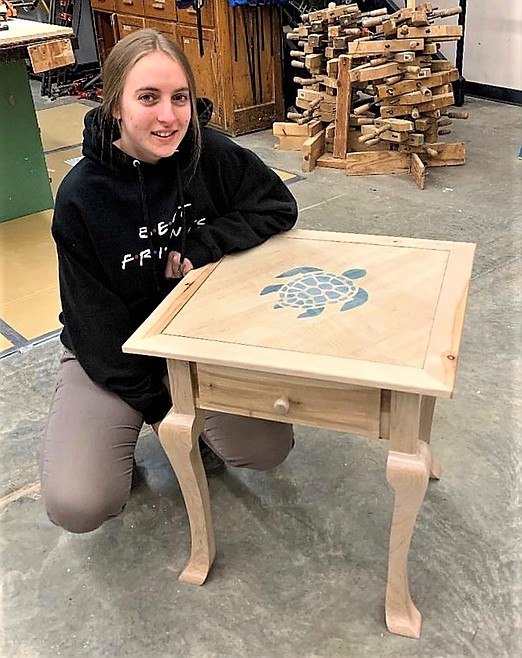 Elisa Balcaen chose a simpler design for an elegant look, but chose a veneer with a grain pattern that looked like ocean sand, and used dyed veneers to create the look of a swimming sea turtle for her table top.
Previous
Next
by
FRANCIS CARLSON/Contributing Writer
|
April 25, 2022 9:00 AM
BONNERS FERRY — In their final year of cabinet making, seniors at Bonners Ferry High School put the advanced woodworking and cabinetmaking techniques they learned to good use.
From September through February, the students worked on the Queen Anne table project. In this project, the students applied multiple advanced woodworking techniques through project application and table construction.
First, students constructed the table frame using multiple mortise and tenon joints. This stage of complex joint construction takes several weeks to complete. Students learned how to lay out and cut the joints using a variety of tools. The tools include marking gauges, mortising machine and table saw. After mastering this, they moved onto machining and shaping the table legs.
The students were required to create a cabriole leg design, a traditional Queen Anne style of furniture. Cabriole legs are traditionally curved, ending in a ball and clawed foot. The students at BFHS however chose to modernize their designs, making each leg unique to their individual projects.
"Because I allowed the students freedom in the creativity of their leg design, each leg style is a unique reflection of that individual student's personality," said Francis Carlson, cabinet making and millwork instructor.
Depending on the complexity of their design, some students took over a month to complete their table legs. Some students like Connor Alexander and Brady Falck chose to cut slim leg designs while others, like Kaden Brewer, chose to cut big and blocky looking designs, Carlson said.
After legs the students moved onto veneering, the art of applying a unique decorative layer of wood to a project. The students learned how to manipulate grain to create patterns and use veneers for inlays to make their tables stand out.
Veneering is an advanced woodworking skill that students get to experience as part of the Cabinet Making and Millwork 3 class. Students have the opportunity to work with exotic woods like mahogany to Spanish cedar, or dyed woods that are in bright colors from blue and green to orange and red.
The students are also taught the advanced skill of marquetry inlaying. Marquetry inlaying is where veneers are cut using their color, texture, and grain to create a picture. Nearly all of the students attempted and applied this skill to their project. Marquetry was not a project requirement, and required the students to spend time outside class working on that portion of their project.
Seniors Connor Alexander, Ryan Carelli, Elisa Balcaen and Jackson Rickter all chose to work with dyed materials in their marquetry designs; while senior Wilson Newel chose natural woods and grains to complete his designs.
"This year is unique," Carlson said. "Normally the students are interested in marquetry inlays, but only one or two want to spend the extra time applying it to their projects. This year, most of the students were excited about the process and spent hours cutting and placing veneer by hand to create their pictures."
From veneering and marquetry, the students honed in on their drawer construction techniques. Students had already constructed drawers the year before on the cabinet project. This allowed the students practice dovetailing and coving in drawer construction. To take their drawers to the next level, many students opted to use a lathe to turn their drawer knobs.
Wilson Newel attempted a bent lamination design for his drawer front. This required a series of band saw cuts and clamps to hold thin pieces of wood in place in a curved design. This was an independent lesson that he attempted a few times before finishing his final drawer front design.
To finish off the project, students were taught how to acid etch glass. This required the students to tape out a design on the glass panels that cover the table tops. Some of the students who had completed marquetry wanted to choose an etching pattern that would complement, or become the focal point of the project.
Senior Kaden Brewer etched a star pattern on his glass as a focal point in honor of his mom. "She loves stars, so I think she will like this on my table," Brewer said.
After their glass was etched, the students installed the glass with a silicone moisture barrier to protect the veneered surface beneath the glass.
Carlson said she would like to give special thanks to the crew at Bonners Ferry Glass for working with the school cutting the glass panels for the table tops.
"Their work and cooperation with us, lets me teach my students one more advanced skill in this class," she added.
As the students have now finished the project, they have moved onto their final semester's free project. To complete this project students are given a set budget, joint requirements and advanced woodworking skills to incorporate into their project. They spend two to three weeks designing their projects, having in-depth construction discussions with the instructor, and gathering materials.
Each year, the students look forward to this project. In the past, students have built gun cabinets, beds, desks, dressers, kitchen cabinets and more. This year is no different as the students are constructing entertainment centers, benches, and book shelves to name a few.
Watch for updates and final pictures in June to see how these projects turn out.
"This has to be one of the most fun and creative groups of students that I have had in all of my cabinet making classes this semester. The students are really excited about their projects and really like the challenge of how they can personalize each project at all levels. I am really enjoying each challenge the students come up with in their project construction, but also the excitement that we share about cabinetry and woodworking. I'm really excited to see what the semester brings," Carlson said.
Recent Headlines
---