Kirk and Friedman prove it's never too late to achieve your goals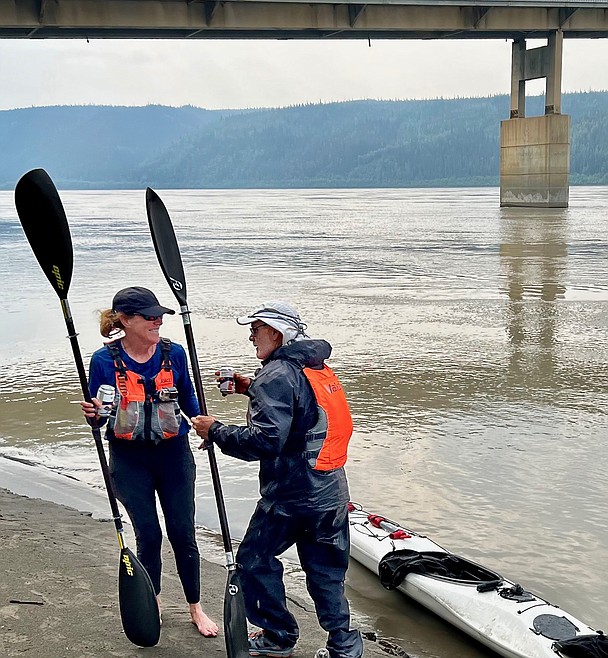 Julie Kirk and Josh Friedman of Team Spirit of America finish the Yukon 1000 race.
Courtesy photo
by
EMILY BONSANT
Hagadone News Network
|
August 4, 2022 1:00 AM
BONNERS FERRY — It's never too late to achieve your goals and live in the moment. Julie Kirk, 61, and Josh Friedman, 60, of the Bonners Ferry kayaking duo Team Spirit of America prove just that.
Several years in the making, Kirk and Friedman finished the world's toughest paddle race, the Yukon 1000, in seven days, three hours and 27 minutes on July 10.
The Yukon 1000 is a 1,000-mile paddle race, following the Yukon River through Canada into the Arctic Circle and finishes in Alaska.
The race is a very unique one, because it is about getting to the end and survival. Once past Dawson City, racers enter the wilderness, with more than half of the race taking place in deep wilderness.
"Once you're out, if you're not dialed in tight you can become overwhelmed and that is why you do it with another person," Friedman said.
Although Kirk and Friedman finished 11th overall, they know that when competing in endurance races it's not about winning, but about the journey and seeing what you can endure any trial or tribulation.
The race was originally scheduled for 2020, but was canceled two years in a row due to COVID-19.
Friedman and Kirk told the Bonners Ferry Herald they started training for the race in 2014 and prepared by competing in other long distance paddle races, including the 444-mile Yukon River Quest Race six times.
They also prepared for the Yukon by competing in the Great Alabama 650, the world's longest annual paddle race. Kirk and Friedman said this race took a lot out of them. The 2020 race took nine days and took a toll financially because they had to camp throughout the competition. However, the pair said it prepared them for the Yukon 1000.
The pair took 2021 as a recovery and training year, which allowed them to establish their base and have time to rest between competitions.
"We didn't tax our bodies as much," Friedman said.
He added that the time off from competing wasn't detrimental to their race and allowed them to prepare for the Yukon 1000.
For training, Friedman and Kirk paddle on the Kootenai River all year. They also run ladders, on weekends they paddle 15 to 20 miles.
Their training is very methodical and planned around a strict gluten-free diet and supplements, starting six months before a race. In anticipation of the race's demand on their bodies, they also avoid all sugar. They added that they have found by removing sugar and cards from their diet, they can maintain their endurance when racing.
"When we take the gluten out, we see the difference on the water," Kirk said.
Kirk and Friedman attributed their ability to paddle for 24 hours during the Yukon 1000 to the added endurance that comes from training their bodies to keep going without carbs.
When competing as Team Spirit of America they use products to help keep them hydrated and eat nutrition-dense food when they made land throughout the race.
Over the years, they have also perfected their paddle technique. Through research and training with world class coaches, this has made them faster on the water.
Technique is key in any sport, but even more so in paddling, Friedman said. Just little things can increase speed and prevent injury while allowing improvement.
During the Yukon 1000, Team Spirit of American was able to paddle next to other teams. It was much different than other races and expeditions they have done, the pair said. During kayaking trips, they would paddle for days without seeing anyone and learned to embrace the moment.
This also happened during the Yukon 1000 as they experienced nature and wildlife. One day they started to make camp on a small island, but after seeing signs of moose they moved off. Once they were back in the kayak, Kirk and Friedman saw a female moose and her calf up close right at their would-be campsite.
The pair said it is experiences like this that keep them coming back to endurance races. They've had other run-ins with wildlife. On separate occasions during the Alabama race they were chased off by an alligator and a bull shark.
"It is really dangerous out there," Friedman said. "You have to keep your head on a swivel and look for obstacles in the water and whirlpools. When we went through three rapids [on the Yukon] we had to keep everything dialed in. There was no dull moment."
He added "when that deep in the backcountry you're in survival mode."
During the Yukon 1000, they had a hairy moment when they went sideways on the rapids. The pair said it was the closest they've ever come to capsizing and it most likely would have taken them out of the race.
Luckily, they have never capsized. Kirk said it is not an option, it's a rule they have.
They have faced challenges and injuries during races from sleep-deprivation to becoming nearly hyperthermic several times. In these races, Friedman has gotten hyperthermia twice and tore several muscles in his back during the Alabama race. The pair was still able to finish the race.
He said it was all due to Kirk as she paddled them into the finish. They have finished 100 percent of their races.
"All these things taught us to keep moving forward," Kirk said. "Like other ultra paddlers, we are all about finishing the race."
Friedman is the navigator of the team. As a retired Navy Seal, he has experience navigating, but Kirk has been an avid kayaker for more than 30 years and is the team's pace setter. Kirk got Friedman into kayaking, although prior he competed in triathlons and Iron Man races.
There was one portion of the race when navigation was confusing as the GPS added obstacles ahead that were not there.
"All these things, different calamities and races have taught us that we can get through it and keep going," Friedman said.
Team Spirit of America is never bored when out on the water. Kirk has several iPods charged and full of music for every race. They also live in the moment by talking about what they see, whether it is a flock of rare birds in the sky, a moose in the water or a grizzly bear on shore, they take in the beautiful backcountry knowing that few people will ever see the places they travel through.
"We keep our minds busy," Kirk said. "We've been doing this so long it just clicks right in."
Kirk and Friedman said they enjoy being an inspiration to the community, especially when people talk to them at the gym. They like hearing how others are doing and offer encouragement to achieve their own goals.
"It's showing people anyone is capable of something. By controlling your sugar intake and walking, anyone can better themselves especially if they try something. Age doesn't matter," Kirk said.
Friedman added that in order to achieve your goals, you need to find steps that can be made.
"Once you start taking small steps toward your goals, you'll see them accomplished. Later, you can look back and see how much you accomplished just by one little thing," he said.
Kirk and Friedman have used small goal planning in their training and even when racing. They said they don't think of the entire race in one day, instead they focus on where they want to be by lunch time and where they will make camp that night. Before they know it, they are crossing the finish line.
"It is 95 percent mental," Friedman said.
As long as you plan and take steps, you can compete your goals, Friedman said. Don't plan too big or expect yourself to reach a goal in a short time. Have the big picture in the back of your mind.
Kirk and Friedman said they still hadn't fully grasped that they completed the Yukon 1000, because they stayed in the moment.
Friedman and Kirk are resting up after the competition, eating as many carbs and pizza they can to gain back the weight they lost when competing. Kirk is back working at their shop, Mountain Mike's. Friedman will be busy bringing in wood for winter. They are back at the gym and back on the river.
Peak Refuel donated food to Team Spirit of America and Sealskinz USA donated waterproof socks and hats. Nite Ize donated waterproof bags and pouches.
Kirk and Friedman would like to thank the Boundary County community and their customers for all the support. They said they could feel the support as they moved down river. They would also like to thank their sponsor, Iron Mike's Gym for their support and being an inspiration to the community. They also thanked Cheryl and Tom Bennett, Gaston and Judy Holland, David and Amy Holland, Tammy and Scott Hephner, Taressa Holland, Jimmy Peebles and Elizabeth Peterson, as well as the many Mountain Mike's customers who sponsored them as well.
"We appreciate all of our loyal customers and are grateful to each of them," they wrote.
Recent Headlines
---