Off Grid Unlimited, bringing you peace of mind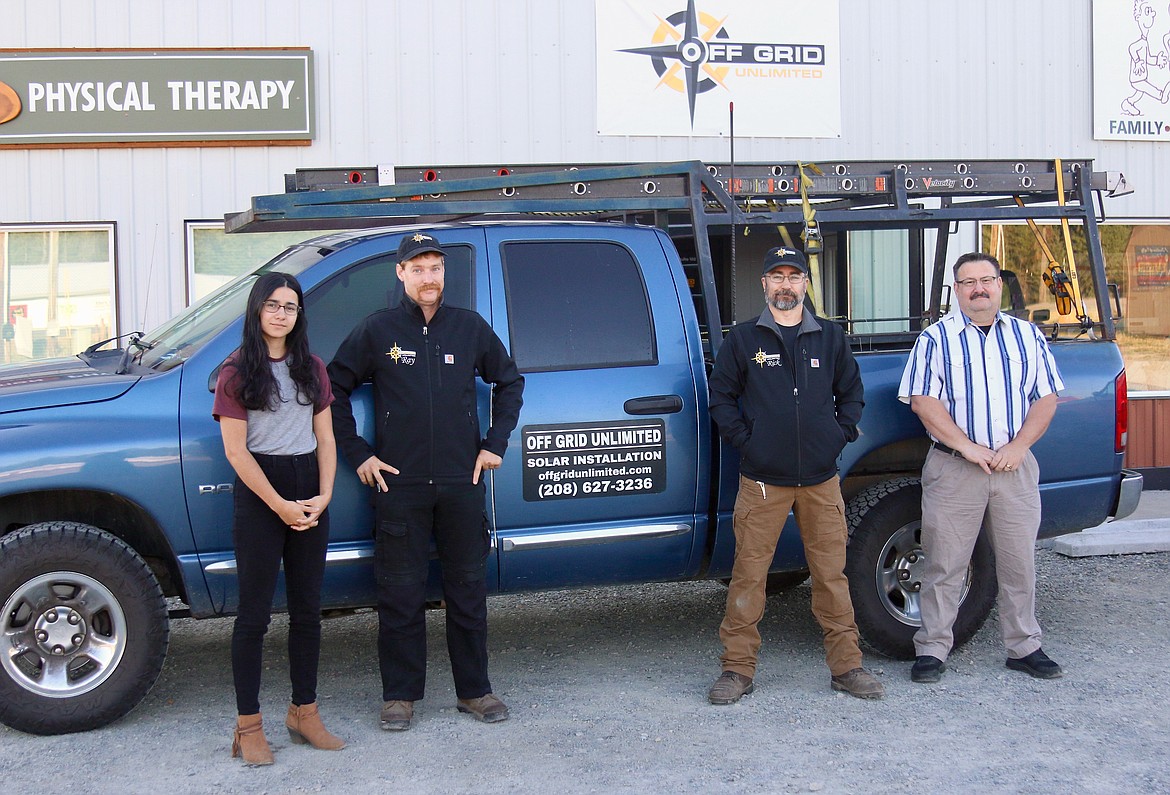 Off Grid Unlimited is a veteran owned business and your one stop shop for all things off grid, alternative energy and consulting. From left: Tessa Bence, receptionist; Raymond Flower, installer; Rick Phebus, owner; and Patrick Silbernagel, bookkeeper.
Photo by EMILY BONSANT
by
EMILY BONSANT
Hagadone News Network
|
August 18, 2022 1:00 AM
BONNERS FERRY — A veteran-owned business, Off Grid Unlimited is a one-stop shop for all things off grid, alternative energy and consulting.
Off Grid Unlimited also is a licensed contractor, insured and bonded to ensure things are done correctly and in compliance with state and federal laws.
Owner Rick Phebus, said his military experience of moving to foreign countries and having to build the necessary infrastructure has given him expertise to help the many people moving to, and living in, North Idaho to build their off-grid systems.
Born in Colorado and raised in West Virginia and Alaska, Phebus knows how to live off grid even in some of the harshest climates.
"If I can live off grid through an Alaskan winter, then I can do that here in North Idaho," he said.
With a background in electric engineering, Phebus has the expertise and mathematical know-how to properly install solar systems and other alternative energy sources. A lot of the work for Off Grid Unlimited is updating failing solar systems in the region, he said. By working through wholesale they are able to get the newest technologies, from batteries that last 30 to 50 years and even double-sided solar panels.
With the large influx of people the past two years and those moving to North Idaho purchasing any property they can afford, Off Grid Unlimited has been busy consulting as well.
"We'll come on to a newly purchased property with nothing on it and see what people can do for power," he said.
There are many different options for power, whether it is solar, wind, hydroelectric, geothermal or thermal electric, Off Grid Unlimited has the equipment and the knowledge to suit your needs.
Most importantly, the business is dedicated to exceptional service, Phebus said.
Phebus said many of his customers have purchased "off grid" houses and thought they'd had enough power for the winter. However, that sometimes wasn't the case.
In one particular case, Phebus said the snow was so deep that Off Grid Unlimited couldn't get the vehicles to the house. Instead, they had to hike through the snow and safely transport the solar panels.
Phebus said, the volume of calls means that the company has to triage clients like the military and help those in the most need first, especially when they are without power and water in the winter.
"I'm not going to let someone freeze to death," he said.
Between deployments, Phebus would flip houses to keep himself busy. After retiring in 2017 from a full military career, he got bored and started helping others setting up solar systems.
Now in its second year, Off Grid Unlimited is expanding and has added to its team. A recent hire is Raymond Flowers, a trained mechanic.
"He is a Swiss Army Knife of a man," Phebus said.
Due to solar being direct current versus alternating current, Phebus has found that mechanics are better suited to understanding solar. This makes Flowers even more instrumental for Off Grid Unlimited.
Another focus for their second year, Off Grid Unlimited has moved locations, added more office staff and hopes to expand office space in order to better serve customers.
Off Grid Unlimited is located at 510007 U.S. 95, Suite 102, Bonners Ferry, across from the old Yoder's Market. Soon the address will be changed to 33 Enterprise Drive.
Schedule by appointment or stop by the office. For more information, visit their website at www.offgridunlimited.com or the office at 208-627-4476.
Recent Headlines
---