Fentanyl in Boundary County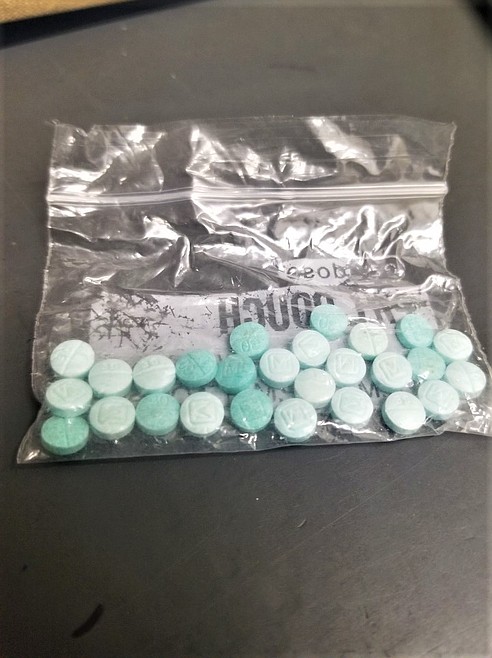 Fentanyl seized by the Bonners Ferry Police Department. This year, there have been five separate arrests where fentanyl has been seized by law enforcement.
Photo courtesy of BONNERS FERRY POLICE DEPARTMENT
by
EMILY BONSANT
Staff Writer
|
February 3, 2022 1:00 AM
Over the past two weeks, the Bonners Ferry Police Department, with assistance from the Department of Probation and Parole, as well as U.S. border agents, has conducted numerous efforts to slow the influx of fentanyl into the community.
The result is five separate arrests — each resulting in the recovery of fentanyl pills. Investigations are ongoing with additional charges probable, BFPD Assistant Chief Marty Ryan said.
BFPD officers recognized that each of the fentanyl pills recovered were the same in appearance, referred to at the street level as "Mexi-Pills" or "Blues." The pills are small in size, marked with an "M" on one side, the number "30" on the other.
According to the Drug Enforcement Agency, two milligrams of fentanyl can be lethal depending on a person's body size, tolerance and past usage. DEA analysis has found counterfeit pills ranging from .02 to 5.1 milligrams (more than twice the lethal dose) of fentanyl per tablet.
42% of pills tested for fentanyl contained at least 2 mg of fentanyl, considered a potentially lethal dose. Drug trafficking organizations typically distribute fentanyl by the kilogram. One kilogram of fentanyl has the potential to kill 500,000 people, said DEA officials.
It is possible for someone to take a pill without knowing it contains fentanyl, DEA officials said. It is also possible to take a pill knowing it contains fentanyl, but with no way of knowing if it contains a lethal dose.
"We want the community to be aware of the threat posed to our citizens by this powerful street drug sweeping the nation right now. All coming into the U.S. via our southern border," Ryan said.
"I am extremely proud of the long hours and dedicated work our patrol officers have been doing in this interdiction effort. These pills have no quality control in their manufacturing. So each pill has the potential to take a life," Ryan said.
The drug is ingested in many ways, the most common technique identified locally is the method of inhalation, he said. This is done by resting the pill on a small square piece of tinfoil and heating it with a flame. As the pill heats, it melts and turns to gaseous fumes which rise from the foil. The fumes are then inhaled via any makeshift straw or tube.
Ryan advised that concerned individuals, parents should stay alert for short straws that show evidence of heat being applied to them. Simple ball point pens which have had the ink and pen parts removed are the most common, he said. In addition, Ryan said the tinfoil left behind appears heated on one side, the other showing thick black lines as if someone was making lines across it with a thick black marker.
For more information or for questions, contact the on-duty BFPD city officer or call the department at 208-267-2412.
Recent Headlines
---