The dangers of fentanyl exposure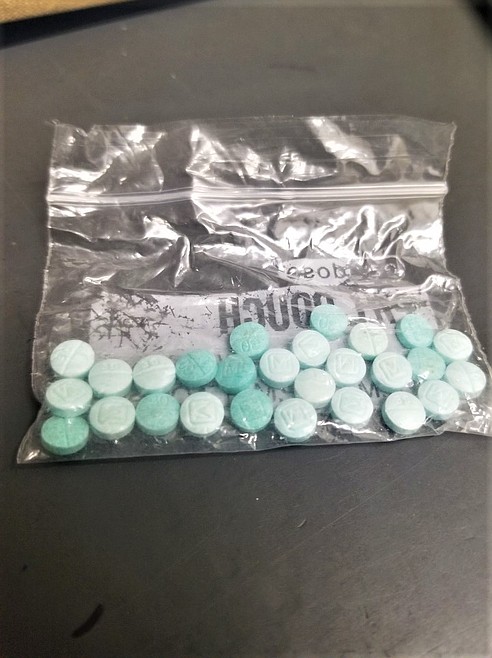 Fentanyl seized by the Bonners Ferry Police Department. This year, there have been five separate arrests where fentanyl has been seized by law enforcement.
Photo courtesy of BONNERS FERRY POLICE DEPARTMENT
BONNERS FERRY — Fentanyl is a dangerous drug not just for those that use it but for anyone that comes in contact with it.
Fentanyl is a synthetic opioid that is 80 to 100 times stronger than morphine. Pharmaceutical fentanyl was developed for pain management treatment of cancer patients, applied in a patch on the skin, Drug Enforcement Agency officials said.
"Because of its powerful opioid properties, Fentanyl is also diverted for abuse. Fentanyl is added to heroin to increase its potency, or be disguised as highly potent heroin. Many users believe that they are purchasing heroin and actually don't know that they are purchasing fentanyl — which often results in overdose deaths. Clandestinely-produced fentanyl is primarily manufactured in Mexico," said DEA officials.
Bonners Ferry Police Department Assistant Police Chief Marty Ryan said that there is still so much unknown about fentanyl. It is the leading cause of overdoses by young people today, he said.
A dosage of fentanyl is a grain of salt. More than that amount can make the user sick, Ryan said. Two to three times that dosage causes overdose.
A great danger with the drug is cross infection. Smugglers have very little quality control and this drug has been known to contaminate other smuggled items, such as marijuana, Ryan said.
Data from the Centers for Disease Control National Center for Health Statistics indicate that there were an estimated 100,306 drug overdose deaths in the United States during a 12-month period ending in April 2021. That is an increase of 28.5 percent from the 78,056 deaths during the same period the year before.
The new data estimates that deaths from opioids increased to 75,673 in the 12-month period ending in April 2021, up from 56,064 the year before, CDC officials said. Overdose deaths from synthetic opioids, primarily fentanyl and psychostimulants such as methamphetamine also increased in the 12-month period ending in April 2021. Cocaine deaths also increased, as did deaths from natural and semi-synthetic opioids, such as prescriptions for pain medication, CDC officials said.
In Idaho many people in the past year have overdosed on fentanyl by smoking contaminated marijuana.
According to the Idaho State Police website, in Boundary County drug and narcotic offenses were up 67.89 percent from 2019 and 2020. The 2021 data is not yet available.
Like other police departments, BFPD would field test pills by crushing them and running them through multiple tests. In other police departments, this has led to hospitalization of officers when exposed to fentanyl.
"The drug dosage is so small that it can be added to anything," Ryan said.
One can still be exposed to fentanyl without ingesting it, but by coming in contact with paraphernalia.
"People want to do the right thing. Whether it is a landlord cleaning up a vacant room or hotel staff, they are at risk touching the paraphernalia," Ryan said. "Call us if you see anything. We glove up and provide open air during [drug] seizures. The fumes take time to evaporate and are dangerous."
Any tubes, glass pipes, foil with burn marks or other paraphernalia should not be handled. Call dispatch at 208-267-3151 and officers will safely remove the items.
Ryan said that BFPD properly labels and seals paraphernalia and even marijuana for testing. Safety is the biggest concern and the BFPD is not taking any chances even with marijuana that could be contaminated, Ryan said.
There is still debate whether or not someone can overdoses from just touching paraphernalia, but police officers have had reactions to fentanyl fumes and being in close proximity to the drug.
It is common practice for officers to carry Narcan, a nasal spray medication designed to reverse the effects of opioid overdose, with them at all times. This nasal spray is used for protection as a fail safe when an officer is exposed, or to provide medical care on scene.
"We have been blessed to not have any officer incidents," Ryan said. "We have a great ambulance medical response team with a great response time, which we have had to use in some cases."
Ryan said that officers have had to use the Narcan when on duty to protect themselves from fumes and possible exposure, but no officer has been harmed as of yet.
The officers are really putting the effort in to push back against fentanyl in the community, Ryan said.
Recent Headlines
---