Plans for new Valley View Elementary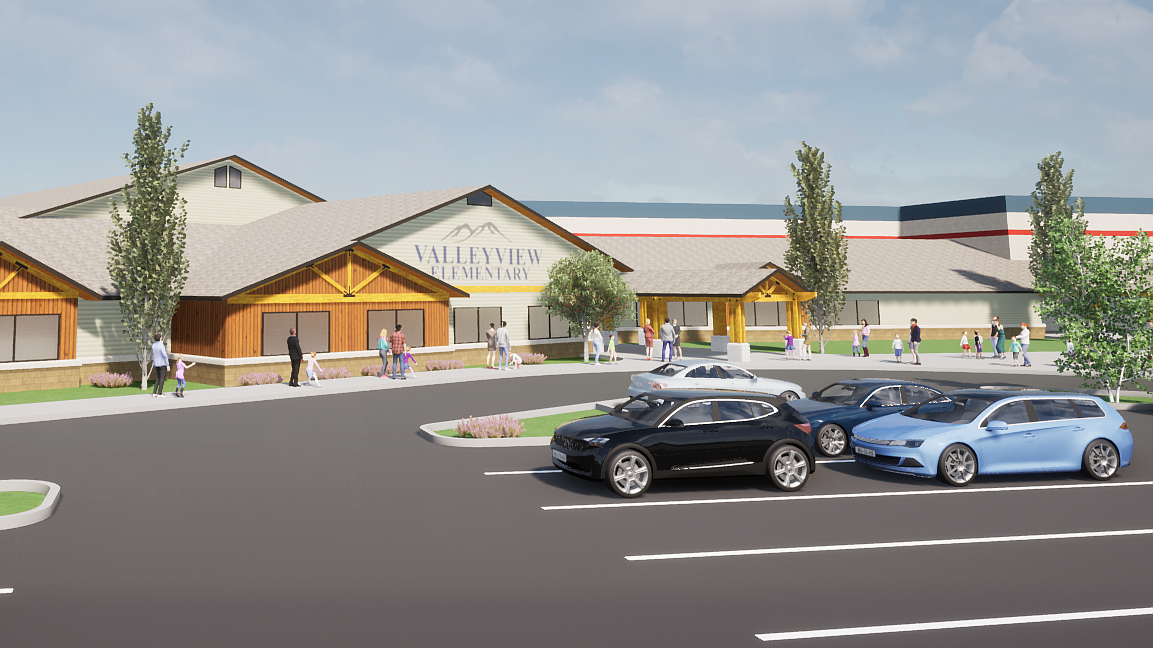 A concept for Valley View Elementary presented by the Boundary County School District.
Image courtesy of BOUNDARY COUNTY SCHOOL DISTRICT
by
EMILY BONSANT
Staff Writer
|
February 10, 2022 1:00 AM
Story has been updated.
BONNERS FERRY — Community members got a first look at what a new Valley View Elementary could look like at a community presentation earlier this month when Boundary County School District officials outlined a proposed bond.
Superintendent Jan Bayer said that the renditions for the new Valley View are rough drafts. Thirty people worked on the drawing, including school staff, to the district's facilities committee and three architects. The facilities committee was formed two years ago, in anticipation of the major repairs needed throughout the schools, Bayer said.
"So we went to the drawing board, we brought in people from across the county and represented different entities," Bayer said.
Committee members were chosen because they bring different experiences, expertise with facilities and practices to the table and represent different community groups, such as the Kootenai Tribe, fire services, homeschooler parents, a rotary member, a city council member, a farmer, a parent and school board member. After a year of analyzing the needs of the district, the committee came up with a plan.
The proposal is to build a new Valley View school with 60,000 square feet of adjoining interior spaces instead of having six separator buildings, BCSD officials said. It will have 24 classrooms, rather than the current 18 in order to accommodate growth, flexibility for preschool offerings, interventions and special education. The roof will not be flat and a practice gym would be added adjacent to the current gym to allow more indoor recreation space for the district and the community. There will also be a comprehensive parking, parent drop-off/pick-up and bus transportation plan that has been incorporated into the design and construction.
Remodeling the school while maintaining the same six buildings would cost $8.1 million but would not address existing safety concerns. Originally built in 1948, modules were added to Valley View in 1970 as a temporary measure. However, Bayer said they've never left.
Even with a remodel, Valley View would still have existing inefficiencies, Bayer said. A new school would allow district officials to plan for growth and offer more opportunities to the community. A new school will cost $14.1 million out of the total $16.39 million bond.
The facilities committee went out and asked community members what they wanted and they came back adamant that there needs to be another gym, Bayer said.
At the bond presentation there was discussion by school board trustee Teresa Rae that having two gyms at Valley View opens up the possibility for other sports events to take place.
"Our facilities committee was adamant that we have two gyms. The gyms are currently capped with athletics," Bayer said. "They're used all the time. And that's created some hard feelings amongst community groups saying 'why can't we get into your gyms?' Well, when we're running, wrestling and basketball in the winter, those gyms are capped out. When we can't get outside for spring sports with golf, softball, baseball, they're farmed out into our gyms," Bayer said.
"In small towns like ours, you don't get private gyms or organizations putting up gyms," Rae said.
Bayer said the question on the committee's mind was 'should the district close an elementary school?' The district does not plan to do that, but is looking at the city of Bonners Ferry's projected growth and 200 to 300 family homes planned for the area. Bayer said in order to accommodate growth an extra class per grade level was added.
Rae added that this addition allows flexibility especially since there is talk of adding preschool. This is all the while that the district is grappling with space issues at Valley View. Another portable had to be added because several grade levels that have come through have been too large to be accommodated, Rae said.
"Another concern of the board is we want small class sizes. We do not want to have 35 kids in the classroom. We'd like to be around 20 or 25 depending on grade level. And there were some large classes that came through where we could hire a teacher, but we had no place to put a class," Rae said.
BCSD has received funds from the American Rescue Plan Act. $1.4 million of the funds will go Naples Elementary. Other projects BCSD wants to complete are the Mt. Hall Elementary bathroom and sewer pipe replacements, new doors at Naples and Mt. Hall, replacing the high school boiler, air conditioning to keep technology cool and updating HVAC at the middle school.
If the bond passes, district officials will tour new schools that have been built in North Idaho and reevaluate the draft of the new school.
"Two years ago, we knew that the high school bond would be paid off. And we knew that we would have to do major repairs throughout our other schools," Bayer said. "Our goal is to start building about a year from now and then to open our doors in August 2024."
"The new building is going to last us probably 80 years. At the same time, all of our other buildings are going to have the last 20, 40, 60 years so that we can be responsible to our taxpayers," Bayer said.
She was excited because every step of the way there's been a lot of input from the community and people that are impacted by the proposal. At the time of the Feb. 3 meeting, the BCSD superintendent and staff had done about five presentations and had scheduled about 17.
Bayer wanted the public to know that the school district is not collecting debt on top of debt. The high school bond will be fully paid off in August. The property tax rate has fluctuated with the market over the years. In 2016, the rate was $3.84 and has been as low as $2.46 in 2022. In 2005, the rate was $6.63 per $1,000 assessed value.
Cal Bateman, BCSD business administrator said the estimated fiscal impact for residential homeowners after homeowners exemption is applied.
The property tax rate for the bond across the board is $2.63 per $1,000. For someone with $150,000 worth of property, the rate is equal to $395 a year. In 2022 the total was $369 a year, a $26 increase from the year before. For someone with $300,000 worth of property at $2.63 per $1,000 equals $738 a year, a $51 increase. For $500,000 it comes to $1,315 a year, an $85 increase.
Rae said that interest rates could be lower, but this is a conservative estimate. It is a rate that the state perceives they can give, but it all depends on what interest rate does 90 days after the March 8 election.
"So right now your interest rate for this is 2.61 percent," Bayer said. "That's what the interest rate is. If we sold them today, it would be even lower at $14 per $100,000 increase instead of a $17," Bayer said.
She said the reason BCSD is pursuing a bond now is because of the low interest rates and the other bond being paid off in August.
Bond presentations are still going on. Below is a list of presentations and voter information.
• Thursday, Feb. 10, 6 p.m., City Hall Moyie Springs Community
• Friday, Feb. 11, voter registration due
• Tuesday, Feb. 15, 6 p.m., City Hall, BF City Council meeting
• Friday, Feb. 25, absentee ballot application due
• Thursday, March 3, 1 p.m., United Methodist Church
• Friday, March 4, in-person absentee voting ends
• Tuesday, March 8, Election Day
Recent Headlines
---