Bill Tompkins
|
February 24, 2022 1:00 AM
"We all die. The goal isn't to live forever, the goal is to create something that will." ~ Chuck Palahniuk
Bill Tompkins passed away Friday, Feb. 11, 2022, as he wanted to, peacefully in his home surrounded by his loved ones. Bill was born to Florence Elizabeth and James Anthony Tompkins on Aug. 11, 1926, in Healdon, Okla. He completed their family of 13 children. His youth was spent in the south, in Oklahoma and Texas. Sadly, Bill lost his father at an early age and assumed responsibility for providing for his mother. In pursuit of work, they moved to Paradise, Mont., in the early 1940s.  
In 1945, Bill met the love of his life, Donna Jane Ellis, and they were married on Oct. 4, 1947, in Meadow Creek, Idaho. The young couple lived in Plains, Mont., where they welcomed children James Anthony (Tony) and Billie Carolyn.
In the 1950s, Bill and Donna followed construction on the Columbia River Dams which brought them to live in Oregon where they welcomed daughters Wilie Ann and Teresa Kim. In 1958, the family relocated back to Boundary County to raise their young family. They were building a home on Highland Flats when their fifth child, Todd Lee was born. Finally, Mary Elizabeth completed their family two years later. They eventually settled on Oak Street in Bonners Ferry.
Bill and Donna are members of the Church of Jesus Christ of Latter-day Saints and were very active in the Bonners Ferry Ward. Bill especially enjoyed scouting and youth activities and led many youth adventures throughout the years. Bill had a great zest for life and loved the outdoors. Bill and Donna's children spent many happy hours driving old logging roads, camping, swimming, tubing, picking huckleberries and best of all, finding rocks.
Bill also enjoyed hunting, skiing, golfing, traveling, dancing, visiting relatives, exploring and sports. Most of all, Bill loved his family. His greatest happiness was when his family was all together. His children, grandchildren and great-grandchildren were his greatest legacy.
Bill was loved by many and will be dearly missed.
Bill is survived by his children, James Anthony (Linda) Tompkins, Billie (Dan) Stanton, Wilie (Lynn) Kaney, Teresa (Rick) Dodd, Todd (Joi) Tompkins and Mary (Jim) Griffin; his 17 grandchildren and 21 great-grandchildren; and his faithful companion, his German shepherd, Sasha.
Bill is preceded in death by his beloved wife, Donna Tompkins; his parents, Florence Elizabeth and James Anthony Tompkins; his 12 brothers and sisters; and all of his nieces and nephews.
The family plans to have a celebration of life for both Donna and Bill at a later date.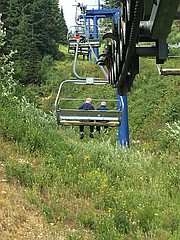 Recent Headlines
---