Alumni basketball tournament scores fun for all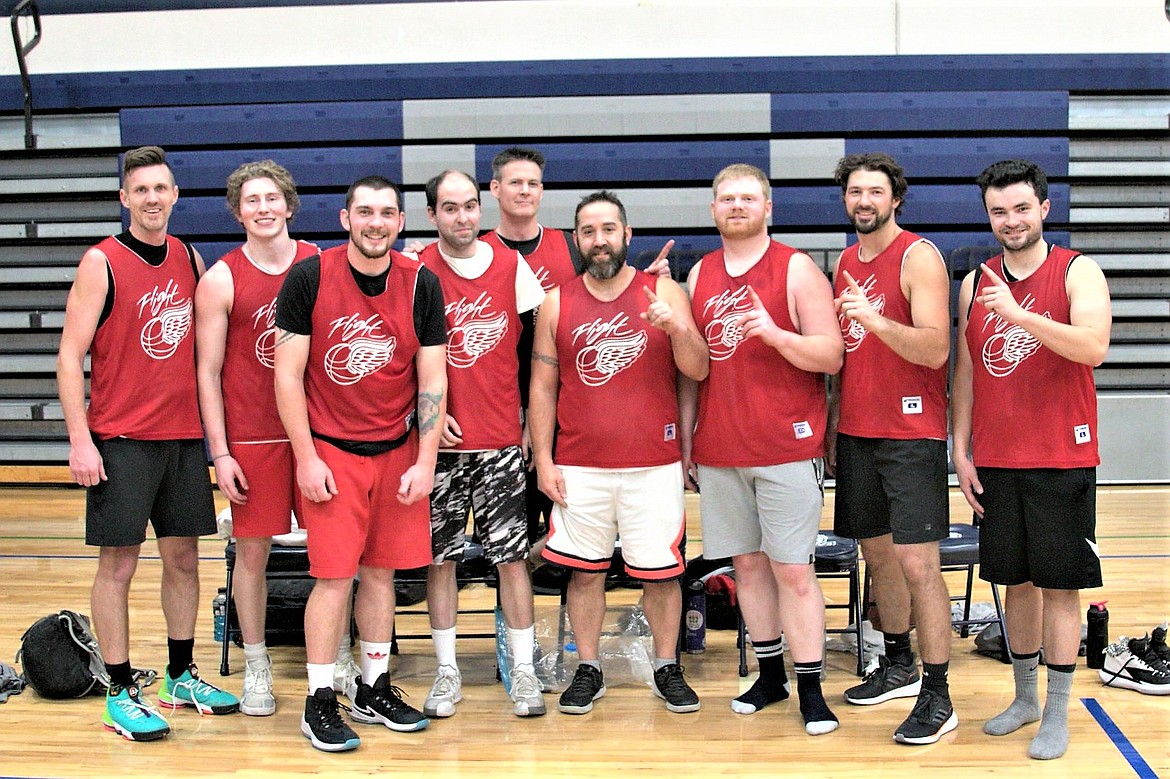 Team Bombers wins the Men's Basketball Alumni Tournament on New Year's Eve.
(Photo by: EMILY BONSANT)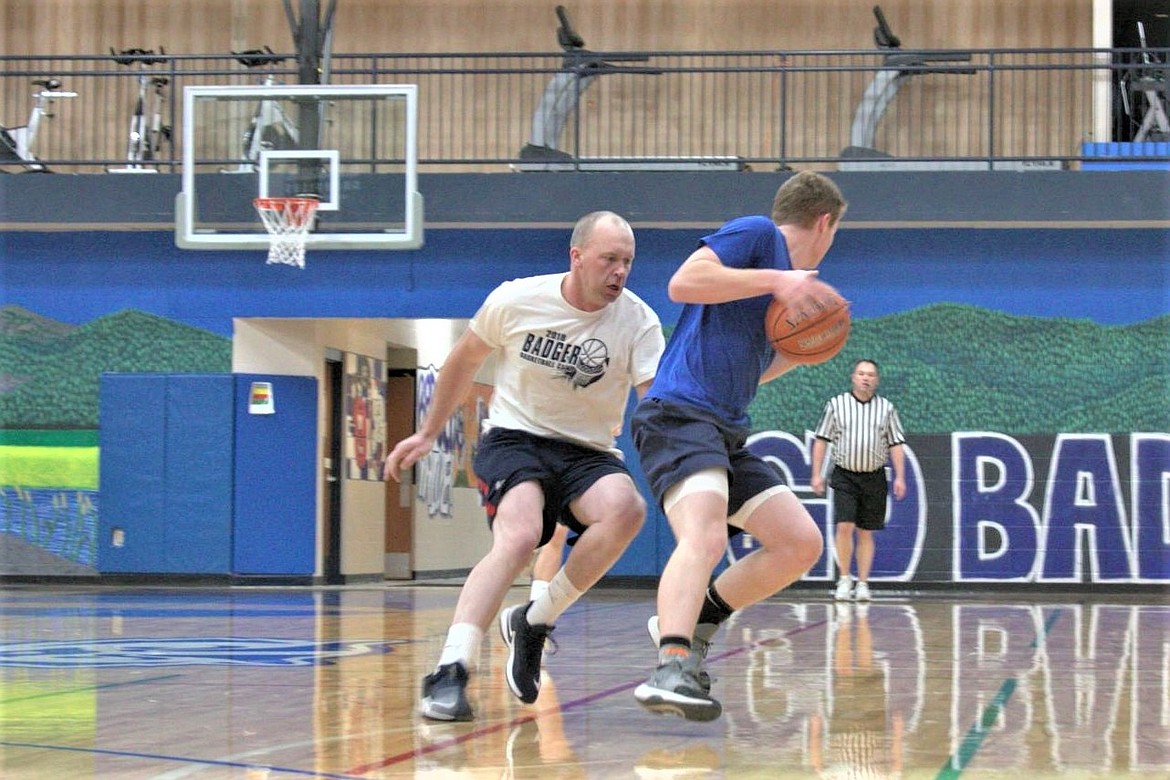 Team Rice player plays tough defense against Team Blackmore player.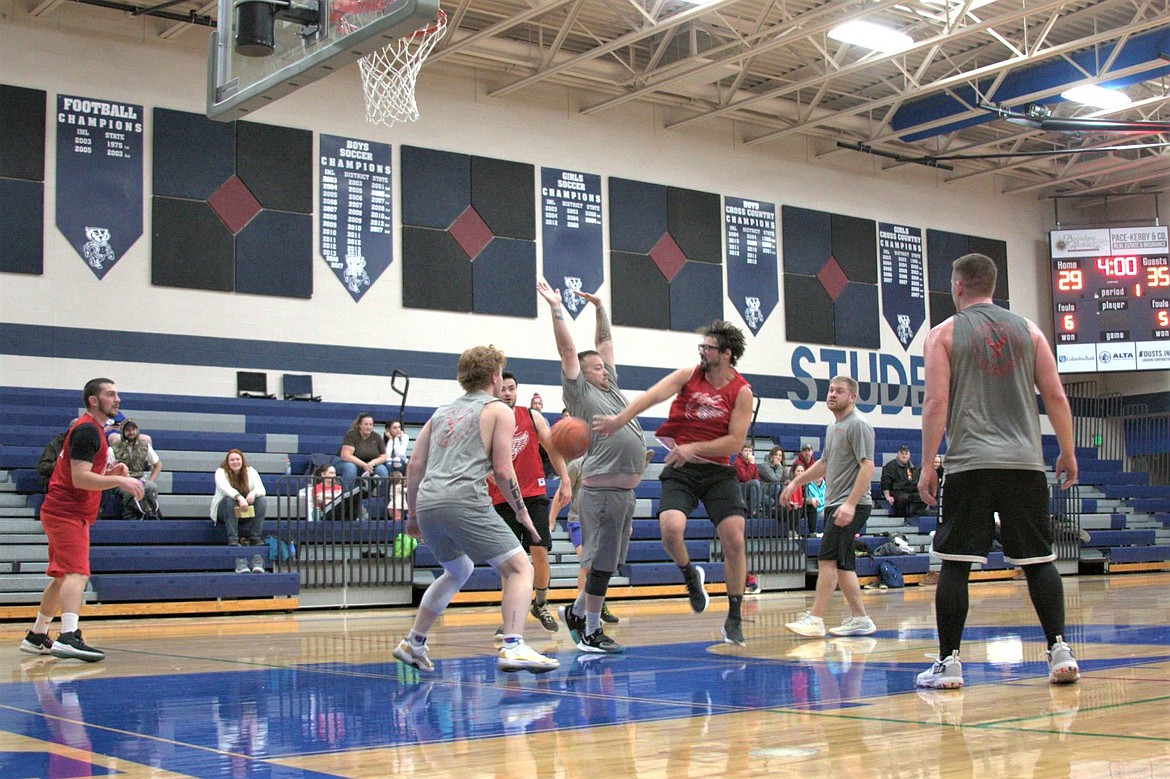 Stefan of Team Bombers outlets a pass in the first round game against Team Turner Plumbing.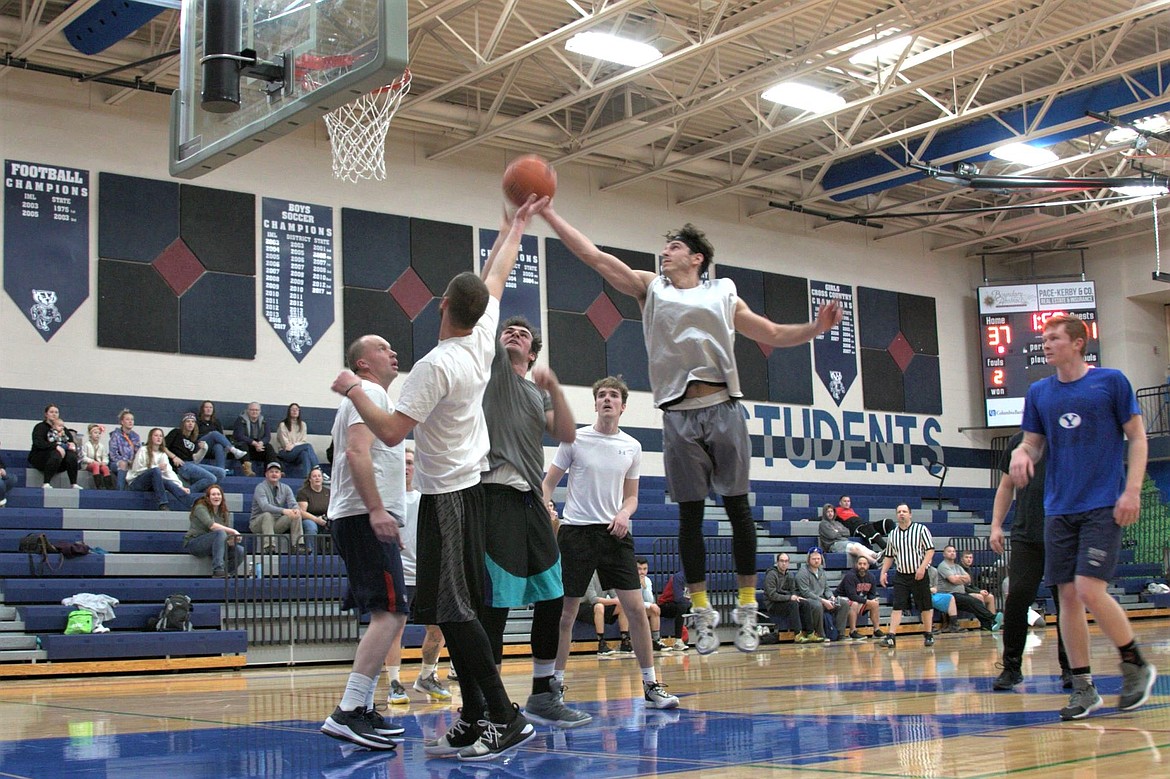 Player of Team Rice and Bennets goes for a lay in over the head of Caleb Blackmore of Team Blackmore in the first round of the Men's Alumni Basketball Tournament.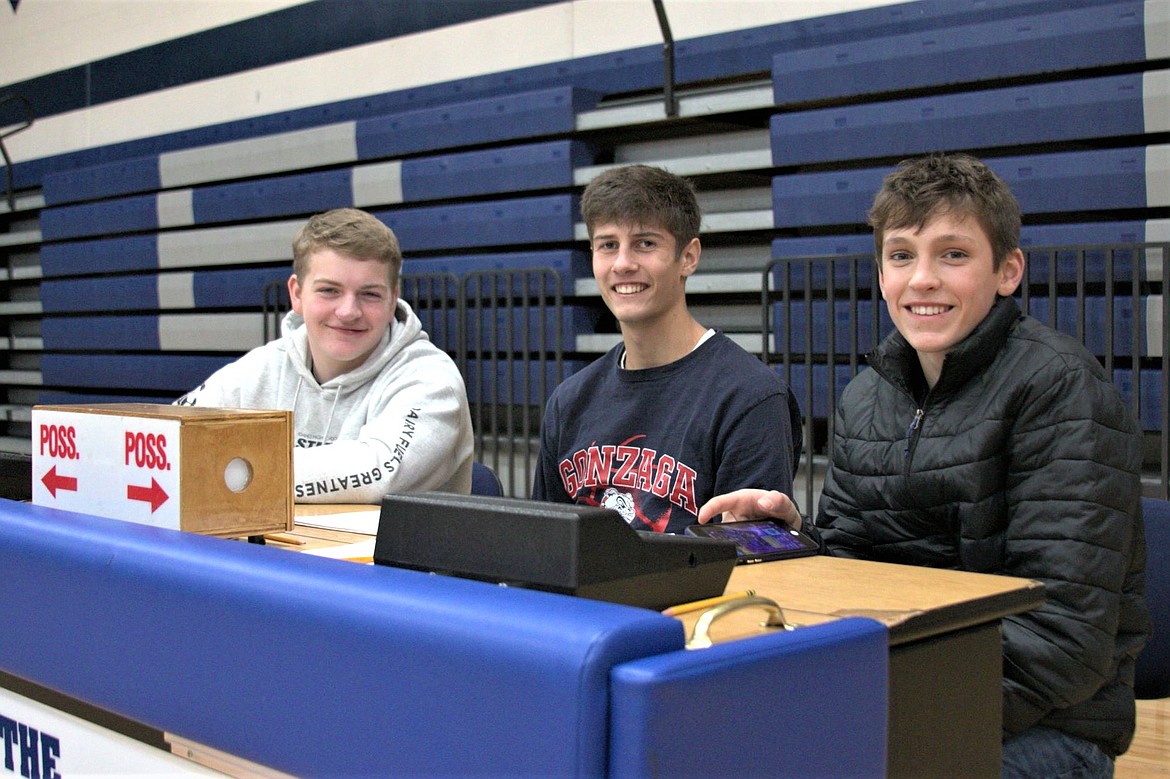 Boys varsity basketball players Trey Bateman, Riley Petesch and Asher Williams man the score board and take stats at the Alumni tournament.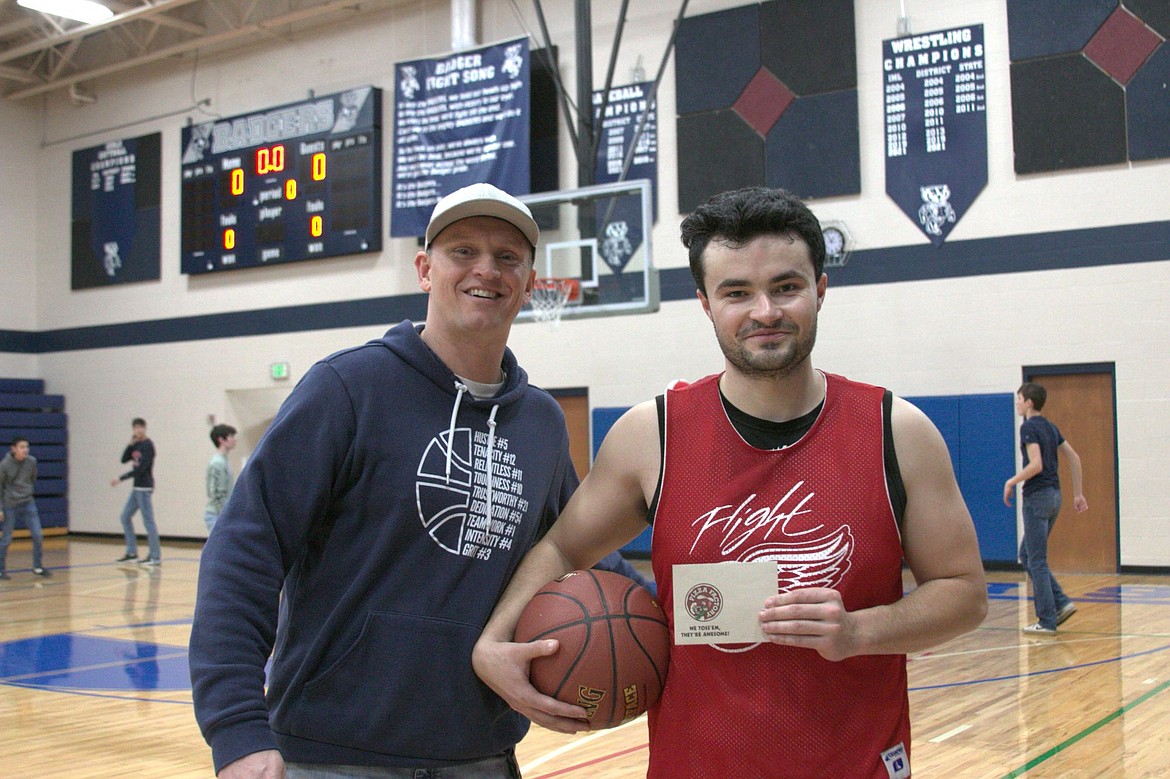 BFHS Athletic Director Nathan Williams awards (right) Max from Team Bombers with a gift card to Pizza Factory after Max won the three-point contest. He was 13 for 20.
Previous
Next
by
EMILY BONSANT
Hagadone News Network
|
January 6, 2022 1:00 AM
BONNERS FERRY — Badger alumni and other basketball players closed out the year reclaiming past glory and proving to the world that they still have what it takes to shoot those deep threes at the Men's Basketball Alumni Game tournament on New Year's Eve.
Each team was guaranteed two games, with two 20-minute halves.
Team Blackmore was a heavily stacked alumni team made up of Caleb, Emily and Lily Blackmore, as well as Warren Carle, Pacen Pluid, Andrew Gomez, Ty Bateman, Chris Durette and Josh Beazer.
Team Rice and Bennets went up against Team Blackmore for the first game of the tournament.
A lot of tumbling and stealing took place in the first game and great looks to the basket. Team Rice and Bennets beat Team Blackmore in the first round 90-73 placing Rice and Bennets in the championship game.
In the second game of the first round, Team Bombers and the Turner Plumming's team battled it out. The Bombers towered over the Turner team and had a deep bench which kept their legs fresh and the three-pointers coming.
The tempo of the game started slow as the teams were still warming up, but after a few fast breaks they were off to the races. What Team Turner Plumbing lacked in height they made up with aggression and teamwork, but at the half the Bombers stopped looking to pass and looked to score. In the last 20 minutes, the Bombers lead with 57-36 and finished 100-55 and moved on to the championship.
For the championship Team Rice and Bennets took on the Bombers. In the first half, the teams kept within a few points of each other. Right before the half, the Bombers secured a seven point lead by sinking near half court shot leading 49-42.
The Bombers cemented their victory and scored another 100-point game. Final score 110-82.
Bombers players wanted the community to know that they may be wearing Sandpoint red, but none of them have played at Sandpoint High School. Like all teams they had a BFHS alumni, as well as alumni from Clark Fork and other schools in the region and Spokane area.
Team Turner Plumbing and Team Blackmore played for the third and fourth place. As the teams tired out, the game got rougher and defense got sloppier. Team Blackmore led the whole game and inching away from Team Turner Plumbing. A five-point lead turned into a 17-point lead. Team Turner Plumbing fought back and scrapped up some points to finish only 10 points behind Team Blackmore.
Final score 77-67. Team Blackmore took third and Turner Plumbing took fourth.
There was also a three-point competition for a Pizza Factory gift card. With an overwhelming number of participants, the top three made it to the second round. The Bombers had strong shooters with Stefan making nine out of 10 shots and Max making seven out of 10.
A youngster from the stands named Mac shot his own ball and made seven out of 10.
Many participants tied for fourth making six out of 10. Max, from the Bombers, went on to win the gift certificate when he continued his streak and sunk another six three-pointers.
Household items, gift certificates and an arcade-style basketball hoop were part of the silent auction.
"It was a fun tournament with a lot of people contributing to its success," said Nathan Williams, BFHS boys varsity head coach and athletic director.
Williams said he was very thankful for all of the donations for the silent auction and for Vinyl Expressions giving each player a participant T-shirt.
"I really love our community and how generous they are in supporting all of our athletic programs. It was great to see so many alumni playing basketball again and having fun," Williams said.
He attributed the success of the tournament to the current players donating their own time to help with the scoreboard, scorebook, concession stand, three-point contest, and everything else it takes to run a tournament.
The funds raised went toward the BFHS boys basketball program. The alumni game will return next year with more fun, more prizes and more reunions.
The tournament is known to get a bit rough, but this year there were only two injuries sustained from players' glasses due to rough play, and a few cases of wounded pride.
But overall it was a lot of fun to watch, and well worth spending a Saturday, and the players seemed to be having a lot of fun.
Recent Headlines
---