Boys Basketball 2-1 at Parma Holiday Classic
by
EMILY BONSANT
Hagadone News Network
|
January 6, 2022 1:00 AM
PARMA — The boys won two of three games in Parma on Dec. 28-30.
The Badgers opened up with Snake River from Blackfoot and fell 61-45. Snake River (8-2) went on to play Teton for the championship game and won 56-37.
"I knew Snake River was going to be one of the better teams at the tournament and I am glad we got to play them," said head coach Nathan Williams. "Snake River is a well coached team and plays physical basketball. We will see them at the state tournament I'm sure and hopefully we can get better before March."
Going into halftime the Badgers were down 35-25 and came out in the third quarter and played tough defense. The game went back and forth and the Badgers were down 10 points with about two minutes left but couldn't get any closer.
Asher Williams led the Badgers with 13 points and Ethan Hubbard chipped in 11.
The second game was against Skyview JV. The Badgers rallied as a team and jumped out to a 34-13 lead at halftime. The second half was no different as the Badgers maintained control of the ball and won 68-34.
"It was a great team effort and everyone got to play a lot of minutes," Williams said.
Asher Williams led the Badgers with 16 points while Ethan Hubbard added 11. Travis Petersen had a great shooting night with three three-pointers. Thomas Bateman added two three-pointers. The Badgers finished with nine three-pointers and shot nine for 11 from the free-throw line.
"I really enjoy how unselfish all of our kids are with the ball, no one forces shots which makes the game more enjoyable to coach and also watch from the sideline. I am really proud of how our team stuck together and played tough on the defensive end," Williams said.
On day three the Badgers played the home team, Parma and after the first quarter the Badgers were down 20-19, and at halftime were losing 33-31. However, at halftime Coach Williams challenged the boys and they made some adjustment on defense and outscored Parma by 14 points in the second half.
"The team played great down the stretch and I was particularly happy with how Braeden Blackmore attacked the hoop and fought for his 8 rebounds," Williams said.
Blackmore led the team with 22 points and Asher Williams added 21 points.
Charles Henslee played with a lot of heart and always gives effort and I was proud of his defensive toughness and also dishing out 5 assists, Williams said. Blake Rice added 7 rebounds and handled the pressure in the second half very well.
The Badgers play their first league game of the season at Timberlake on Friday, Jan. 7 at 7 p.m. The boys are 6-5 overall.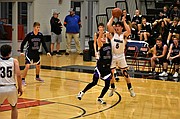 Recent Headlines
---