Lady Badgers finish within seven of SHS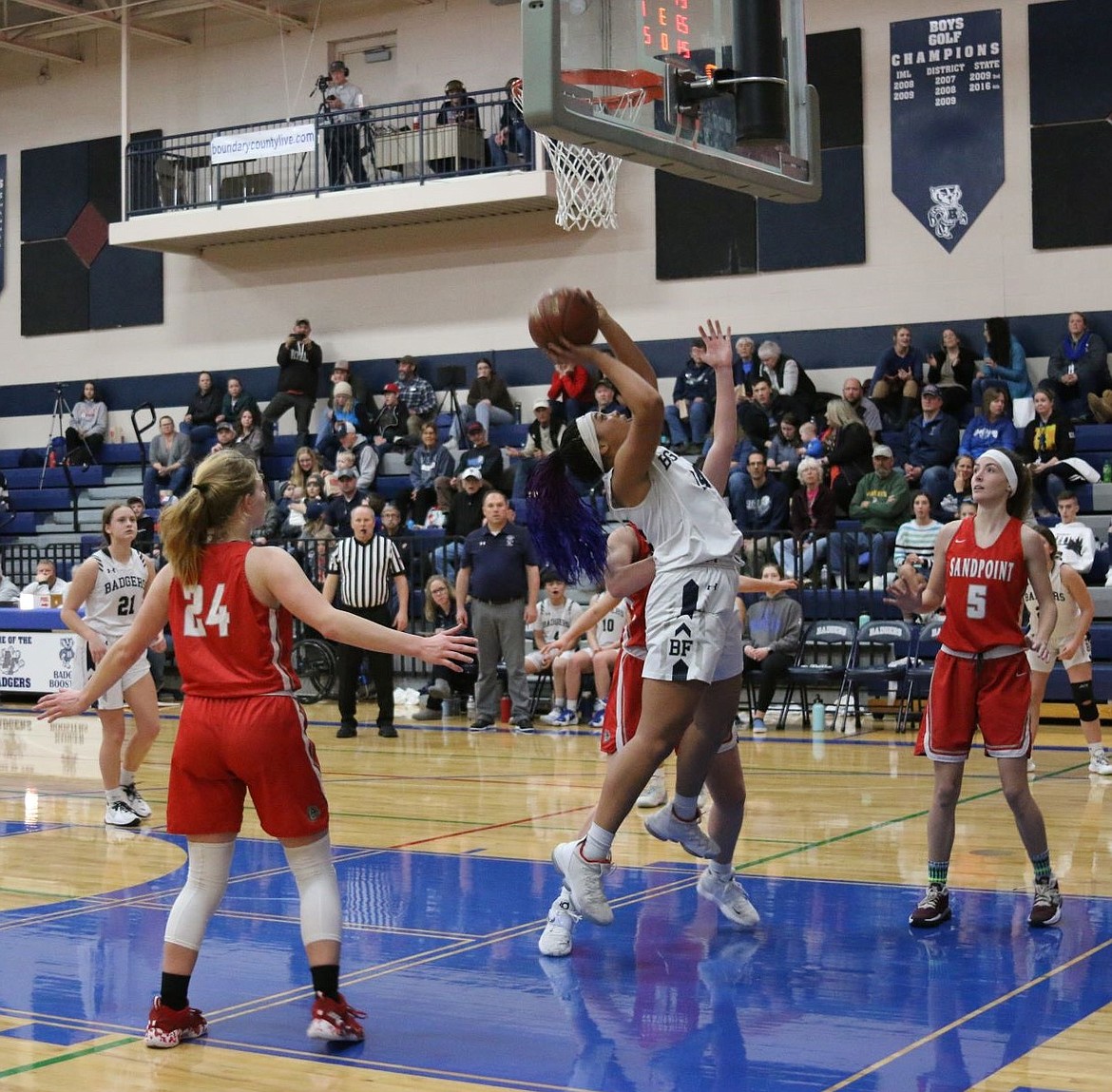 Asha Abubakari scores a layin against Sandpoint on Jan. 11. Abubakari had 16 points and nine rebounds.
(Photo by: CYNTHIA BONSANT)
by
EMILY BONSANT
Hagadone News Network
|
January 13, 2022 1:00 AM
BONNERS FERRY — Lady Badgers kept the Bulldogs in check, but gave away too many free throws and lost by seven, 40-47.
"[Demi] Driggs had 15 points against us last time we played," said girls head coach Travis Hinthorn. She had 13 at half so we ran a box in one that we haven't run all year. The kids did a great job and held her to only one free throw in the second half."
He said the team did a great job on defense, which affected Sandpoint offensively.
"We got outscored at the free-throw line by 19 points. They were 28 of 36," he said. "We need to keep driving to the hole, because we need it."
The Badgers finished the night seven of eight from the free-throw line, but that was not enough to offset the Bulldogs.
Hinthorn said the Badgers need to play better more consistently. While the team has some players that have great games, Hinthorn said he wants a lot of players to have great games.
The girls were within five points of the Bulldogs in the fourth quarter. In their first meeting at Les Rogers Court on Nov. 23, the Bulldogs beat the Badgers 50-34.
"Bonners has improved quite a lot since the last time that we played them," said Sandpoint head coach Will Love. "They are young and you can see them coming along and they are going to be a pretty tough team, so they offered some challenges to us that we had to work hard to contain."
Bonners Ferry trailed 26-15 at the half, but came back with a fight and battled in the third and fourth quarter. The Badgers were down 10 early in the fourth quarter, but battled their way back and fell short 40-47.
Asha Abubakari led the Badgers with 15 points, Markynn Pluid and Braylyn Bayer had eight each. Abubakari led the team with nine rebounds and Pluid had seven. Mai Blackmore and Braylyn Bayer had two steals each.
The varsity girls are (5-7) overall and (0-1) in league.
Bonners Ferry 9 6 9 16 — 40
Sandpoint 14 12 6 15 — 47
BONNERS FERRY — Burt 0, Villaluz 2, Pluid 8, Blackmore 4, Abubakari 15, Shottanana-Ponce 0, B. Bayer 8, Sumpter 0, A. Bayer 3.
SANDPOINT — Cessna 12, Driggs 14, Reinink 5, Tomco 1, Owens 0, Strock 6, Lyons 4, Platte 5.
The girls play Kellogg on Friday at 6 p.m.
Hinthorn said when they traveled down to Kellogg they didn't shoot well. Some quarters they would win and then would have to make up the deficit from other quarters.
"If we start out shooting better, I think it will make a big difference," he said.
Recent Headlines
---