Burger joint finds home at AJ's Lanes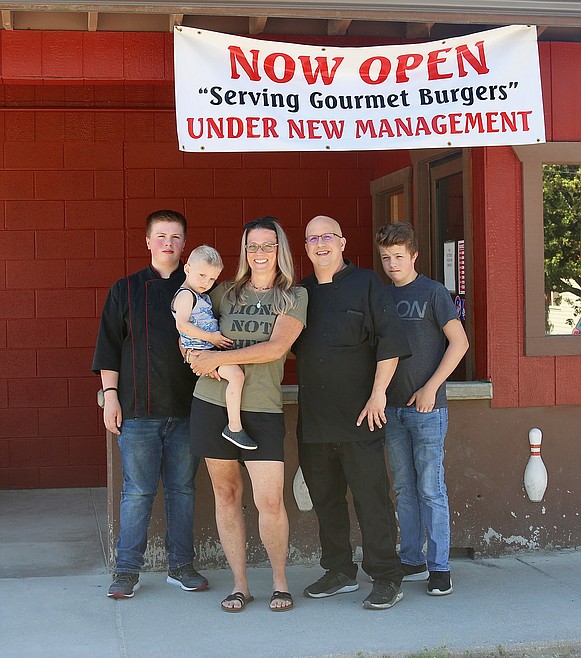 The Lyman family has opened Scrud's Grub and Pub is now open in AJ's Lanes. (left to right) Calvin Lyman, Jackson Lyman, Emily Lyman, Brett Lyman and Jaymin Lyman.
(Photo by: EMILY BONSANT)
by
EMILY BONSANT
Hagadone News Network
|
July 7, 2022 1:00 AM
BONNERS FERRY — The Lyman family has taken over the management of AJ's Lanes and is revitalizing the much-loved bowling alley, one burger at a time.
Scrud's Grub and Pub is a baseball-themed family-run restaurant specializing in creatively-named stuffed burgers, chicken wings and fresh cut to order fries.
Brett and Emily Lyman told the Bonners Ferry Herald their goal is to return AJ's Lanes to a community space where families can come together safely and have a good time. The property is still owned by A.J. and he too is advocating the return of the bowling alley as a community gathering space.
Scrud's Grub and Pub is now at AJ's Lanes and is bringing a new look and new food to the familiar lanes. The restaurant's name might sound familiar, since it is the fifth Scrud's Grub and Pub that the Lyman family has opened.
Scrud's Grub and Pub first started in a bowling alley in Mountain View, Wyo. From there, the Lymans moved to northern Utah and opened two locations in Ogden and Draper, Utah. Later, they moved to Coeur d'Alene and opened the fourth Scrud's Grub and Pub. Now the place for burgers, wings and family is open in Bonners Ferry.
The other locations are no longer open due to the Lyman's moving and not wanting to franchise.
Brett Lyman told the Herald that the family moved to Bonners Ferry to be closer to their adult children. He said they had not planned to open another Scrud's but had heard from many community members that they wanted a good burger place in town.
While Lyman said he hadn't planned to open another restaurant, the idea of providing a place to the community is something that appeals to the Lyman family and was the reason why the family opened the first Scrud's.
It took the Lymans time to find the right location in town. Temporarily, they moved their focus to helping their son and daughter-in-law, Kaden and Melissa Lyman, in their business PHAT Mo's.
Once they accepted management of AJ's Lanes, the Lymans have been updating the kitchen, interior and exterior.
Scrud's Grub and Pub opened May 21 and has had word of mouth advertising and social media to start a following locally.
Scrud's Grub and Pub is open Tuesday through Thursday noon to 8 p.m. On Friday and Saturday its hours are noon to 9 p.m. The restaurant may be open later depending on demand.
Bowling and the bar is open until midnight. For take-out call 208-267-1506. Visit their website www.restaurantji.com/id/bonners-ferry/scruds-grub-and-pub-/
Recent Headlines
---