From the Archives - July 14, 2022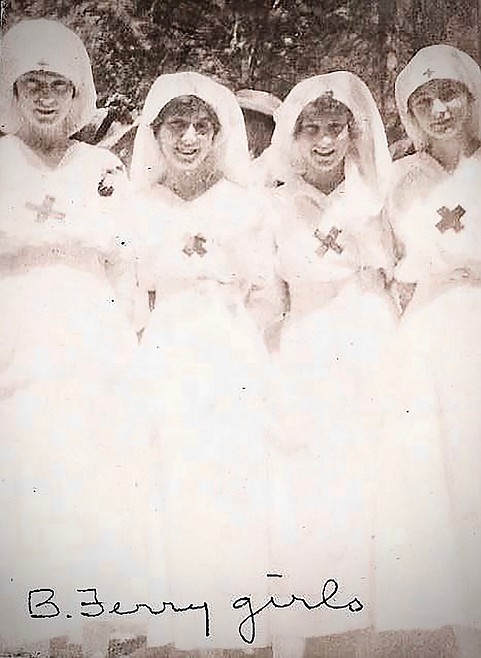 A few of Bonners Ferry's volunteers for the Red Cross are pictured above. The Gray Lady Service program was disbanded in the 1960s and absorbed into a more unified volunteer services program within the American Red Cross.
(Photo courtesy BOUNDARY COUNTY MUSEUM)
The American Red Cross started the "Red Cross Hostess and Hospital Service and Recreation Corps" in 1918 at the Walter Reed Army Hospital in Washington, D.C., to provide services for war patients. It wasn't until after World War II in 1947 that the program became officially known as the "Gray Lady Service." The name came from their signature uniform of a gray dress and veil.
The Gray Ladies were volunteers who worked in American hospitals, other health care facilities, and private homes, during World War I and World War II. They provided friendly, personal, non-medical services to sick, injured or disabled patients. They wrote letters, read, tutored and shopped for patients, and served as guides to visitors and as hostesses in hospital recreation rooms and at information desks. Gray Ladies also provided hospitality services in Red Cross Blood Centers and joined forces with other Red Cross workers in caring for disaster victims.
The Gray Lady Service program was disbanded in the 1960s and absorbed into a more unified volunteer services program within the American Red Cross.
This photo shows some of Bonners Ferry's volunteers for the Red Cross.
The Boundary County Historical Society and Museum, 7229 Main St., Bonners Ferry, sponsors this column.
Visit the museum Thursday through Saturday from 10 a.m. to 3 p.m. Visit the website at www.boundarycountymuseum.org or the museum's Facebook page for historical photos and stories, and to see upcoming events. The museum can be reached via email at doyouremember@meadowcrk.com or by telephone at 208-267-7720. Thank you for your continued support.
Recent Headlines
---