Pop-up bakery serving up tasty treats
by
EMILY BONSANT
Staff Writer
|
July 21, 2022 1:00 AM
BONNERS FERRY — A pop up bakery has come to the Pearl Theater serving scones sent from above and much more every Sunday.
From Above Creations is owned and operated by Shonna Vance. Vance is a single mom and disabled veteran baking up delicious treats and crocheted goods through her business.
Before Vance's creations were available in the afternoon at the Pearl, but now she will be opening up the kitchen earlier in the day and serving up baked goods and coffee at 11 a.m.
Vance said she is experimenting with more savory baked options, like her pesto rolls. She is passionate about scones and creating new flavors. In the past, she has done wildflower scones and a Mexican mocha scone, to name a few.
She knows not all customers are as adventurous as her, so she will have classic flavor staples, as well as unexpected flavors. From Above Creations also has gluten free and sugar free options.
Fresh local food sources are a top priority to Vance. She uses locally sourced wheat flour, farm fresh eggs with the hopes of being as locally sourced as possible.
She said the long-term goal for food sources is to support the local community and keep money in the local economy.
She said she is very thankful to be able to use the commercial kitchen at the Pearl Theater. Due to health regulations and the start-up costs for selling baked goods, Vance said she would not be able to see goods baked in her own kitchen.
"Being a single mom and a disabled veteran, I don't have the resources for a commercial kitchen," she said.
She added that the Pearl is a blessing since there are not many commercial spaces available in town and fewer in her budget.
With the large space at the Pearl, Vance hopes to create an environment where community members can gather and take their time enjoying her offerings.
She hopes Sunday's at the Pearl will become a gathering place for the community to fellowship and connect over a scone, coffee and a game of cards. Over time she hopes that the venue allows for other available options like watching movies on the big screen during bakery hours.
She said her long-term dream is to have a full-time shop with smoothie bowls, baked goods and health focused food options.
From Above Creations will be at the Pearl Theater Sundays at 11 a.m. until sell out.
From Above Creations baked goods can be purchased at Boundary Bounce and Homestead Produce. Crocheted goods by Vance can be purchased at Sharon's Market.
Follow From Above Creations on social media at "From Above Creations" or email from.above.creations777@gmail.com.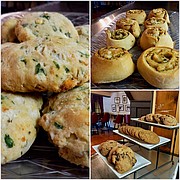 Recent Headlines
---