Get ready, get set for the Kootenai River Run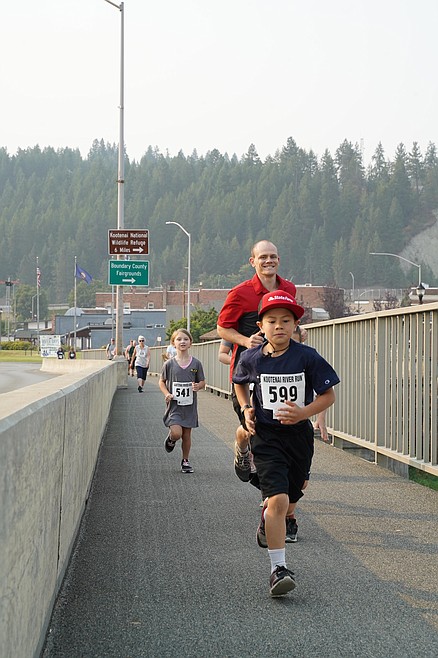 Kootenai River Run participants (Photo by Chandler See)
BONNERS FERRY — For the second year, the Kootenai River Run is part of the Kootenai River Days and will have some guests and new additions.
Along with 200-300 projected runners, this year, Team Hoyt Cda will be in attendance with a couple of wheelchair participants and their "power" runners behind them, pushing them along the course. Team Hoyt Cda is a nonprofit with the goal of getting everyone out to race despite disabilities.
In the spring of 1977, Rick Hoyt told his father that he wanted to participate in a 5-mile benefit run for a lacrosse player who had been paralyzed in an accident. Rick was unable to run the race due to being diagnosed as a spastic quadriplegic with cerebral palsy. His father, Dick Hoyt was not a long-distance runner, but agreed to push Rick in his wheelchair and they finished all five miles, coming in next to last.
That night, Rick told his father, "Dad, when I'm running, it feels like I'm not handicapped."
This realization was just the beginning of what would become more than 1,000 races completed including marathons, duathlons and triathlons, Team Hoyt Cda officials said.
In addition, Dick and Rick biked and ran across the U.S. in 1992, completing 3,735 miles in 45 days.
An addition to the KRR at the finish line will be Toasty Mobile Saunas and a bucket plunge. Runners will have the chance to cool off with a sauna plunge, try out the sauna, and spin for prizes.
Sponsors this year are Shelman Realty and Idaho Forest Group. As usual, fantastic and unique-to-the-run embroidered race T-shirts by Brenda Woodward will be available.
The race has been going strong since the 1980s and couldn't be done without the co-race directors Paul Bonnell and Jim Cadnum and the whole list of volunteers. Community members are encouraged to volunteer to keep this annual race.
Generous prizes from local businesses, including Hank Willis, DDS, Iron Mike's Gym, Aveyon Salon, Vinyl Expressions, Keep In Touch Massage, Ronnie's Hair Salon, Mountain West Bank, Far North, Under the Sun, Tri State Outfitters, the Pearl Theater and Mugsy's.
There will also be entertainers along the route, such as the self-proclaimed Restorium Renegades ready with squirt guns in hand to douse and encourage runners.
This year's performers include percussion by Hobart Yocom, guitar by Scott Stover, belly dancing by Azul Fire & Friends.
The race awards two high school graduates with scholarships each year. For more information on scholarship qualifications, contact Paul Bonnell at 208-597-1431.
The race is Saturday, July 23 at 8 a.m. at the fairgrounds. An out-and-back 5K and 10K option through Bonners Ferry's northside neighborhood and across the beautiful Kootenai River.
Recent Headlines
---