Baseball Senior Night 2022
by
EMILY BONSANT
Hagadone News Network
|
June 2, 2022 1:00 AM
BONNERS FERRY — Badger baseball graduated three seniors, Bo Bateman, Jack Duffy and Wilson Newell, the seniors were honored at Senior Night on April 30, between the double header against Timberlake.
Bateman wears jersey No. 33 and plays catcher and second base. Other sports and hobbies he enjoys are football, tennis, LEGO and being around friends and family.
His plans after high school include serving a two-year mission for the Church of Jesus Christ of Latter-day Saints, in the Dallas, Texas, West Mission. After, he plans to attend BYU and earn a degree in zoology. Then he plans to attend Texas A&M and go to veterinary school.
He said his favorite memory of baseball was when Duffy bare-handed a ball at first and being frustrated at himself for the rest of the practice and when Trey [Bateman] hit a three home-run at state.
An accomplishment he is most proud of is winning the Intermountain League and district titles last year.
His advice to future players is "relax at the plate and swing the bat. Never go down looking," Bateman said.
"I've watched Bo grow up from our state championship bat boy to who he is today," said head coach Tom Turpin. "He's very dedicated to baseball and I'm very proud of his accomplishments and know he will excel in his next chapter in life."
Jack Duffy wears jersey No. 8, he plays first base.
Duffy enjoys fishing, skiing and hanging with friends. After high school, he plans to attend Montana State University. His favorite memory in baseball is the team welcoming him on the first day of practice.
He said he is most proud of being "an all right player" after a seven-year break from baseball. His advice to future players is work hard and be coachable.
"Jack [Duffy] showed up a couple years ago and blended right in with the team," Turpin said. "He's a very quiet, hardworking young man that has totally embraced and loves his baseball brothers."
Turpin said that Duffy works so hard and that he is very proud of him and thankful for him staying in Bonners Ferry.
Wilson Newell, wears jersey No. 5 and, when asked what position he plays, he said "anywhere coach says to play."
Other sports he enjoys are football, bike jumping and dirt biking. His plan after high school is to get rich.
He said his favorite memory of baseball is hitting bombs with the white widow. His advice to future players is "don't suck."
"Wilson is a tremendous athlete and has come a long way in baseball from his freshman year on varsity," Turpin said. "He's quiet (at practice) and comes to work hard every day. He said on his senior recognition that he plays wherever I need him and it's absolutely true. His work ethic will definitely carry him to great successes."
Photo gallery available at www.BonnersFErryHerald.com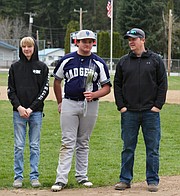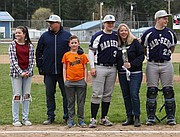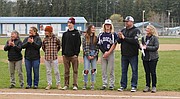 Recent Headlines
---