Bertling makes All-American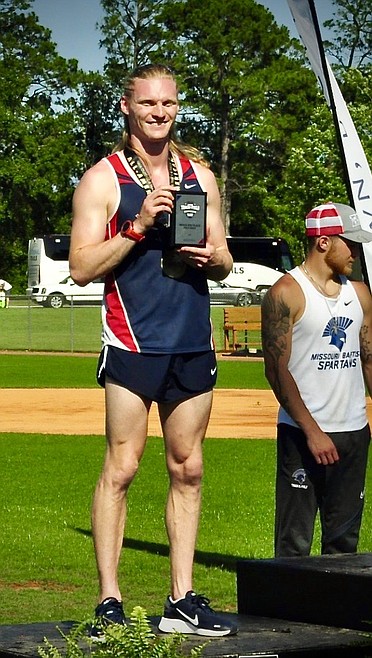 Nik Bertling stands on the podium making All-American honors taking sixth place in the pole vault at the NAIA Outdoor Track and Field Nationals in Gulf Shores, Alabama. Bertling broke the Lewis and Clark State College's school record in pole vault.
(Courtesy photo Nik Bertling FB)
GULF SHORES, Ala — Former Badger, Nik Bertling took sixth in the pole vault, broke the school record for the third time and earned the title All-American at the NAIA Nationals for Lewis and Clark State College on May 27.
Bertling became the first LC State Men's Track and Field athlete to earn All-American honors in the pole vault. In his third attempt, the senior hit a school-record mark of 4.85m, or 15 feet and 11 inches, to place sixth and earned individual All-American honors.
He entered Nationals as the No. 12 seed at 4.80m, or approximately 15 feet 7 inches.
At the past two meets before the Nationals, Bertling also made new personal records and broke the school-record mark.
On May 7 at the Tom Gage Classic at University of Montana, Bertling set a program record and hit a national-qualifying mark in the pole vault with a height of 4.73m. At the CCC Championships a week later, Bertling set another program record of 4.80m.
LCSC Head Track & Field Coach Mike Collins said "[it is] Great to see Nik perform so well at nationals. In fact, he was moving on a nice upswing with just qualifying for nationals at our conference championships, breaking a school record in the process."
Then at nationals Bertling continued that progression, Collins said. LCSC has had multiple All-American female pole vaulters, but Bertling is the first for LCSC on the men's side.
"[Bertling is a] great representation of our program and we could not be happier for him," Collins said.
When at Bonners Ferry High School, Bertling hit a mark of 13 feet 6 inches in the pole vault as a senior and was awarded Most Outstanding Event for Pole Vault.
Over social media, Bertling thanked all the coaches, athletic trainers, teachers that helped him get to where he is today: Conrad Garner, Shasta Baisden, Señora Hall, Tyler Warner, J.K. Knaggs, Mike Davis, Tim Reilly, Tracy Collins and Taryn Cadez-Schmidt, Cyrus Hall, Jacob Whittaker, Kurtis Bonner, Michael Collins, Coach Kelley and Alexandra Darlene Hough.
He also thanked his friends and teammates.
To the community of Bonners Ferry, he said he loved the town and the people and that he is so glad to have been raised here.
"You have given so many like me the tools they need to chase dreams and passions and I will be returning that support in the future," he wrote.
"Bigger and Better things are coming. Thank you again for all the support."
Finally, he thanked his parents, Tim and Wendy Bertling.
"You have never doubted me. You never told me to give up. You did everything you needed to for me to get to where I am. I love you," he wrote.
Recent Headlines
---