Bike Adventure full of service opportunities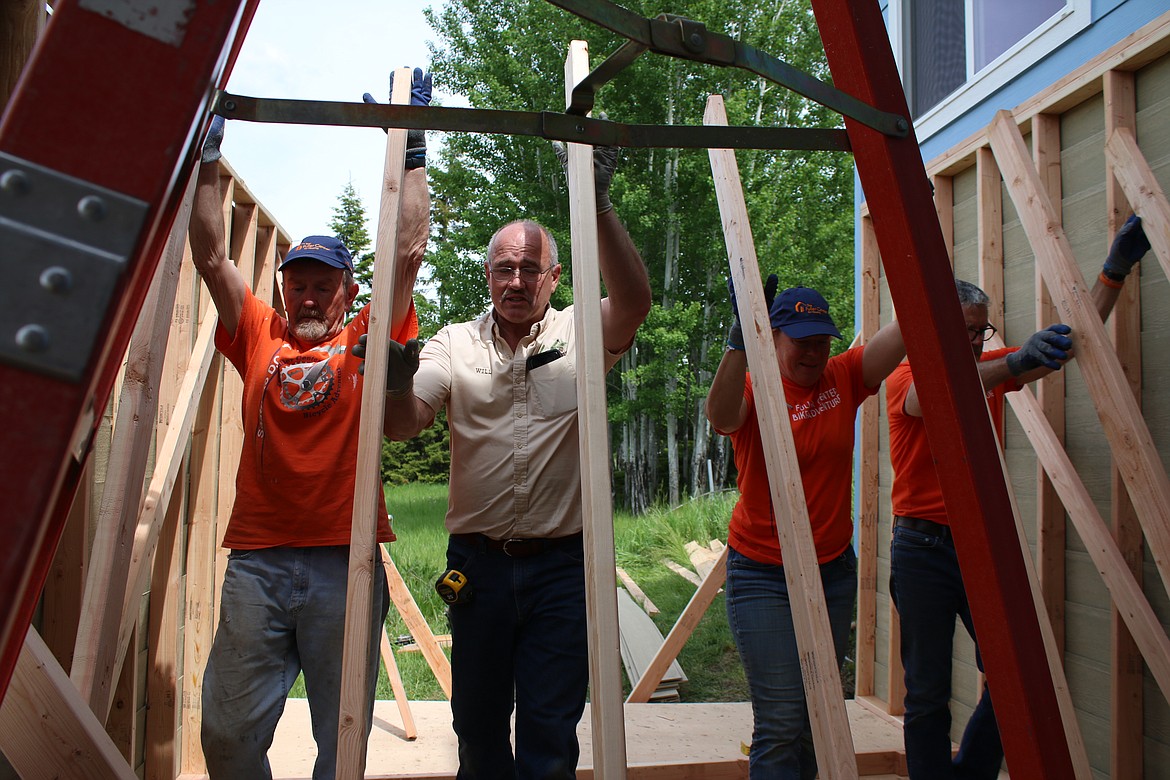 Fuller Center Bike Adventure volunteers raise a wall for a shed in Bonners Ferry.
Photo courtesy of FULLER CENTER BIKE ADVENTURE
BONNERS FERRY — After biking 104 miles to Bonners Ferry, a group of riders and volunteers helped build a shed for a local family and made repairs at the Boundary County Fairgrounds on Monday.
The bicyclists and volunteers are with the Fuller Center for Housing, an ecumenical Christian, 501c3 nonprofit, non-governmental organization based in Americus, Ga. The center's volunteers build and repair homes for low-income families and individuals.
The Fuller Center Bike Adventure is a 10-week volunteer opportunity with biking as the mode of transportation. Riders and supporters travel from location to location, helping build or repair homes and other service projects for the communities they visit. This year, the coast-to-coast bike adventure is traveling from Seaside, Ore. to Sebago Lake in southern Maine. The entire trip will cover 4,000 miles and 14 states from May 20 to July 31.
Teresa Rae is the president for the local Fuller Center for Housing affiliate partner. When she heard the bike adventure and volunteers were coming to Bonners Ferry, she reachout out to the American Legion, the VFW and other organizations to see if they needed any work done.
Volunteers would have helped with Fuller Center for Housing projects in the county, but no projects were ongoing at the time.
After a 534-mile bike ride from Oregon, the 17 volunteers helped build a shed for a family in Bonners Ferry and helped make repairs at the fairgrounds. The repairs included adding to the chicken house, fixing the floor of a rotting ticket booth, and painting fencing and a bathroom.
Volunteers told the Bonners Ferry Herald that each week they have a scheduled build day at one of the Fuller House affiliate partners. Riders travel by bike from location to location. Once a week, they have a rest day.
Wayne Wilson of Tennessee said he is going to take part in the whole trip. He said he started the trip with his rear bike wheel in the Pacific Ocean and he'll finish in Sebago Lake.
Volunteers said they often stay in churches, some of which provide multiple meals as well as service opportunities. Volunteers don't know the projects they will be doing until the morning of the build day. In addition to the work in Bonners Ferry, so far this trip they have done landscaping, hung doors and added a roof to a storage for a food pantry.
Mike Scotty of Chicago said that he started taking part in the trips five years ago, because he was a bike enthusiast and wanted to ride a variety of terrain instead of the flatlands he was used to.
"It is a great cause and a great opportunity," Scotty said.
Pam VanHoose is a support staff member and her husband Ron VanHoose will be riding the whole way.
Not all riders stay all 10 weeks. Many will pop in for one or two legs depending on logistics and the amount of time they can take off work. Next stop for the Fuller Center Bike Adventure is East Glacier.
Rae said that fairgrounds staff were grateful for all the help, adding it would have taken them two weeks to get all the work done.
Rae wanted to thank all those that helped make this project possible: Boundary County School District for providing access to showers, the Boundary County Fairgrounds for providing lodging and Kootenai River Inn for providing boxed lunches for volunteers.
For more information on the Fuller Center Bike Adventure, visit https://www.fullercenterbikeadventure.org/. For more information on the Fuller Center for Housing, visit https://fullercenter.org/.
Recent Headlines
---