From the Archives for June 23, 2022
This photograph was found on the University of Idaho site labeled "Creamery. Bonners Ferry, Idaho, 1920."
In 1916, Fred S. Stoos, a graduate of Bonners Ferry High School, Class of 1914, started his creamery business, calling it Boundary Creamery. It was located in a building west of the grain elevator and east of the Spokane International Depot. In 1920, the Creamery installed a new refrigerator plant to freeze ice and to cool a storage room for butter and cream. "Freddy" sold fresh pasteurized milk for 15 cents a quart.
Freddy sold the Boundary Creamery to B.C. Taylor & Son in October 1921. The Taylors were familiar with the creamery business and were excited to purchase it with plans to begin selling ice cream.
"The Boundary Creamery was established here some five years ago by F.S. Stoos and under his management the business has been well patronized and has proven a financial success. Mr. Stoos has no definite plans for the future. He stated to the Herald representative that he did not plan to leave Bonners Ferry but would continue to make his home here." — BF Herald, Oct. 6, 1921
Fred S. Stoos, as the Herald stated, had no intentions of moving away. However, we do know he did move to California at some point. In high school, Freddy was always drawing. He enjoyed drawing cartoons and plans for models. Freddy eventually went to work for Walt Disney and Warner Bros. His life story is one we will share at another time. You will be amazed.
The Boundary County Historical Society and Museum, 7229 Main, Bonners Ferry, Idaho, sponsors this column.
Visit the museum Thursday through Saturday, 10 a.m. to 3 p.m., or go online to the museum's website at www.boundarycountymuseum.org or the museum's Facebook page for historical photos and stories, and to see upcoming events. The museum can be reached at doyouremember@meadowcrk.com or telephone at 208-267-7720. Thank you for your continued support.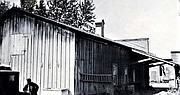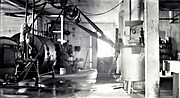 Recent Headlines
---