Couple's dream leads to 9B Tacos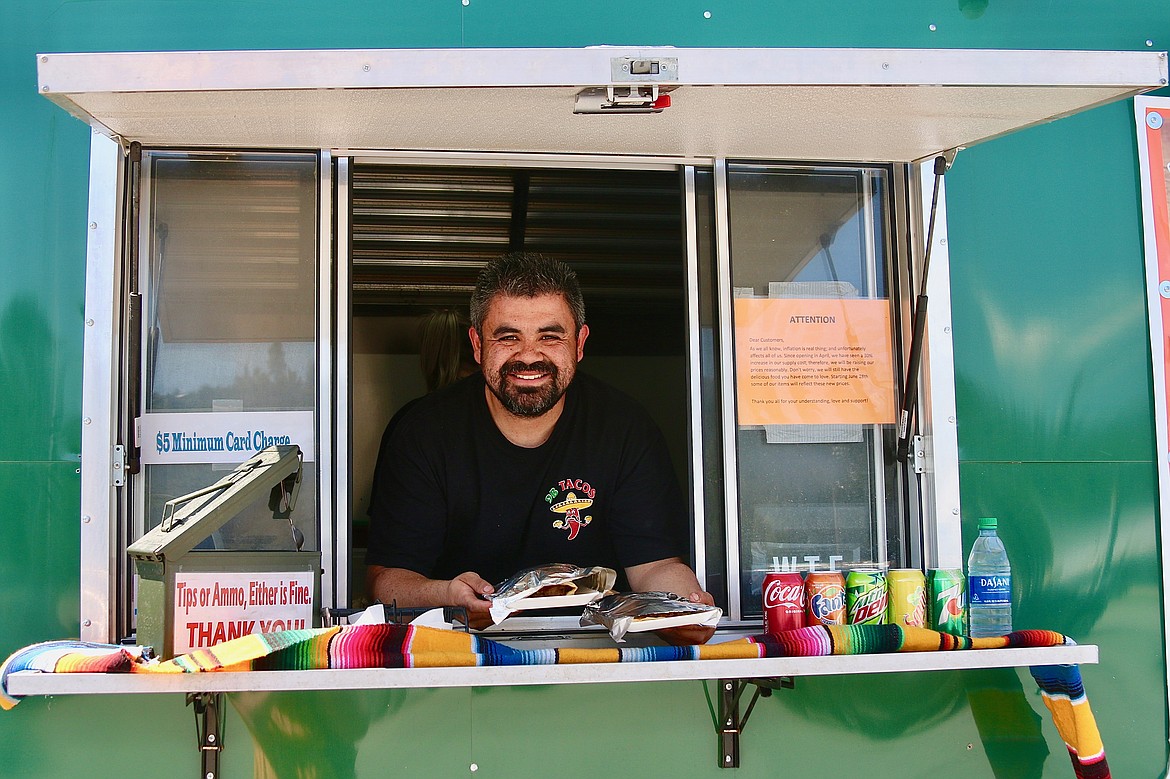 Jose Cesená, owner of 9B Tacos, serving up some food to his patrons.
(Photo by: EMILY BONSANT)
by
EMILY BONSANT
Hagadone News Network
|
June 30, 2022 1:00 AM
BONNERS FERRY — 9B Tacos began with the dream of husband-and-wife team, Jose and Lovey Cesená.
9B Tacos, found in a food truck serving up Mexican dishes and flavors, is located in the parking lot by The Badger's Den Cafe and Latte and the Commerce and Labor Department on Main Street. 9B Tacos' story is a dream of Jose and Lovey.
Cesená told the Bonners Ferry Herald it has been the couple's dream for a while to open a taco truck.
"It was my dream that she supported me in," he said.
The dream began in Southern California, where the pair grew up — with Jose Cesená's Mexican roots, a taco truck seemed a natural choice for a business venture. He said the recipes are his own and he aims to deliver real and authentic Mexican food.
After his wife, Lovey, lost her 27-month battle with colorectal cancer on Aug. 9, 2021, at the age of 34, Cesená struggled to stay positive and raise their three sons alone.
Finally, Cesena decided to make the couple's dream a reality and open up 9B Tacos.
"With tremendous support from family, friends and this community, I am now living our dream," Cesená said. "True, she isn't physically with me, but I know she's watching over us from Heaven. Now please come and enjoy some real authentic Mexican food at 9B Tacos."
On the menu is the Lovey Taco. Cesena said he had made this taco for Lovey to try a few months before she passed away. She loved it and so he named it after her.
Cesená has shared the story of how 9B Tacos and his wife Lovey's story on the 9b.taco website. He said one customer came up to him crying because she had read the story and wanted to support him.
He said supporting his three boys is the reason he is running 9B Tacos. The truck officially opened in April and can usually be found parked near Badger Den.
Cesená said the proximity to the schools does not necessarily increase traffic flow to the truck, but he does have some die-hard student fans who take advantage of the student discount. He said 9B Tacos has consistent customers come back, sometimes daily for his food, something he attributes to word-of-mouth advertising
One family visiting from Kalispell came two times in one day, he said.
When 9B Tacos is not catering events, the food truck can be found in the parking lot near The Badger Den Cafe and Latte. They are open Tuesday through Friday, 11 a.m. to 2 p.m. and 3 p.m. to 6 p.m. On Saturdays, the food truck is open 11 a.m. to 3 p.m.
To order over the phone, call 208-597-0967.
For more information, visit their Facebook page 9B Tacos or go online to 9btacos.com.
Recent Headlines
---