Dahlbergs celebrate golden anniversary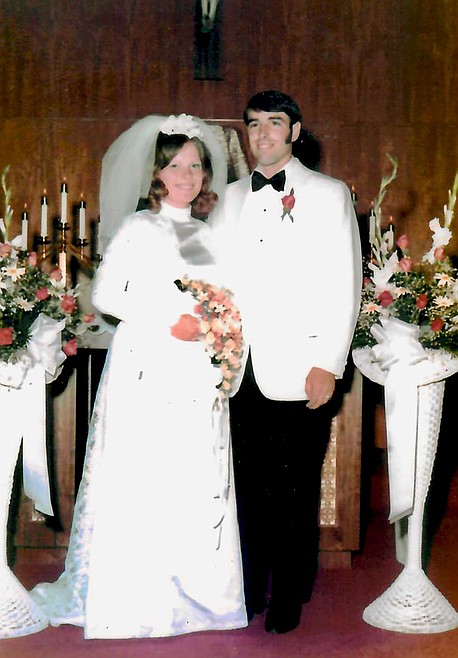 Jim Dahlberg and Debra (Carter) Dahlberg their 50th wedding anniverasiry. exchanged wedding vows on June 16, 1972 at St Pius X Catholic Church in Coeur d'Alene.
(Courtesy Photo)
Jim Dahlberg and Debra (Carter) Dahlberg exchanged wedding vows on June 16, 1972, at St Pius X Catholic Church in Coeur d'Alene.
Their daughter and her family, Ginger, Lowell and Leann Murphy of Great Falls, Mont., and son A.J. Dahlberg of Moscow recently honored their parents with a celebration at the Boundary County Fairgrounds. Many friends, relatives and neighbors joined in the celebration.
The family thanked all those who helped make the celebration happen.
Deb worked at Dari Delite in Coeur d'Alene and that is where Jim had lunch regularly. After the couple met in 1970, they dated for two years and then married. It was a whirlwind, with Deb graduating in May 1972, their wedding in June and moving to Bonners Ferry in July (both are Coeur d'Alene natives).
A new Chevron station was built and they came regarding employment. Deb went to work for Bargain Giant Grocery Store. Jim had moved their single-wide trailer to Deep Creek Trailer Park with their wrecker. Jim worked as a mechanic until Ginger's birth in 1975. He had an old logging truck and it was calling him.
Jim Dahlberg Trucking began and he hauled logs for many in the county for 20 years. When it was time to find a home for the family, in 1975 they moved into their 1917 farm in Paradise Valley where they still reside.
A.J. came in 1976. After logging, Jim decided to farm and put up hay/grain to the present. He also drives a school bus route and hauled sports events regularly. Deb worked various jobs in the county, mostly doing accounting, including for Kelson's Agency, D&P Motors and for Dick Healea at The Livestock Auction.
Deb was determined to have critters on the farm. Her mother-in-law aided two orphaned Herefords and eventually a horse named Question. Both Jim and Deb enjoyed working with 4-H for many years.
Deb did comment, "I really do not want to be married to a logger or farmer" as she had been down those roads with family. Ma Nature can be a cruel employer.
Ginger and AJ are their children. Lowell is the favorite son-in-law; Cody and Leann are their favorite grandkiddos; and recently grandson Cody and his wife Susie of Florida announced great-granddaughter Daisy Mae's arrival.
The couple said 50 years seems impossible, adding it has gone by quickly. When they each were asked what was the one thing that was most important, their reply was the same: "Patience — and, Lord, please hurry it up."
Recent Headlines
---