Girls golf back-to-back league and district champs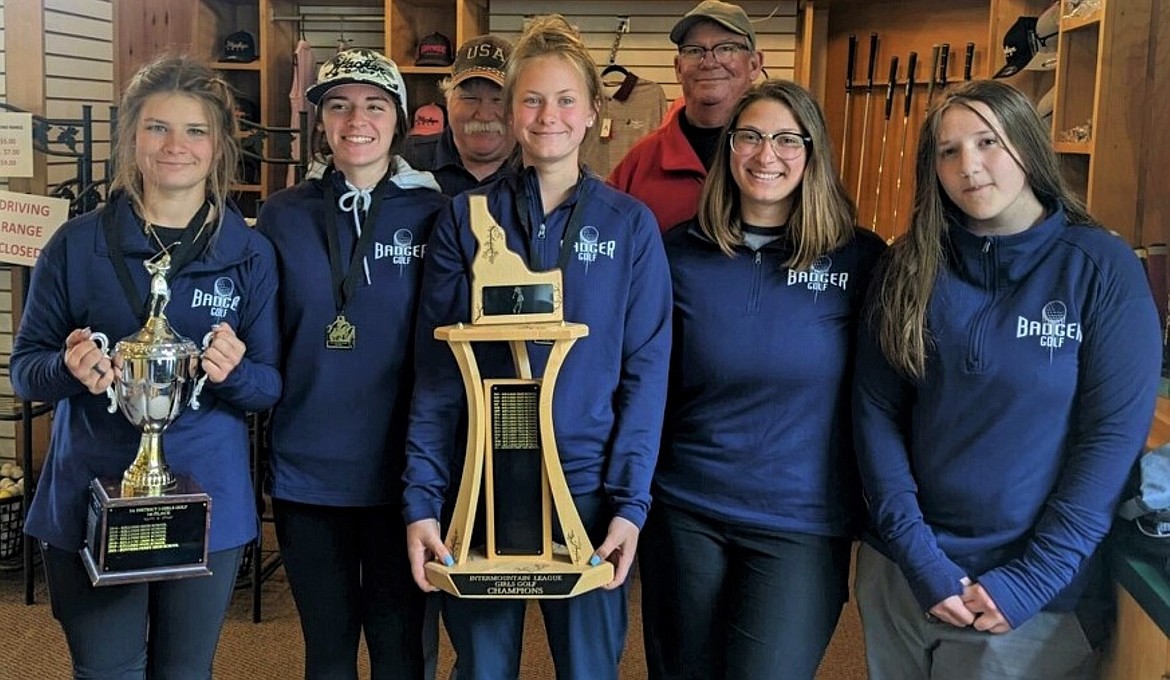 (left to right front row) Avery Bayer, Mia Blackmore, Braylyn Bayer, Cali Iacolucci and Holly Alexander. (Back row) Dave Koon and Ralph Lotspeich.
(Courtesy photo: Maureen Blackmore)
by
EMILY BONSANT
Hagadone News Network
|
May 12, 2022 1:00 AM
BONNERS FERRY — The Bonners Ferry Badgers are the Intermountain League and district girls golf champions for the second year and are headed to state to defend their 3A state title.
Avery Bayer was the low medalist for the district contest at the Mirror Lake Golf Course on May 9. The top four places were nabbed by the Badgers girls golf team. Braylyn Bayer took second, Cali Iacolucci took third and Mia Blackmore took fourth.
The team qualified for the state tournament, which is taking place May 16 and 17 at River Bend Golf course in Winder, Idaho. Kellogg girls golf took second place, qualifying for state.
For boys golf, Kellogg and Priest River teams tied after regulation play but won in a playoff by two strokes.
The Badger boys team has seen much improvement over the season, but no individual golfer qualified for state this year.
"The boys team keeps improving their games," said head coach Ralph Lotspeich. "By this time next year, they will be in the hunt with Eli Blackmore and Tyson Tadlock leading the way."
TEAM SCORES (Top two to state) — 1, Kellogg 370. 2, Priest River 370. 3, Timberlake 422. 4, Bonners Ferry 468.
INDIVIDUAL STATE QUALIFIERS (Top four) — 1, Luke Butler, Priest River, 84. 2, Archie Rauenhorst, Kellogg, 85. 3, Griffey Doerschel, Kellogg, 89. 4 (tie), Kameron Salesky, Priest River, Bowen Fegert, Priest River, Blake Coburn, Kellogg, 95.
KELLOGG — Archie Rauenhorst 85, Griffey Doerschel 89, Blake Coburn 95, Brodie Robinson 101, Tanner Groves 106.
PRIEST RIVER — Luke Butler 84, Kameron Salesky 95, Bowen Fegert 95, Jayce Yount 96, Hayden Stockton 101.
TIMBERLAKE — Colton Mendenhall 96, Dawson Hunt 105, Payden Devore 109, Taylor Menti 112, Reese Kozlowski 121.
BONNERS FERRY — Tyson Tadlock 102, Eli Blackmore 105, Thomas Hoggan 145, Riser Hanson 124, Chago Jimenez 137.
GIRLS
TEAM SCORES (Top two to state) — 1, Bonners Ferry 374. 2, Kellogg 459. 3, Timberlake 519. 4, Priest River 643.
INDIVIDUAL STATE QUALIFIERS (Top four) — 1, Avery Bayer, Bonners Ferry, 83. 2, Braylyn Bayer, Bonners Ferry, 87. 3, Cali Iacolucci, Bonners Ferry, 97. 4, Mia Blackmore, Bonners Ferry, 107.
BONNERS FERRY — Braylyn Bayer 87, Avery Bayer 83, Cali Iacolucci 97, Mia Blackmore 107, Holly Alexander 148.
KELLOGG — Alyssa Milliron 108, Jezzy Hall 116, Gracie Miller 123, Izzy Groves 133, Elliott Hei 112.
TIMBERLAKE — Emma Torr 113, Avery VanGundy 127, Kirstyn Edelblute 129, Emma Jenson 150, Tommi Olphie 161.
PRIEST RIVER — Brooklyn Best 143, Alexis Hunter 163, Samanta Pound 163, Emile Johnson DNF, Marley Burgess-Duquette 174.
RATHDRUM — Braylyn Bayer took low medalist honors for the fifth time this season, out of 49 individuals from 2A-5A schools, firing off a 80 at the Lakeland Invite at the Links golf course on May 6.
Avery Bayer was tied for third shooting 86, Cali Iacolucci shot 99 and Holly Alexander had 134. Their 399 total and took fourth place out of 10 teams.
---